by Stephen Nielsen
I have struggled for most of my life in sexual sin. And I am a Christian. As a Christian I have desired purity and have prayed for it. But my prayers didn't seem to work; I have lusted daily with sexual fantasy. Whenever I saw the opportunity I would give in with my eyes to pornography (this was not daily, or weekly, or even monthly, but it was enough to fill my fantasy bank). What went wrong all these years (about 40 years)? Why wasn't God answering my prayers for purity? Why have I continually been giving in to sexual sin?
The answer, which I see now, is found in James 5:16 (NIV):
Therefore confess your sins to each other and pray for each other so that you may be healed. The prayer of a righteous man is powerful and effective.
What I see, first of all, in this verse is that in order for my prayers for purity to be effective I have to be a righteous man (like Elijah, v.17). If we are praying for purity and we haven't found it, it is because of our lack of righteousness (or holiness). Well, if that is true, we are in a real dilemma, because how is an impure man supposed to pray for purity if the requirement for prayer is purity?
I believe the answer to our quest for righteousness and purity is found at the beginning of verse 16. James says, "Therefore confess your sins to each other and pray for each other so that you may be healed." Here James is telling us that in order to be healed of whatever we are plagued with, sexual bondage included, in order to be free of it, there must be complete confession, not just to God but to each other—to key people around us that we are in fellowship with and that we trust.
So why were my prayers not answered? Because my confession and prayers were only to God, never to anyone else, and therefore I know there was hypocrisy in my prayers; there was a lack of honesty; there was some hiding of secret sins; there was not a complete openness—which is critical for purity. In order for anyone who is struggling with sexual sin, to be free of it, there must be a total honesty with it; sins of lust, all thoughts, all inclinations, all habits, and all looks must be laid out in the open; and there must be a resolve to be rid of it.
This is where accountability is so helpful—and it was so helpful to me. When I confessed my sins—all of them—to a partner (and also to the entire group of men that I was in), it helped me to be free of them and of the strongholds that they had on me.
When we confess sins to each other, we are also confessing to God, and we have a promise from God that He forgives us and cleanses us from all unrighteousness (1 John 1:9). So where does that leave us? What are we then? We are righteous! Yes, we are the righteous man of James 5:16. If we confess our sins others, there seems to be more power there for cleansing, because we are being completely honest. And so, when we desire purity and pray for it, our prayers will be answered.
I wish I could describe to you what happened to me a few years ago when I got into a purity group and when I regularly confessed my sins to the group, and especially to one partner (daily over the phone), and prayed with him. What power I experienced! Not all at once, but over 4 or 5 years God has done a marvelous work in me. I now feel so clean inside; and I feel an incredible power in me to fight off temptation whenever it presents itself.
I should also mention that there is another part of accountability besides confession and prayer. Our accountability partner may serve as another pair of eye to keep us honest in terms of what we view on the Internet. Covenant Eyes makes that possible. Every once in a while my partner asks me about something he saw on my Covenant Eyes Report that he didn't think was very good. It's kind of embarrassing sometimes to try to explain why I clicked on something I shouldn't have, but that's good for me. It keeps me honest, and it keeps my conscience healthy.
. . . .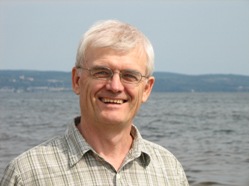 Stephen Nielsen is the author of Prayer A to Z. He writes at StudyingPrayer.com. Stephen has owned his own residential painting business for the last 30 years. He is a member of Grace Church Roseville, an evangelical church in Roseville, Minnesota.