"God deliver me out of this sin!" "Increase my willpower, Lord!" "Jesus, make me more spiritual!" Have you ever prayed any of these prayers? As "right" as any of these prayers sound, they all actually reveal unbiblical stumbling blocks in the heart that keep you stuck in sin. I prayed them for years and wondered why God wasn't answering my prayers. God can't and won't answer any of these prayers–at least not the way we think He should. Does that sound shocking?!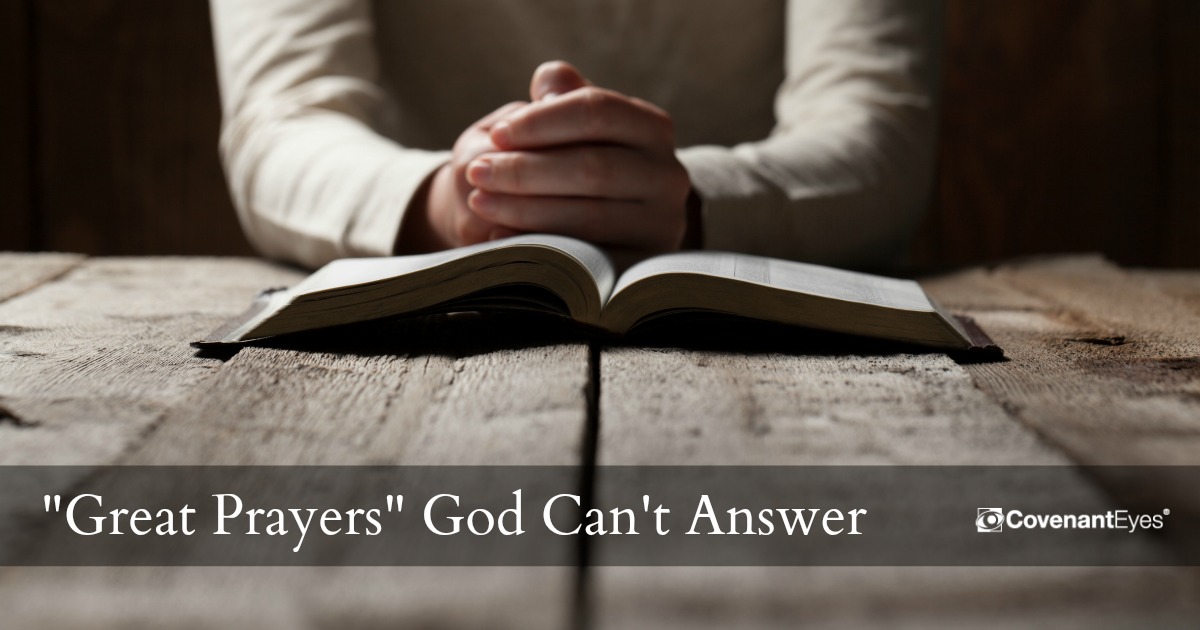 As I coach men out of addiction, I regularly see wrong patterns of thinking that God had to correct in my own heart before I was able to navigate clear of lust. So many earnest believers who hate this sin cry out year after year, praying "wrong" prayers and wondering why God isn't answering their prayers and helping them. After a while, they are tempted to become callous and jaded, wondering if God even cares or if they are really saved and if they are simply beyond hope.
The Bible says that God's people perish for lack of knowledge (Hos. 4:6). It isn't that God doesn't care, it isn't that you aren't saved–the Bible says that if the desire to hate sin is present, it is evidence that you have the Spirit in you. So it is just that we need to begin to see from His perspective. All change in behavior comes first with a change in thinking.
 Prayer 1: "God, deliver me out of this sin!"
I'd say 100% of the men who come to this ministry have the impression that this sin is a HUGE issue and they are trapped under it trying to get out. But what is God's perspective?
Jesus defeated sin once and for all. If you are in Him, you are already a victor, more than a conqueror (Ro. 8:37)! You died to sin (Ro. 6:2, 6:11, 1 Pe. 2:24). You died to what you were held by so that you can live in the newness of the Spirit (Ro. 7:6), and you must consider yourself dead to sin once and for all. The list of verses that prove the finality of Christ's victory is endless.
The finished work of Christ is the backbone of the Gospel. If you aren't fully persuaded that Jesus won this victory already, and that He who began a good work in you will complete it (Php. 1:6), the devil has stolen the very foundation you need to walk in victory. The enemy has made victory a question mark rather than a certainty.
The same men who would unwaveringly defend the fact that Christ died to save mankind will waver at the rest of the promises associated with the Gospel. In Luke 4:18, Jesus lists all the reasons He came. Salvation is just the first of six complete works. He didn't accomplish salvation and fail at the rest; so we can be equally confident that His victory in us is certain and complete.
I tell the men who come to our ministry that their starting point will dictate their finish line. If you are fighting for freedom rather than from freedom you will fail because you already see yourself under the power of the enemy. This is a spiritual agreement with a lie that empowers the enemy. It shows your reality isn't the Bible's reality. Even though the Bible says your old man is dead, those who still approach this sin as though it has power over them are resurrecting the old man rather than living from the resurrection power of Christ.
But if you are fighting from freedom, you will do what you are called to do as a child of God: destroy the works of the enemy. If you know you are a victor, you will start to act like one. I promise you, when you start to realize you are not a carnal man any longer, you may just start acting like a son of the Most High.
"Deliver me out of this sin" isn't a "legal" prayer for a Christian. God can't answer it because He already answered it when Jesus won the victory; and to pray it only shows we don't really believe it or know who we are in Him. So a better prayer would be:
"Father, cause my soul to realize the freedom that Christ purchased for me. Teach me to see myself as free so that sin should have no space in my heart; and to cast down every lie I'm tempted to believe based on my feelings or experience that doesn't line up with the Word of God. Teach me and train my soul to know what it is to walk with You and live as a son rather than as a slave to sin."
Prayer 2: "Increase my willpower, Lord!"
I've had men say to me, "I don't understand, I have such strong willpower in other areas, but I just can't overcome this sin." I can't count the number of men who come to our ministry who share this common idea that when they've "arrived," when they are spiritual enough, when their willpower is strong enough… then they'll finally be able to resist the strength of this temptation.
That's not how this works. The Bible says in Zechariah 4:6, "Not by might, nor by power but by my Spirit says the Lord of hosts." Over and over the Bible teaches that by the Spirit we put to death the deeds and desires of the flesh (Ro. 8:13, Ga. 3:3, Ga. 5:16). This isn't a battle of willpower or one that can be won in the flesh–this is a battle for the Spirit to win through us.
Man's strength and willpower, no matter how strong and hyped up you may feel at any given time, will fade and invariably falter. So when the Bible tells us to flee lust, it doesn't remotely imply that we do this in our own will, might and power apart from the volumes of other Biblical teaching that tell us to learn to walk in the Spirit to see victory.
Trying to fight sin with willpower is like trying to fight a fire with a wax sword. You may get in a few good swings, but that sword will melt like a candle sooner or later.
If God were to allow you to find victory through your own willpower, you'd be far worse-off in the end. You'd be a Pharisee, cut off from the power of the New Covenant. Jesus condemned the Pharisees because they had the act down but didn't know the Father. God won't allow you to become a Pharisee; and He won't allow you to get free apart from relationship–because that is why He created you in the first place.
Even if you could get free from this apart from deeper relationship with God, what then? You'd be lacking the foundation for what comes next in life; because He didn't design your calling to work apart from relationship with Him either.
Don't get trapped in the lie that your relationship with God will be better when you're no longer struggling with sin. Your relationship with God will get better when you make it a priority to spend more time with Him.
Sin is supposed to propel you into relationship and intimacy with God, not drive you from Him! We are supposed to run to the throne of grace to find help in time of need, not from the throne of grace when we feel dirty. Jesus died and gave us His righteousness so that we can run to God without having been perfected in the flesh so that we can receive the things from Him we need to get free!
Prayer 3: "Jesus, make me more spiritual."
Many men get this idea that if it isn't about willpower or a stronger mind or a stronger flesh, then God will just make the temptations go away. Or if they can just become spiritual enough, they'll float effortlessly over sin and temptation, and temptation won't be tempting any longer. I hate to burst your bubble… but here it goes.
This is a similar mentality to when the disciples asked Jesus to increase their faith (Lu. 17:5). What was Jesus' answer? "Hey, great prayer, guys. You are on the right track." No. Jesus rebuked the disciples for that prayer–their answer wasn't about them having greater faith. Rather Jesus redirected their faith from themselves back to its proper place: Him.
Christians have this notion we have to get more powerful and spiritual. That is just an excuse to keep living the way you are living until "God does something." God has already given us all things that pertain to life and godliness (2 Pe. 1:3). You are as spiritual as you are ever going to get!
When you got saved you received the Holy Spirit, the same power that raised Jesus from the dead and all of Christ's righteousness. The Bible says you literally become the righteousness of Christ (2 Co. 5:21). You can't improve on spiritual perfection. Even in heaven, you will not possess a more superior righteousness or spirituality than you have now in Christ! Your good works don't make the Holy Spirit more spiritual; and your bad words don't make the Holy Spirit dirty.
This whole idea of a more spiritual, stronger version of you is actually spiritual idolatry. I call it "The Idol of Potential Future You." It is the version of yourself you believe will finally be acceptable before God based on works rather than Christ's completed work. This idealized version of yourself has all the answers, is totally acceptable based on self-performance and self-perfection, and finally feels "qualified" to do all the things for God you've put off doing until the day you become your idol. In short, this thing is the version of you that no longer needs a relationship with Jesus.
This idol has to die before your sin can. If God were to allow you to get free from sin while this thing was still in your heart, He'd be confirming your idol and reinforcing the stronghold of your insecurities. Likewise God's plan isn't for the temptation to go away so that you no longer need to walk with Him. Victory over sin is just the training grounds for all of life and your calling. None of it is designed to work apart from relationship and intimacy with God.
If you've been living under the lie that God still needs to give you something He hasn't already given, or you need to be somehow more powerful in and of yourself or you need anything other than a closer walk with the Lord, a better way to pray is as follows:
"Father, I thought I needed more of me. It turns out I needed more of You. Forgive me. I thank You that You have given me all things that pertain to life and godliness in Christ; in Him, I am complete; teach me to walk in the Spirit–to do life and each moment with You. Fill my heart with the joy and excitement of all the possibilities of a life lived in the Spirit. Teach me to count my life as a prize and treasure each moment."
Walking in the Spirit
Walking in the Spirit isn't mystical or weird. It has two main components: truth and time. First, we put on the new man as the Bible tells us to do over and over. We put on the belt of truth–the truth of who we are in Christ and reject every lie about ourselves and our position before God that doesn't line up with what the Bible says about us. Walking in and agreeing with our "spiritual reality" in Christ is the first step to walking in the Spirit, and it's the foundation for the next step: intimacy.
Intimacy with God, abiding in Him, doing life and dialoguing with Him 24/7: this is the other component to walking in the Spirit. Here we receive the things our soul has been deprived of when pornography provided a counterfeit. We receive the healing of the heart wounds that keep us bound to sin. We develop a love and zeal for God stronger than the pulls and pangs of lust. In this place, we learn to love ourselves with God's love–which then makes it impossible to use others for our own selfish gratification.
Receiving God's love, living from the power of our identity in Christ, learning to walk in the Spirit and so many of these other things mentioned in this article (and other lessons that we don't have space in this article to go into) were critical lessons as the Lord led me out of lust and into an amazing and powerful life of intimacy with Him.
If you'd like to go deeper in any of these areas, the Mighty Man Manual by Jon Snyder and its companion workbook may be great resources for you. Visit www.mightymanministries.com for more information; and remember: your starting point will determine your finish line. Blessings!