It takes courage to admit that you're addicted to porn. Letting your secret out to a friend is a crucial ingredient to freedom, but it is not enough.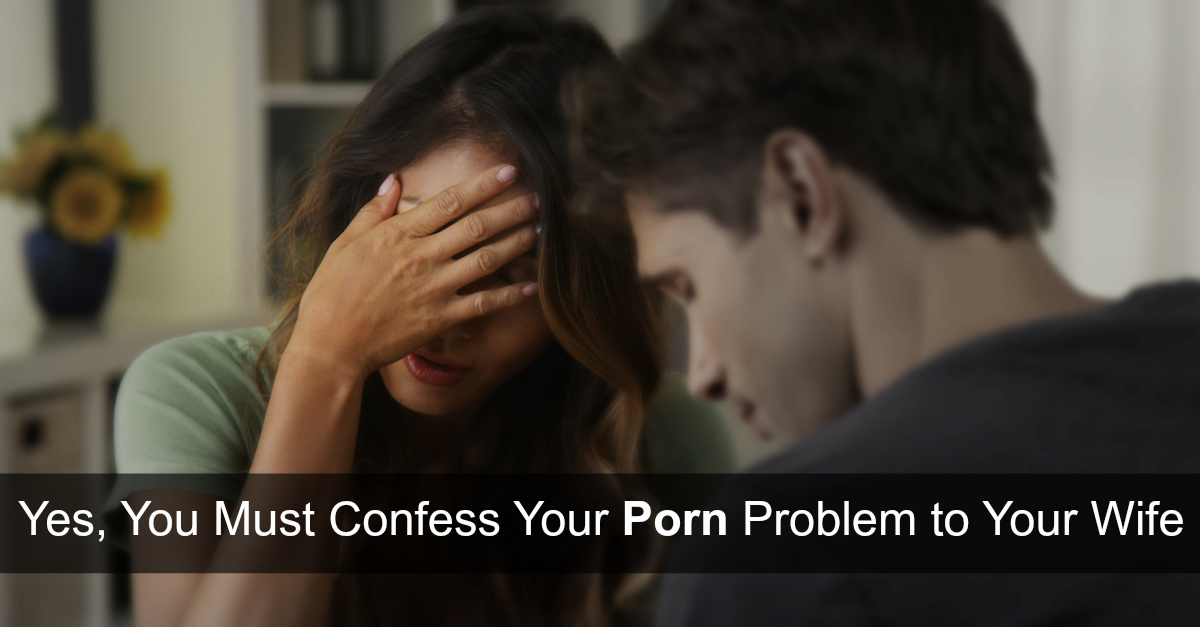 What now? Are going to tell me to strengthen my resolve and make a commitment to stop?
No, I am not going to lay a burden on your shoulders that you can't carry, because asking a person to stop watching porn, without a full disclosure to their wife, is asking too much.
Huh? I have to tell my wife?
Yes, you do. Secrecy and isolation are what feed an addiction and, even though you have been honest with a friend, if you fail to come clean with your wife, you are still choosing to deceive her. This is a well-worn path to relapse.
Deceive? That is a strong word.
Withholding this kind of information from your wife is the same as lying to her. Your use of porn affects her more than it affects the friend in whom you confided. Most likely she will have suspected that something is amiss and will have asked you if something is wrong. At this point you most likely avoided the question or went on the offensive, finding fault with her.
Your wife knows you. She knows the various looks on your face, she knows when you're tired and when you're stressed, and hiding your porn habit is both tiring and stressful. In order to protect your secret, you've withdrawn emotionally or you've criticized her in an attempt to change the focus from you to her. This is called "crazy making," because although you have agreed that there is something wrong in the marriage, you have implied that the fault lay with her.
I don't have to tell her because I'm not addicted.
Are you sure? If you have any doubts take this confidential online test. And even if you are not addicted, hiding your porn habit from your wife is harming your relationship.
"Harming my relationship"? Come on, man. Guys look at porn. It's just a fact of life.
Compulsive porn use is referred to as an "intimacy disorder," which is a keenly accurate label. Whatever reason you give yourself for your porn use, relieving stress etc., you are using porn as a way of coping with difficult emotions. You are avoiding some kind of reality by getting the high that porn offers in much the same way that a cocaine addict snorts a line or two to "take off the rough edges."
In a Cambridge Study, the brains of active porn users were "eerily similar" to those using cocaine as the neurochemical release of dopamine, is identical. Even if you are only using porn once a month, you are still choosing to numb your feelings rather than face them. Whether you are addicted or not is really not the issue, because when we use a behavior like porn or a substance like cocaine to avoid ourselves, we only make our lives harder.
Avoidance doesn't work. When the high is over, those things remain that initially created the difficult feelings. In every action movie, the hero faces the bad guys—he doesn't run away; and when you view porn you are running away. Chances are that if you are running away from the difficult feelings inside yourself you are most likely running away from the difficult feelings inside your wife; not hearing her when she is angry or upset or sad. When you can't sit with yourself, you won't be able to sit with your wife. That is how it damages your marriage.
In regard to the statement that "all men do it," I would agree every human is addicted to avoiding reality, but because others "do it" does not make it a good choice for you. In the 1950s smoking was a very common habit for both men and women, but the fact that "everybody did it" did not protect smokers from lung cancer. Avoiding reality is a ubiquitous and destructive trait of being human but there is a way out—a simple yet difficult path. Tell the truth.
You don't know my wife. She'll flip out.
Anger and hurt are a natural reaction to being deceived by someone you trust. Remember, the damage is in both the deception and the use of porn, not in the honesty of coming clean. You hurt her every time you view porn, especially after promising to stop. You hurt her each time you withhold the truth from her. Telling her the truth is not hurting her, it is simply confirming that her instincts have been right on target all these years.
Are you suggesting I tell her everything?
Aside from outright deception, the most common mistake husbands make is doing a "staggered disclosure," which means telling part of the truth. This is another form of lying as you are presenting a partial truth as if it were the whole truth. If you tell a half truth, you will most likely justify this by saying that you are withholding the difficult parts "for her sake." This is a lie. Your wife cannot begin to walk the path toward forgiveness if you are not willing to come completely clean with what it is she has to forgive.
There are details that your wife does not need to know and this is where you may need professional help. Here is an example of the questions asked on a full disclosure. Details like "I would lie to you and tell you I was checking e-mail when I was really watching porn" and "I watched porn when our kids were watching TV in the next room" are important to confess because they show the depth of your betrayal, of not only her, but of your children. Have you used her computer to view porn? Have you viewed porn on family vacations? How did you hide it from her? Did you delete the history? If she caught you did you deny the full extent of your porn use? All of these forms of deception need to be disclosed to your wife.
We've been having problems lately. Now is not the right time.
There is never a right time, and part of the reason you are having a tough time is because you are doing something harmful to your marriage and hiding it from your wife.
Telling my wife will upset the family, and I can't do that to my kids.
Kids are smart and very permeable. They know something is wrong. They've probably said things to you or your wife. Kids absorb the atmosphere in the home and you have been giving them an example to follow of a man who lies to his wife.
Do you want your daughters to marry a man like that? or your sons to follow in your footsteps? They may, unless you give them another example to follow. The fallout of a full disclosure is messy because anger and hurt are untamed emotions, but remember the harm is in the use of porn and the deception, not in the disclosing of it. Secretive porn use is like food poisoning in that the only way to stop the sickness is by vomiting—but vomiting is messy and feels awful, so don't expect a disclosure to be easy or quick.
I know guys who've done what you are suggesting and now they are divorced.
Only 38% of men believe a full disclosure is a good idea at the time of disclosure. This percentage jumps to 93% after 6 months. It is traumatic for a wife to hear the whole truth for the first time, which is why disclosures are best done with the help of a trained addiction professional, but in presenting a disclosure the husband is turning away from a life of lies and turning toward his wife. Your wife may decide to leave you—you can't control that—but you can choose to do the right thing.
Well, I'm not telling my wife. Period.
Then you are choosing your secretive celluloid lover over your wife and your porn habit will most likely continue. You are choosing an unfulfilling sexual experience over the welfare of your kids and you are teaching them that to be a husband means to lie to his wife.
---
Mark Makinney has a BA from Stanford and an MDiv from Princeton Seminary. He is ordained as an American Baptist Minister and served as a pastor in the Bay Area in the 1990s. He currently works with Resolve Therapy as a Certified Sexual Addictions Therapist in Arroyo Grande, where he lives with his wife, Rosie and his two boys Sam and Charlie.