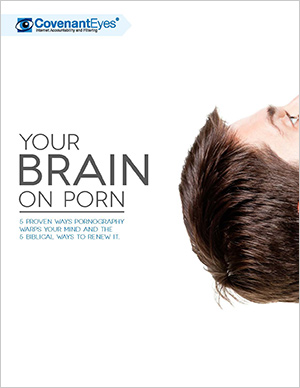 Our most downloaded e-book, Your Brain on Porn, has recently been revised and updated. Like all our e-books, it is still available for free for download.
When I first wrote this book three years ago, it was the culmination of many learning experiences. At the end of February 2010, I had the pleasure of having Dr. William Struthers, author of Wired for Intimacy, over to my home for dinner. His research about the impact of porn on the brain fascinated me. Since then, the more I've learned about it, the more I've come to really appreciate the value of neurological data when it comes to talking about the harms of pornography.
About a year later I had the pleasure of hearing a dynamic presentation by Mary Anne Layden at the Convergence Summit. She talked at length about the research done by Dr. Dolf Zillmann and Dr. Jennings Bryant in the 1980s. I was struck how researchers were able to see a correlation between watching pornography and harmful sexual beliefs. It was investigating their research for myself that gave me the core of the book.
Lastly, I had growing burden to see a well-rounded Biblical response to the problem of porn. The Scriptures, though they are ancient, still give guidance to the modern porn addict, and I wanted to present a brief but powerful message to those ensnared in this habitual sin.
What Has Been Updated?
The main premises of the book are the same, but much as been added. The revised version is over 65% longer than the first edition.
New research has been included about the impact of porn on the brain.
All charts and statistics have been updated.
Instead of three biblical ways to renew the mind, we now have five, giving a more holistic look at what the Scriptures say about walking in the Spirit (Galatians 5:16).
Porn is a Personal Matter
Despite all the talk about neurology, psychology, and Biblical interpretation, this book is far more than an academic project for me. It is personal. I know firsthand what it is like to feel hopelessly trapped in a cycle of temptation, sin, and remorse. I also know firsthand how the Spirit of God comes to rescue hopelessly trapped people like me. Your Brain on Porn is perhaps the closely thing to a magnum opus I've written on this subject, and I pray this second edition will help even more people than the first one has.
For the follower of Christ, the ultimate goal is not merely "quitting pornography," but is something far richer and more comprehensive. If merely modifying behavior was the most important thing, there are any number of psychological tips and tricks one can use. But for the Christian, as it should be for all people, the goal is not merely recovering from pornography, but being remade by God Himself into the image of the perfect Man, Jesus Christ.

This is the work of the Holy Spirit…

Walking in the Spirit is a lifetime journey, but as we keep in step with Him, we are promised that the desires of the flesh will not overwhelm us. We can finally be free.

Such a vision of the Christian life might seem too high up and too far away for us, especially if we've lived for a long time in the shame of our darkest sexual obsessions. Daring to believe that God is as good as He says He is takes faith in the face of our deepest struggles.

– Excerpt, Your Brain on Porn