There is a deep-seated struggle in the heart of the Church, and thus the heart of the family. Pornography has found its way into our homes, places of work, rectories, churches, communities, schools—you name it.
Because of what the statistics show about exposure for children and teens and the likelihood of one of their parents being long time viewers, I cringe when I see children, teens, and young adults on internet devices.
If all was right in the world, children would not be exposed to porn. If homes functioned as the safe havens they are meant to be, pornography would not be embedded into our culture and so many of our lives. Children avoiding porn starts in the home. Eliminating the pornography industry starts in the home. It all comes down to the family and how we care for one another in the home.
So, we decided to start our work in the home.
Why are we at Covenant Eyes so passionate about this? We know firsthand how pornography harms marriages and family life, as well as how it hinders our relationship with Jesus and degrades the dignity of the human person. And we don't want this to happen to you and/or your loved ones.
We have a strong community of individuals, organizations, arch/dioceses, parishes and churches who are working to educate on these topics. One very important partner is the United States Conference of Catholic Bishops (USCCB).
In November 2015, the USCCB published Create in Me a Clean Heart: A Pastoral Response to Pornography. In this document, the U.S. Bishops emphasize that we have to address pornography in order to protect children and help marriages and families thrive.
They state: "The use of pornography by anyone in the home deprives the home of its role as a safe haven and has negative effects throughout a family's life and across generations" (Create in Me a Clean Heart, p. 15).
Introducing: Safe Haven Sunday
In light of Bishops' statement, shortly after its release, Covenant Eyes established Safe Haven Sunday. Safe Haven Sunday is a weekend set aside by arch/dioceses and parishes to directly address the harms of pornography. Within the context of the Mass, arch/dioceses and parishes are able to provide teaching and resources that will support and protect individuals, marriages and families in making all homes a safe haven.
To date, Covenant Eyes has had the privilege of partnering with 28 arch/dioceses in implementing Safe Haven Sunday, which has reached approximately 6.5 million Catholics. The initiative itself has supported arch/dioceses in the work they are already doing to support the topic, as well as begin the conversation, which allows for ministries and apostolates to continue the education.
Brad Gray, Director of Marriage and Family Life for the Diocese of Fargo—a Safe Haven Sunday diocese—stated:
"Safe Haven Sunday casts light on the dark underbelly of pornography and helps to awake people to the harm done to individuals, marriages, and families through the use of pornography. It both educates parents about the various subtle ways that pornographers seek to infiltrate their homes and poison the minds and heart of their families, while at the same time this effort equips parents to protect against these intrusions.
This annual observance contributes to establishing a culture within the diocese that recognizes, upholds, and celebrates God's design for marriage and sexuality. It rejects as empty and void all the false promises made deviant expressions of sexuality such as pornography."
St. John Baptist in Edgar, Wisconsin was one of the parishes in the Diocese of La Crosse who has celebrated Safe Haven Sunday for the past two years. Active parent, Director of Religious Education and Parish Secretary, Nancy Hackel, shared that the parents were appreciative of the material provided on Safe Haven Sunday. She explained:
"People do not want to talk about pornography—I believe the reason for this is that people young and old are involved in it. It is an addiction that is causing hurt in individuals and families. I personally would like to bury my head in the sand and pray it would go away, but it will not. It is hard to discuss this topic since no one is open to talk about it because it affects everyone."
For this reason, many leaders and families are grateful for the opportunity of Safe Haven Sunday. It opens up the topic publicly and provides individuals and families the opportunity to ask for help.
A priest of the Diocese of Fargo explained that because of Safe Haven Sunday, one of the men in his parish learned of struggles that his sons were experiencing.  In response, they were able to have an honest conversation about it and actually made a plan for regular check-ins and transparency.
Then, we wrote three books to accompany these events.
In the Archdiocese of Philadelphia, Our Lady of Guadalupe Catholic Church in Doylestown enthusiastically cooperated with the Archdiocesan Safe Haven Sunday Initiative through the distribution of Covenant Eyes' Safe Haven Sunday Book, Confident: Helping Parents Navigate Online Exposure.
Two other books have been written as a part of this "trilogy." Connected contains real-life stories and practical tips for maintaining or re-establishing connection in your family. Equipped uses the image of the home to guide you in how to teach your children to say no to pornography while at the same time forming them in a broader understanding of media, sexual integrity, and their God-given identity.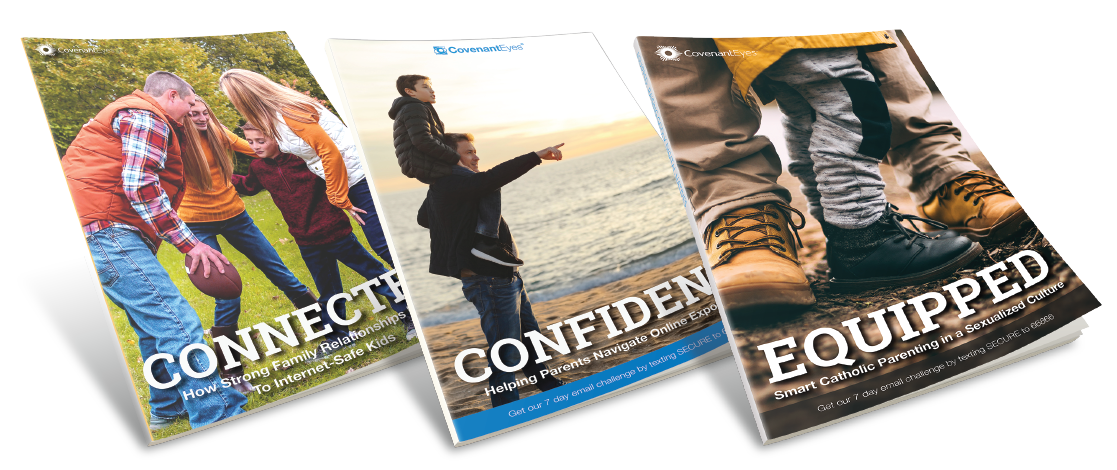 Daniel Drain, Director of Religious Education for Our Lady of Guadalupe explained: "As in the Gospel we see Christ exorcising the evil and demonic spirits by calling them out by name, the strength of this critical resource lies in naming names in the pornography epidemic. This resource pulls no punches: Porn impacts children, it does so in successive stages, and it must be addressed in the home, in the community, and in the parish if there is to be any concrete and realistic hope of conquering this great evil."
In regard to the primary resource of Safe Haven Sunday, Confident, Daniel Drain said: "The faithful received Confident gratefully at the end of weekend Masses, taking home the booklet to work through together as a family. With the proliferation of digital instruction as a result of the COVID-19 pandemic, parents all over the country entered into a 'new normal' with their children that could be more safely navigated thanks to the Safe Haven initiative and this concise, erudite book."
Safe Haven Sunday has brought about awareness in other ways too. Parish priests have reported that parishioners have told them that they had no idea pornography was sinful. This is a very significant part of Safe Haven Sunday. It provides the opportunity for everyone to learn and be reminded that pornography is both sinful and harmful.
In further conversation with the Diocese of Fargo, they explained that another positive effect of this initiative was an organization that found out it had significant gaps in its technology safeguarding. They were then able to rectify and ensure those belonging to their organization were no longer left in danger of exposure to pornography.
Safe Haven Sunday is for all Christian audiences!
We couldn't end this article without mentioning our Safe Haven Sunday efforts for general Christian audiences! This event is also held on a chosen Sunday each year and is designed to educate families about pornography in the home.
In Alberta, Canada, Kneehill Addiction Recovery Network (KARN for short) aims to see all churches in their county aware, equipped, and engaged in the area of addictions. They partnered with Trochu Baptist Church and Linden Alliance Church to host two Safe Haven Sundays.
Kaitlynn, from KARN, helped plan these events and says, "We're excited that more and more churches in our area are expressing interest in talking about the all-too-often taboo topic of pornography with their congregations. Pray that the desire to become more authentic and real would become the norm in our rural county."
So, there you have it! Safe Haven Sunday is an incredible initiative that has reached families across the United States and beyond! We are excited to have more arch/dioceses and churches join in the coming months and fight hard to make parents and children aware of the dangers of pornography.
Come, join us!