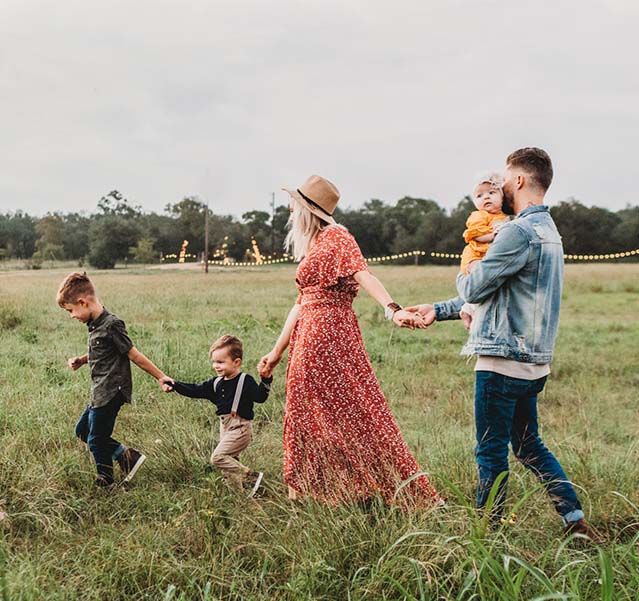 Making All Homes a Safe Haven
Providing increased pastoral attention to individuals, marriages, and families on internet safety.
"The use of pornography by anyone in the home deprives the home of its role as a safe haven and has negative effects throughout a family's life and across generations."
- United States Conference of Catholic Bishops
What is Safe Haven Sunday?
Inspired by the United States Conference of Catholic Bishops (USCCB) formal statement, Create in Me a Clean Heart: A Pastoral Response to Pornography, Safe Haven Sunday is a weekend set aside within the liturgical calendar by dioceses and parishes to directly address the societal harms of pornography.
Within the context of the Mass, parishes are able to provide teaching and resources that will support and protect individuals, marriages, and families in making all homes a safe haven.
FREE Safe Haven Sunday Implementation Guides
Safe Haven Sunday is an annual initiative set aside by dioceses and parishes to directly address the harms of pornography.
The free Diocesan & Parish Implementation Guides include:
Homily Video
General Intercessions
Social Media Kit
Bulletin Inserts and Blurbs
Diocesan Newspaper Ads and Articles
And More!
Download the guides below
Download PDF Guides
Get the Tools to Equip Individuals, Marriages, and Families
Download your annual implementation guides below. New to Safe Haven Sunday? Get started by downloading year one.
Year 1

Safeguarding Children

Year 2

Having Critical Conversations

Year 3

Safety Through Connection

Year 4

Healing Marriages and Fatherhood
What Leaders are Saying
"The Office of Family Life of the Archdiocese of New York chose Safe Haven Sunday as one of its major initiatives for the first time this year. For those who made use of the resources, it proved to be a wonderful opportunity for the families of the Archdiocese to grow and prosper. We look forward to continuing the conversation regarding making our homes safe places where God's love lives."

Theodore J. Musco

Director of the Office of Family Life for the Archdiocese of New York
"Safe Haven Sunday provides our parishes with a simple easy-to-use framework to support parents in keeping their children safe from pornography. I strongly recommend it for every parish and diocese."

Edward Herrera

Executive Director for the Evangelization Institute for the Archdiocese of Baltimore
"The foundation of our Catholic faith is the family, and we understand that pornography harms the sanctity of a marriage and deeply affects the family system. Safe Haven Sunday's diocesan and parish initiatives are important to help safeguard and promote the dignity of couples and families by addressing the harms of pornography. These efforts provide great resources as preventive measures to promote a healthy family. This is a great pastoral concern to make all homes a safe haven."

Jeanette Gonzalez Seneviratne

Director of Caring for the Whole Person for the Archdiocese of Los Angeles
"Addressing the pornography problem in our society is a daunting task. Covenant Eyes and Safe Haven Sunday provide an easy, approachable way to bring awareness and resources to parishes and families. Their team accompanies you throughout the process and goes above and beyond to make it a success. This initiative is critical for all Dioceses to celebrate. Pornography is addictive, and it is in the hands of adults and children alike. We, as a Church, must push back and stand up for the dignity of the human person and for our families."

Brooke Warren

Marriage Formation Specialist for the Diocese of Columbus
"Partnering with Covenant Eyes to host a Safe Haven Sunday was an extremely fruitful experience. It helped our Diocese bring this issue into the light, and it gave people hope that internet safety, healing, and freedom are all possible. It is a gift to see how individuals and families benefited from this effort, and I have no doubt that this work will continue to flourish and grow in our Diocese."

Adam Storey

Director of the Marriage and Family Life Office for the Diocese of Des Moines
"Working with Covenant Eyes to implement the Safe Haven Sunday initiative in our parishes and schools has helped us communicate to our families that there are concrete ways for them to act in response to the issue of technology use and pornography exposure. We have completed 3 years and plan to continue using it to bring awareness to the dangers and solutions to this crisis effecting every home today."

Dino Durando

Director of the Office of the Domestic Church and Discipleship for the Diocese of Kansas City-St. Joseph
"Since 2019, through Covenant Eyes' Safe Haven Sunday Initiative, the Diocese of Wichita has been able to provide consistent and timely resources to our parishes and schools. Each year, Safe Haven Sunday aims at providing tools to protect the home and equips parents to be able to have meaningful conversations with their children. I am thankful for the partnership the Diocese has with Covenant Eyes and we hope to continue to build on what we have done so far…"

Jake Samour

Director of the Office of Marriage and Family Life for the Diocese of Wichita
"In 2019 the Diocese of Davenport launched the 3- year Safe Haven Sunday initiative, but soon realized that continued efforts to raise awareness of the harms of pornography and provide practical resources to individuals and households would require continued efforts. We were thrilled when we discovered that Covenant Eyes had developed resources for Year-4 and so appreciated that they provided complimentary STRIVE and Restored Vows to all our parishes."

Marianne Agnoli

Marriage & Family Life Coordinator for the Diocese of Davenport
"Safe Haven Sunday has provided the Diocese of Charleston with a way to bring not only awareness of the harm of pornography and how it hurts families but also provides a way to prevent exposure to children and gives hope to overcome addiction. The resources are useful and well done. We are so grateful for Covenant Eyes who have led the fight against Pornography use."

Kathy Schmugge

Senior Director of Office of Social Ministry, Office of Family Life for the Diocese of Charleston
"Safe Haven Sunday has been a tangible and effective way for the Church to confront head on the menace of pornography in our diocese over the past several years. We are grateful for our partnership with Covenant Eyes in this initiative and for all the tremendous work that they do to make this effort both powerful and easy to implement."

Brad Gray

Director of Marriage and Family Life, Diocese of Fargo
"Every year, we hear from clergy, leaders, individuals, and couples, that Safe Haven Sunday starts a much needed and important conversation about pornography. Covenant Eyes provides an ongoing offering that keeps the conversation, awareness, and education going and has sparked other efforts in our parishes and schools. Safe Haven Sunday is a simple and effective way to draw attention to the dangers of pornography."

Carrie Harkey

Coordinator of Marriage and Family Life, Diocese of Venice
"In the fight against pornography, filtering software just isn't enough. We need to build cultures of respect and dignity. We also need to build cultures where people feel safe enough to seek help when needed. As a diocese, we are moving toward an annual celebration of Safe Haven Sunday to build those cultures and provide the necessary support to families and individuals in their role of making this vision a reality."

Richard Budd

Director of Marriage and Family Life for the Diocese of Lansing
"The Diocese of Owensboro (KY) was just getting our anti-pornography initiative off the ground when COVID hit and shut our parishes down. Since then, we haven't taken the opportunity to spark more life into it. But after talking with Covenant Eyes, we now have a plan to invite all our parishes to participate in "Safe Haven Sunday" to put a diocese-wide focus on bringing this issue front-of-mind for our parishes and parents again."

Danny May

Director of Marriage and Family Life for the Diocese of Owensboro
Connect With the Covenant Eyes Catholic Church Outreach Specialist
Learn about Safe Haven Sunday and receive support and accompaniment as you bring Safe Haven Sunday to your people.
Diocesan and Parish Leaders
Schedule a Meeting

Start Planning Today