All through middle school, I thought, I'll stop watching porn when I get in high school. I was convinced that older guys didn't need to watch it.
When I made it to high school, my plan became to no longer watch pornography once I found a serious girlfriend. In reality, I dated the same girl all through high school and that's when porn became solidified as my escape. I went to porn when I was lonesome or frustrated with her. Even though I was a star student and a role model in my youth group, this secret addiction was my constant companion.
I'll never forget the day I was having a candid conversation with a guy who had been married fifteen years. I was in college at the time and married life seemed like an eternity away. Jokingly, I mused, "That's when I'll stop watching porn."
What this husband told me, eternally ruined my young perspective and idyllic dream of marriage, "We have sex two or three times a month. A good month is four times and that's rare."
Stop the presses. Hold the phone. Turn down the music. What? Two or three times a month? Marriage suddenly sounded like a death sentence, rather than a free pass to frequent sex.
What about you? How many times did you falsely perceive freedom to be just around the next bend? How often did you think that's when I'll stop? Marriage didn't fix it for me. Ministry didn't fix it for me. Surely having children would help me stop. Right?
Nearly ten years of ministry and four years of parenthood and I was still hooked on it for the same reasons as that young high school kid: an escape from loneliness and frustration. I only watch it two or three times a month, I'd think.
Where do we draw the line? When is enough?
I couldn't change for external reasons. The demands of a professional career and family life didn't end my addiction. Honestly, because of the smartphone, those things just pushed me further into my secret life. Church couldn't fix me. My wife couldn't do it for me. My kids weren't even enough to make me stop. I finally grew tired of covering my tracks and constantly looking over my shoulder.
It wasn't until I decided for myself, and my own integrity, that I wanted to be a new man, a better man, a whole man, that I began to find true freedom.
Today, I am able to speak more openly about my recovery. Tearing off the mask of religion and self-preservation, I am becoming a new man. This step in my relationship with Jesus includes practical boundaries like Internet Accountability software on each of my wireless devices and attending weekly recovery meetings. I have begun walking the path toward deeper integrity. And that path is paved, brick by brick, with vulnerability.
---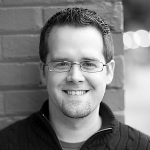 Steve Austin is a blogger, family man and mental health advocate, capturing the story of his life and others in a way that points to God's purpose and the power of second chances. View his website at iamsteveaustin.com and connect with him on Facebook and Instagram.