Where my story actually began is still a mystery to me. I don't have a clear memory of the first time I was exposed to pornography or masturbation or even the idea of sex, but it was probably around the age of 8 or 9. All I really know for sure is that as a highly imaginative child I was unhealthily intrigued with romanticism, fantasy, sexual images, and marriage. I daydreamed a lot, about things that I knew nothing of.
This imagination was as a gift from God but was ultimately distorted and corrupted by society's obsession with sex, and eventually distorted by the traumatic experience of being raped at the age of 18.
Coping with the Pain of Rape
My rape was the catalyst that threw this distortion of sex into overdrive. Like many abuse and rape victims, I chose to take the experience of sex into my own hands and coped with the pain by becoming extremely promiscuous. Having been a virgin at the time of my rape, my view of sex was altered significantly, and I desperately wanted to regain that romanticism from my youth. My sexual encounters with men, while short, temporarily filled a void and gave me some semblance of control.
This act of taking control was not without conviction. I knew what I was doing was wrong. I knew that God had more beautiful things planned for me, but I couldn't find a way out. Being completely ashamed by my actions and worried about the physical ramifications of my new lifestyle, I stopped having sex for quite some time.
It was during this period of abstinence from men that I first remember actively seeking out pornography.
In a desperate attempt to numb the pain from my rape, pornography and masturbation became my primary coping mechanisms for the remainder of my college years, and even seeped well into my twenties. I justified my behavior by convincing myself that it was better then sleeping with random men and that no one else was being affected by it, only me.
Addicted and Alone
I knew little about the dangers of pornography, and like many women, I thought I was the only woman who watched it. I couldn't tell anyone and so silence became my best friend.
Related: If You Think You're Alone in Your Struggle, You're Wrong.
Pornography and masturbation quickly turned into an addiction. Whenever I was in relationships with men and getting my emotional and physical needs met, pornography and masturbation generally weren't a problem. But when I was lonely, fearful, overwhelmed, and feeling empty, it was just what I needed to get me through another day.
Eventually pornography was no longer enough, and I returned to a life of acting out sexually with men. Some days I used both behaviors to cope. It was on one of these days, where no matter what I did, the pain wouldn't go away, that I began to realize I had a problem. Still I remained silent.
Related: Resources for Women Who Struggle With Porn
Thinking I had no resources, that I was the only woman to struggle with these addictions, and under the assumption that my friends would reject me if I revealed my problem, I kept my mouth shut. It wasn't until one day I picked up Shellie R. Warren's book Inside of Me that God revealed to me I wasn't alone. I began to take action: praying for God to release me from this sin, putting filters on my computer, pledging to stop sinning sexually, etc. But none of it worked at the time–I had no community, no accountability, no one to help me.
There Are Other Women Addicted to Porn?
It wasn't until my late twenties that an Internet search for "Christian Women and Pornography" led me to Dirty Girls Ministries. I found the online community, I signed up for leadership training, and the rest, as they say, is history. I finally had accountability. I finally had someone who understood. I finally found hope.
Related: Can Accountability Really Change a Heart?
This recovery has not been easy. I don't know any addict who wouldn't agree. I'm currently approaching the 13th anniversary of my rape and Satan is chomping at the bit to get me to turn back to my old ways. And to be brutally honest, I've given in at times. There have been moments when I no longer have the strength to fight, and I choose momentary defeat. There have been moments when the passion to beat this once and for all has taken over, and I'm renewed with a vengeance. It's the ebb and flow of life, the seasons, that are the most frustrating for me. But I've come to realize that God is in it all. He was there with me in the darkness, nudging me, sometimes forcing me toward the light. And He's here with me now. Telling me that I'm here, in this exact place for a reason and that my recovery is taking the exact amount of time it needs to take.
You see, it's not about getting rid of the coping behavior. It's not about abstaining from sinful behavior (although, believe me, that is important). It's about wholeness. It's about no longer feeling the uncontrollable need to cope. It's about filling that God-shaped hole with God alone. That is what recovery is about.
As it was with my story, I believe shame and silence are the biggest barriers for many people struggling with pornography and sex addiction. Satan lies to us and tells us that no one will understand, that people will think we're perverted if we reveal the truth, that we'll be rejected or shunned. And while I understand that some people have had this experience when revealing their addiction, that was not mine.
Related: Where to Find the Boldness to Share Your Porn Struggle
When I finally came out and said who I truly was and accepted my brokenness, I was met with such love, such grace, that I was finally able to start seeing the light in the darkness. Brokenness is who we are. Every time I tell my story or every time God brings further realization into my heart, I am comforted by the fact that I grow stronger in Christ.
There is no secret too buried, no past too dark, no confusion too deep, no sin too ugly that is above the enduring and ever-present grace of God. Nothing can separate us from our Father's love. There is no struggle He cannot cease. If you receive nothing else from my story, I pray that you receive this.
---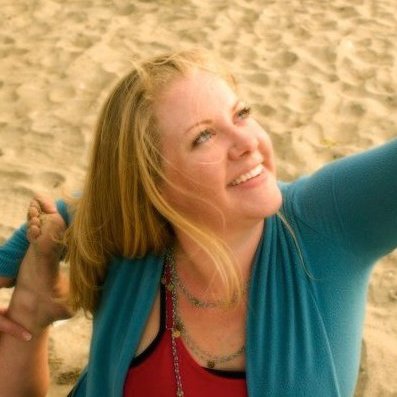 Lauren Jacobs is the Community Manager for Dirty Girls Ministries. Lauren lives in Long Beach, CA, where she was born and raised. She is involved in The People of the Second Chance ministry at Mariners Church in Irvine, CA, which encourages men and women alike to be honest about their brokenness and search for healing. Visit her blog, BeautyInBreakdown.com.