Next Wednesday, May 16, at 2 p.m. (EST), we are hosting a free webinar addressing the subject of women who are addicted to pornography.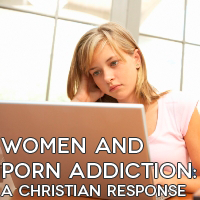 Pornography is not just a male sin. More and more women today are also being drawn into cyber-lust.
34% of today's young adult women saw porn before the age of 13.
31% of young women today say they use pornography.
18% of young women say they spend some time online every week for sexual purposes.
Join us to to hear the stories of Christian women who have dealt with this in their own lives. Join us as we hear from biblical counselors, exploring what the Scriptures have to say to women who are sexually broken.
Sign up to join this webinar. Space is limited.