by Jerome Vierling
Tweets, e-mail, live-streaming, reality TV shows, sports, merchandise stores…the list goes on and on. These mainstreams all carry a message and are competing for the mind share of humans. They all use attractive men and women to market their message and promote their product.
It's the age-old trick to distract us at the very core of our emotions: Sex. Why is it this way? Business tries to capitalize on this for profit. What effect does this have on society, marriages, and children? Our minds, marriages, and self esteem depend on us seeing authentic godly love, not a perverted twist of it. How many people that you know, spouses or significant others, look like the people promoted on TV ads for shaving gels, beer commercials, or on the sidebar of your e-mail? For most of us, not many!
As this method of advertising continues to play off humans' raw, dark emotions, it perverts God's design for a holy union between male and female and we start to compare our partner to this dream world. It creates emotions that will never be satisfied by our sinful nature, and desires that our spouses and friends can't fulfill. Ultimately, it leads to deep, dark isolated caves by clicking for hours on end searching for things to fulfill this "fantasy."
This is an attack to rob people of focus, purity, purpose and their relationship with Christ, and we need freedom. How do we get that freedom? Confessing your sins to one another is a good place to start instead of hiding and concealing them (often, this destroys us). Get out of isolation and get with someone who cares! You can't do it alone. "Whoever isolates himself seeks his own desire; he breaks out against all sound judgment" (Proverbs 18:1).
Even Jesus Christ was tempted in isolation (Luke 4). He did not give into the temptation. The reality is we don't win every battle like He did. We can look at every temptation as a trial, something we can overcome in Christ and by His power.
God roots us with other believers to help deal with the challenges of living a life fixed on Christ Jesus. Covenant Eyes is a phenomenal resource to help fix our eyes on Christ and get freedom from the mainstream sex campaigns and porn addictions through accountability partners, discussions, and prayer. You are not alone, so don't let darkness convince you to live a "fantasy" world on your computer and in your mind.
. . . .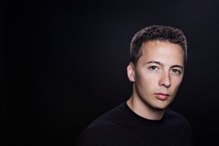 Jerome Vierling is the founder of Soundsgood Records, a ministry dedicated to developing artists and multimedia projects that share the Gospel and extend the reach of the local church. Jerome serves in his local church as the Youth Discipleship Director where he launched and developed the discipleship method called Get Rooted. Jerome's most recent project, Second Coming, is available now on iTunes.