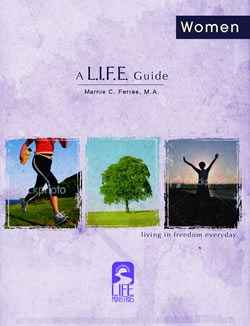 What can I say about L.I.F.E. Guide for Women? I truly can't praise this workbook enough.
Marnie Ferree has written the first resource I have found that directly and candidly discusses sexual addiction among women. From promiscuity to porn addiction, Marnie brings hope and tools for recovery to topics that the church and most ministry leaders have failed to address.
I use L.I.F.E. Guide for Women in every recovery group I lead and have witnessed firsthand the healing power of Christ through this material. Instead of glazing over the issues, Marnie gets to the root of where the sexual addiction comes from, which is the only way a woman can truly be freed. L.I.F.E. Guide for Women is a must read for every woman who struggles with sexual addiction or who is a counselor/teacher/group leader tackling these issues.