Covenant Eyes Podcast – Episode 27
[display_podcast]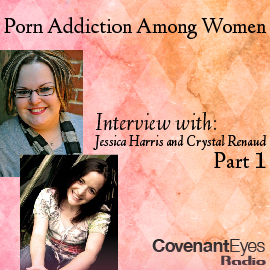 This is part 1 of our interview with Crystal Renaud and Jessica Harris, two women who have come out of a background of pornography addiction.
Jessica is a high school math teacher living just outside of Washington, D.C. Jessica also assists in her church, discipling teenage girls. Jessica is the founder of BeggarsDaughter.com, an online ministry geared towards exposing the issue of pornography addiction among women and providing tools for the church and for the women who are struggling with this addiction.
Crystal is a writer and communications professional living in Kansas City, who for the last five years has been on the staff of Westside Family Church. Crystal is the founder of DirtyGirlsMinistries.com, a Christian anti-pornography ministry that focuses on helping women overcome porn addiction.
Today Jessica and Crystal will share about the grip pornography had on them in the past. Tune in later this week to hear more of their story.

Special thanks to my wife, Trisha, for conducting these interviews, and to Bethany Tombley for allowing us to use her music.
See also Part 2 and Part3 of this interview.