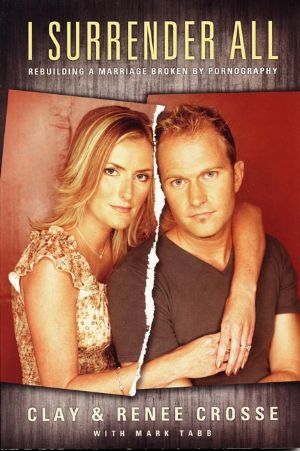 In his preface, Clay Crosse writes that he and his wife, Renee, pray that their book will be a message of warning and hope. Their prayers are answered.
I Surrender All: Rebuilding a Marriage Broken by Pornography powerfully alerts "lukewarm Christians" about the imminent disaster that follows a dabbling in pornography, an indulgence in materialism, and a selfish lifestyle.
Clay and Renee Crosse kindly share how private lukewarm lives led them into a marital crisis; how selfishness and moral carelessness led them away from purity, integrity, and happiness in Christ. They knowingly write, "Porn is a killer, and it won't stop until something is dead." For them, Clay's addiction to pornography videos killed his imagination, relationships, and ability to serve the Lord with singing.
Clay and Renee share personal accounts about Clay's addiction and their recovery and restoration. Amidst serious warnings and honest explanations, the book's shining moments occur when both writers reveal that the quality of their relationship with the Lord Jesus directly affects the quality of their personal lives: they clearly explain that when we are distant from the Lord, our marriages spiral towards destruction, but when we draw near to the Lord, our marriages thrive in peace.
Couples who read this book together will understand each other's perspectives a little bit better, thanks to Clay and Renee's honest accounts. The writing is down-to-earth, honest, and tactful. The Crosses don't capitalize on the shock-and-awe factor, but rather tell their story as it is and allow the Holy Spirit to apply His truths to the reader's specific circumstances. Look forward to the last section of the book, which focuses on rebuilding the marriage relationship. The Crosses explain the type of practical sacrifices and heart-changes that are necessary in order to enjoy marital restoration. More than that, they provide a beacon of hope: restoration is possible!