I must start off my first blog post for Covenant Eyes by saying how honored and humbled I am to be asked to contribute to such a worthwhile organization. Pornography is an issue which is impacting our society in all sectors.
Over the next few posts we are going to attempt to gain an understanding of how an individual can become so focused on pornography that they will risk their marriages, ministry, and reputation. In addition, we will explore some steps to help individuals who have found themselves caught in the cycle of compulsive sexuality. As we close off this first series of posts, we will also explore how to move forward, and stay in relationship, if a person that you love keeps choosing pornography over their relationships with others.
I think it is important to make one thing very clear to the individuals who are reading this who have a loved one who is currently struggling with pornography. Their struggle is not your fault and you are not the cause of their sexual problems. Again, I want to make this very clear; you are not the one with the problem, but you are being impacted by a problem that is beyond your control. The best way that you can help them is to ensure that you are staying healthy and focused on God, not the other person's problem with pornography. During a difficult time like this it is important to remember that many individuals get through the storm of pornography addiction and move forward to become all that they were created to become.
Understanding Addiction
The term pornography or sexual addiction is a tough one for many individuals to understand. I find this especially true when working within the Christian community. The difficulty when working with a Christian population is the ability to accurately diagnose sexual addiction.
The difficulty arises because a secular clinical community may not view a Christian who is engaged in some behaviors as "sexually addictive." The secular clinical community has multiple perspectives on what defines sexual addiction. Patrick Carnes defines sexual addiction as,
". . . any sexually-related, compulsive behavior, which interferes with normal living and causes severe stress on family, friends, loved ones, and one's work environment. Sexual addicts make sex a priority more important than family, friends, and work. Sex becomes the organizing principle of addicts' lives. They are willing to sacrifice what they cherish most in order to preserve and continue their unhealthy behavior."
This definition is further expanded by SA, a 12–step program that follows AA's 12-step model, and expands this concept even further by stating, "The sexaholic has taken himself or herself out of the whole context of what is right or wrong. He or she has lost control, no longer has the power of choice, and is not free to stop."
As you can see, it may be difficult to objectively define what a "sexual addiction" may actually look like. However, I think a few key points are important and I have found them useful in my work with clients.
1. The addictive behavior interferes with normal living, becomes a higher priority and forces them to begin to sacrifice what they cherish most of all.
2. Slowly, over time, they remove themselves from what matters most, and issues of what is right and wrong begin to slip away.
3. The individual simply surrenders the ability to choose. An individual's struggle with issues of sexuality can be as simple as a "high sex drive," or as complex and troubling as visits to prostitutes or massage parlors.
For many of my clients, struggling with pornography and grasping the ability to fully define and understand their struggle has been very difficult. Therefore, I have developed a model that I think is a very helpful tool for understanding a wider definition of addiction; I believe that it is one that works well with multiple forms of addiction and relies more on an understanding of what is going on internally rather then externally.
In my book, Breaking The Cycle and in my recovery workshops, I have developed the following paradigm for addiction: Addiction is an unhealthy attachment to objects, behaviors, or people. Attachment can be defined as a purposeful connection to gain long term comfort and develop security. A wounded person will find a way to have their need for connection fulfilled. In some individuals, if the wound is great enough, the person might find themselves developing an unhealthy attachment to the approval from others, or perhaps food and the feeling of being full.
In some cases, it can be an unhealthy attachment to work or obtaining possessions. Whatever the outside manifestation, the attachment is unhealthy and will create imbalance in the person's life. The purpose of this unhealthy attachment is to bring temporary comfort or security during a period of emotional deprivation. Simply stated, emotional deprivation occurs when are current circumstances are causing us to experience extend sadness, worry, anger, or fear. In an effort to avoid internal pain, individuals will attach to unhealthy objects in order to avoid the pain of emotional deprivation.
Quite simply, the individual who is struggling with pornography is using it more for comfort, than sexual enjoyment. In many cases, pornography is used to manage anxiety or feelings of insecurity. In addition, the person who is struggling with pornography is out of control in other areas of their life. In no way does this excuse the behaviors, quite the contrary; it demonstrates that this is a long term restoration project rather than a quick fix. The person who is actively struggling with pornography has allowed a very destructive force to take a foothold in their life. The use of the pornography has become an idol that will not be satisfied until all that matters to the individual has been lost. As we move forward in the next blog I will define a few key steps that will assist the individual caught in the trap of pornography use to move from the bondage of addiction to the freedom of surrender.
. . . .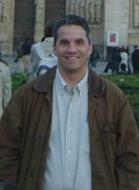 This is a guest post by Paul Mavrogeorge. Paul is a licensed Marriage and Family Therapist who works at Link Care Center, a counseling program in Fresno, California. Paul has a wide variety of experience with families, married couples, and individuals, and spends a good deal of his clinical time working with issues such as co-dependency, addiction disorders and sexual addiction. In addition to his clinical practice, Paul and his wife Julie run Mavrogeorge Consulting, a business that provides executive coaching, recovery workshops, various life improvement trainings, and team development for a number of organizations. Paul hosts a weekly newscast with Fresno's KMPH entitled "Mavrogeorge Mondays," a practical solution oriented segment. Paul lives in Fresno with his wife and his two sons, Jordan (12), and Jeremiah (11).