"Grace is presently at work in our lives." —Robert Millet
It was Saturday, December 10, 2016. I woke up, lying on my side, in a cheap motel room on Fremont Street in Las Vegas. I could see the daylight squeezing in around the edges of the blackout drapes on the windows. I was sick. Really sick. My head felt like it was in a vice, my entire body was in pain, and I knew immediately I didn't have the energy to simply get out of bed. My stomach was churning—I was in bad shape. How did I get here?
Porn trapped me at a young age.
My story starts in 1954. I was given up for adoption three days after my birth, lived in a foster home for a couple of months, and was then adopted by my parents. I grew up with good parents, although I would say I was never really close to my father; in fact, most of what I learned from him was how not to do things.
At about the age of 11, I was abused by one of my Boy Scout assistant leaders, who was probably 18 years old at the time. This abuse went on for maybe a year and a half or so. He introduced me to masturbation, and I was hooked.
At that same time, I discovered porn in magazines, with a friend from school. Of course, I didn't tell anyone; in fact, I didn't tell anyone ever until I shared it with my wife, Marilyn, after we'd been married some 25 years. What I was experiencing didn't feel right, but it "worked" for me because it felt so good. No one had talked to me about this. No one had prepared me to say no. No one had warned me that this was inappropriate. We, meaning everyone, just didn't talk about stuff like this in the 1960s. This was the first time my physical self was winning the battle with my spiritual self, but at that point in my life, I really didn't know I had a spiritual self.
I was a Mormon—a member of The Church of Jesus Christ of Latter-Day Saints. I checked all the boxes growing up in the church: baptized at 8, deacon's quorum president at 12, teacher's quorum president at 14, four years of early morning seminary before school, served a mission to Chile, district and zone leader on my mission, and married in the temple when I was 22. I firmly believed in Jesus Christ, that He was my Savior and Redeemer. I also was active with some good friends in Young Life, a Christian youth organization, and I loved it. I developed a strong testimony of the truth of the Gospel, but at the same time, I was developing a pretty good addiction to porn.
Faking it only made things worse.
From a very young age, I knew that wanted to serve a church mission, and the year before I was to go, at age 19, I decided to "clean up my act." I was able to stay clean before, during, and after my mission. My time in Chile was great; I fell in love with the country, the people, and the mission.
Two months after returning home, my future wife, Marilyn, and I were engaged. We were married in June of 1976, had our first child in 1980, and that same year moved to live in Utah so we could afford to buy our first home. I began a career in the retail grocery business and became a store manager, which meant lots of pressure and hours worked.
As the pressure of work and family mounted, I once again turned to porn to numb myself. Over the years, and through some really difficult times in our marriage and family, my porn use became a full-blown addiction.  And then, after my children were grown and living outside our home, my addiction to porn turned physical—strip clubs, massage parlors, and escorts.  I only lived for my next fix, all the while faking life.
Faking it at work. Faking it at church every Sunday. Faking it with friends. Faking it at home. I was miserable, and nobody really knew it but me.
It's crazy, but I still believed in God. I still had a testimony, but I just didn't care anymore. I knew I was going to hell, and I didn't care; I'd given up. I was so ashamed of my past, carried around so many regrets, and had so much fear of the future, that I was never present. I didn't want to feel…anything.
I finally hit my breaking point.
So, the day before that terrible morning in Las Vegas, I literally ran away from home. I hated work and was so tired of it. Thursday was my day off, and I had received a couple of discouraging texts from my assistant manager. That evening, Marilyn and I had an argument about the lights on the Christmas tree, and I went to bed. The next morning, I talked myself into leaving; did I have the guts to really do it? So, I did.  I left work just after noon, went to our credit union and withdrew thousands from our savings, bought a burner phone at Wal-Mart, and headed to Las Vegas, about a six-hour drive from our home in South Jordan, Utah.
I spent that Friday night at the Palomino club, then with an escort, getting back to my motel room in the early hours of the morning. Sleep was tough, and I kept debating with myself how this running away thing was going to work out. Eventually, I did sleep a little, and after I woke up, I felt like I was dying. I just laid in bed until early afternoon, having no idea what to do now. As I laid there, feeling so bad and so sorry for myself, a voice came into my head: "call Marilyn." I'm not going to do that!  Then a second and a third time: "call Marilyn." I picked up my burner phone and dialed her number.  That was the first time I had thought of her at all in two days.
When she answered the phone I started crying and said, "I'm sick and I need help."  After a couple of more calls, she flew to Las Vegas with our good friend and rescued me.  They drove me home, curled up in the back of my little coup car, took me to the hospital to be checked out at two in the morning, and finally fell into my bed around 5 a.m.
Early Monday afternoon, we had found in-patient help at a rehab facility in St. George, Utah, called Desert Solace. Forty-five minutes later I was packed and on the road again. I walked into Desert Solace that Monday night, ready for a new beginning.
Desert Solace saved my life.
Desert Solace, and especially the people that work there, literally saved my life—physically, emotionally, and spiritually. I was there for 90 days, and it was the best 3 months of my life.  No TV, phone, or computer, and no family (except once a month on weekends). I had a daily routine, with lots of time spent in group therapy settings. I had a 12-step meeting every night for 90 days and church every Sunday.
I learned who I really was, and I experienced a new relationship with myself, God, Marilyn, my children, and other people. I experienced forgiveness, both from God and from others.  I began to understand what the atonement of Jesus Christ really means, and how it works in my past, present, and future life.
Above all, I learned principles of not just recovery, but life—how to be a conscious creator of my life. I rediscovered real faith and hope and learned about the opportunity that I have every day to choose what works or what doesn't.
The best is yet to come!
I have been home from Desert Solace for just over three years now. Marilyn and I have been back there many times to share our story and experience with clients and their families. That, for me, is sacred ground. Although my recovery path, like most, has not been easy or straight, I am healing, and Marilyn is with me. She will tell you that her recovery has been as real and amazing as mine.
I kept a journal while in rehab, and I re-read it on a regular basis. I love to read and have read nearly 70 books about recovery and spiritual living since being home. Who knew that life could be so good and that God was so involved in my life? Amazing.
I have continued with meetings and have left the shame of addiction behind.  We are not afraid to share our story and actually look forward to those opportunities. We are currently serving as facilitators in a couple's meeting for an addiction recovery program, and we love that opportunity to serve. Looking back, we have met, and count as good friends, so many people that we have come to know on this recovery path, and have been so incredibly blessed as a result.
Above all, we have learned that it is never too late. Never.
---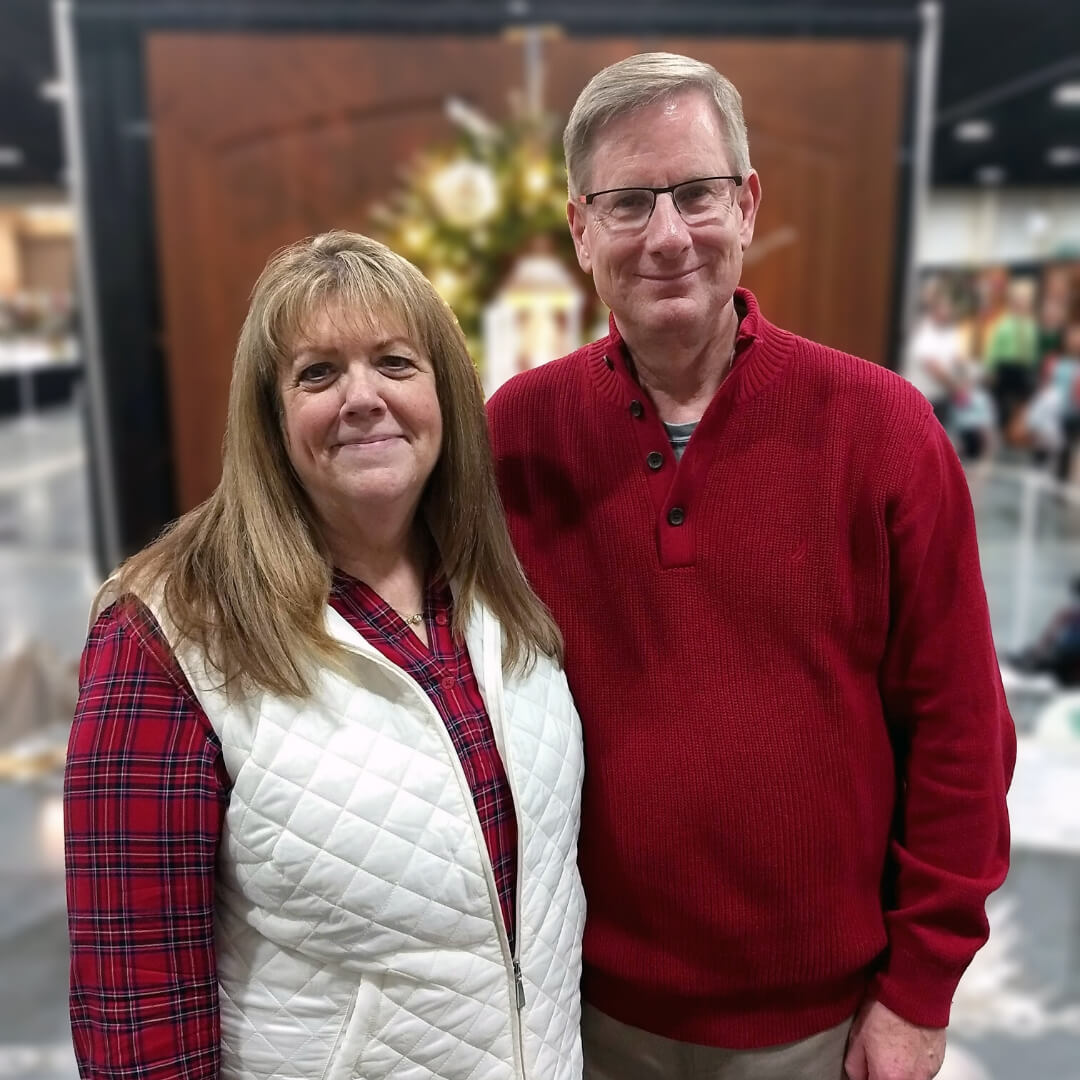 Chris Epson has been an active member of the recovery community for over 3 years. After attending Desert Solace, he and his wife have returned a few times to speak and share their story with others who are in Addiction Recovery. They are also facilitators in a couples 12-step group. Chris shares pieces of his journey on his blog: Recovery-Light-Life.