So you're ready to let the cat out of the bag and confess your struggle with pornography?
Here are a few approaches:
Political Strategy: "Ahhhh… I might have a problem with some things I've sort of seen accidentally on the computer and thought you would possibly want to be made aware."
Surprise Attack: "Hey Mom & Dad! I just wanted you to know I'm a porn addict."
Adam's Approach: "The phone which you gave me, it showed me pornography, and so I watched."
On second thought, maybe you should just keep that tomcat in the sack.
No, you know you can't do that. You can't continue to pretend porn is just your little pet sin you play with from time to time. You're past that. Indeed, that little feline has grown so big, it's claws are sharp enough to shred your soul to pieces. And it has already begun to do so.
Related: To the Teen Alone and Ashamed Because of Your Porn Use
You need help, your parents need to know, and you need to tell them. But how?
In this post (and one which will follow) I will share three tips, but the first is the one you're most likely to want to skip. I urge you not to do that, because this first tip is also the most critical to the success of your convo with the parental units. Here it is: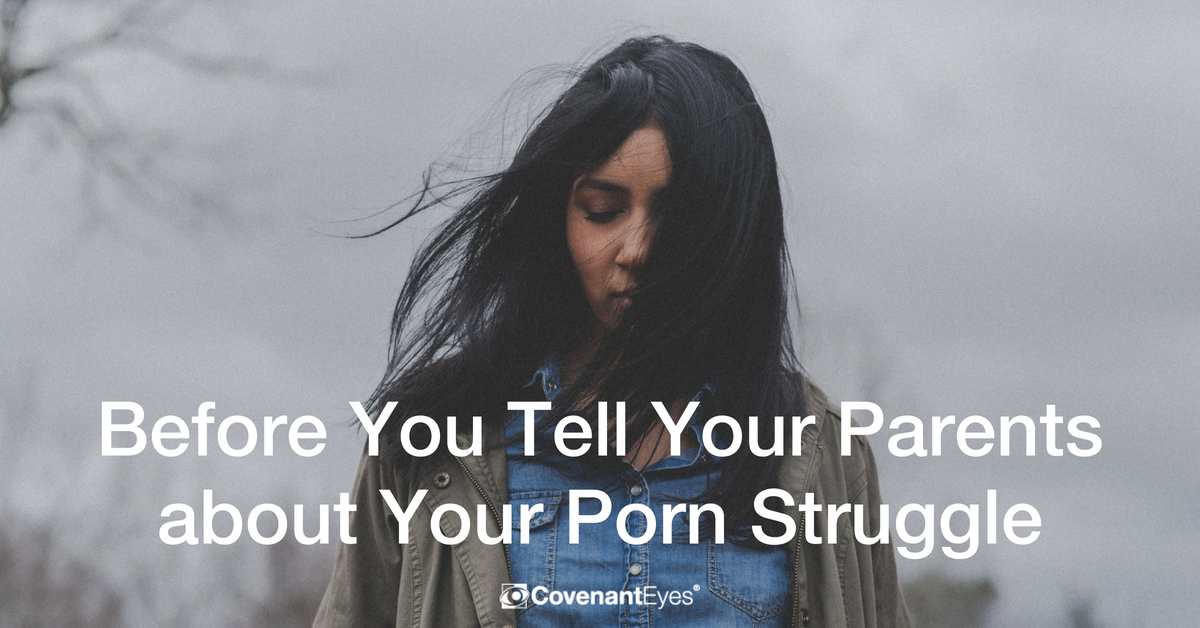 The Best Way to Prepare to Share Your Struggle
The best way to prepare to share your struggle is to pray. I realize you may have good reason to doubt the power of prayer. We often doubt prayer's impact when it doesn't bring to pass what we want or think we need. But that isn't the purpose of prayer.
Instead, prayer is about bending our will to what God wants and knows we need. And if what God wants is a better plan than yours or mine, this should be very good news. Even if it leaves us disappointed–or worse–still struggling with a sin we can't seem to shake.
Related: Why Can't I Stop Watching Porn? 3 Reasons It's So Hard to Quit
That said, it's likely you've asked God to take away your desire for porn, maybe for months (or years), maybe even through tears, and it clearly hasn't worked.
Or has it?
What if your petitions are the very things which have led you to realize your need for your parents' help in finding the freedom you so desperately seek?
So keep praying. Only more earnestly. And more specifically.
Pray for Your Heart
For starters, ask God to prepare your heart for this conversation and what it will require of you, not the least of which is humility.
Fortunately, when it comes to humility you're already halfway there! Be proud of that!
Just kidding, but seriously, admitting you have a problem requires a great deal of humility.
However, odds are your parents will wind up asking probing questions–or worse–leveling accusations. And when they do, you will be tempted to go on the defensive.
That's pride right there, my friend, trying to protect "your reputation." But trust me, you'll just have to let that reputation go.
You need to care about something far more important than your reputation. You need to care about your character. Your reputation is what others believe you to be, but your character is who you really are. And the sad fact is this: you have been the kind of person who hides dark secrets from their loved ones. And now it's eating you alive.
"For when I kept silent, my bones wasted away through my groaning all day long. For day and night your hand was heavy upon me; my strength was dried up as by the heat of summer." –Ps. 32:3-4
Regardless of what your parents or anyone else thought, that's who you've been. But you want to be someone different. And you were made to be someone different! That's why you're going to do the courageous thing (something many grownups won' t even do) and bring your sin into the light!
Your reputation may take a hit, but your character is going to grow stronger. Far stronger. Indeed, I'm praying right now, as I type these words, that God's Holy Spirit will help you see this and desire this more than a "good" reputation.
Pray for Your Parents
In addition to preparing your heart, you want to ask God for wisdom on how you should approach your parents.
After all, you may have an idea of what you need to say, but the LORD your God knows precisely what words will best communicate your regret, your fears, and your need. You may predict how your parents will react, but a God like ours possesses perfect knowledge so He doesn't operate off of predictions. You may have suggestions for how they can help you, but God understands exactly what role He has equipped them to play in your freedom from porn.
So before you do anything else, pray, knowing God not only wants your freedom more than you do, He already paid for your freedom with His own blood.
"And this is the confidence that we have toward him, that if we ask anything according to his will he hears us." –1 John 5:14
In the next post, we continue with the other two tips to confessing to your parents.
In the meantime, share your concerns about telling your parents in the comment section below. Or if you already have broken the news to mom and dad and have advice or encouragement, share below as well!