In business, there are some very common aphorisms such as "People respect what you inspect." In the New York Times best seller In Search of Excellence, Tom Peters and Robert Waterman proposed a method commonly referred to as MBWA, or Management By Walking Around. People respond differently when they know others will hold them accountable. In fact, I drive at a slower speed when I think the Highway Patrol is out in force.
We all consider ourselves people of character, but if we are very transparent, we do behave a little more cautiously when the boss is around or we are expecting an important guest. We are more conscientious when others see who we are and what we do. About two years ago my wife and I had planned a Christmas movie evening with our teenagers during the holiday break. We had selected some of our favorites and a couple we had not seen in years. One that we remembered being very funny when we were in college seemed more than a little embarrassing when watching with our kids present. In fact, we turned it off. It is amazing what we learn when we allow ourselves to be viewed through a different lens.
That is the power of accountability. It comes from relationships like our bosses, our spouses, our kids, our pastor, or our small group leader. Just knowing someone else is discerning our behavior causes us to examine our heart and what we're doing. And this helps us make better choices.
Layers of Protection with Covenant Eyes
I chose Covenant Eyes to be an added layer of accountability in my life and for every employee of Randall House (we call them "team members"). Why? Because I am a man. Because I am a husband, a father, a leader, and most of all a Christ-follower. I need to build in layers of protection. These layers such as my quiet time, my prayer time, my accountability partner, and Covenant Eyes make me stronger.
We installed Covenant Eyes on every laptop in our organization, which also makes it available to the spouses of our team members. While in the network within the physical building, we have a double firewall and filter service inherent to our servers. But when our team members leave with their laptops, they are wide open to whatever. I would never buy auto insurance if my coverage were limited only to my neighborhood, so why should I limit the value placed on our employees when they are away from the building?
We use the accountability provided by Covenant Eyes and allow our people to surf wherever they desire, knowing that whoever they choose (along with myself, the CEO) will get a copy of their accountability report each week. Who gets my report? My wife, my accountability partner, and the chairman of our board receive mine each week. As many as are accountable to myself, I am accountable to as well.
Download: Accountability Partner Checklist
Covenant Eyes: Building Good Habits
I like not having the filter and only having the accountability. It shows complete choice on our part but prompts me to stay within protective boundaries. I personally no longer think of the computer as a temptation. The habits created with accountability can be very freeing. Almost without exception, every team member using Covenant Eyes has thanked our organization for providing it. That is true of male and female team members. While I know this has significantly impacted marriages in a positive way, I also know that it likewise raises the bar of expectations within Randall House.
Covenant Eyes is our Internet MBWA method.
Learn how Covenant Eyes can benefit your whole team
---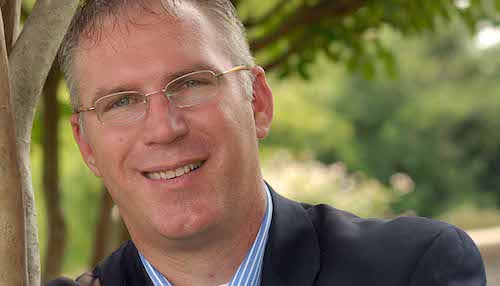 Ron Hunter Jr. is the Executive Director & CEO of Randall House the publisher of D6 Curriculum and the host of the D6 Conference. He has written numerous articles for various Christian magazines and coauthored Toy Box Leadership. He has been married to his college sweetheart, Pamela, since 1987, and they have two enjoyable teens, Michael and Lauren.