The gospel is good news because it reveals the grace of God. Jesus died on a cross and rose from the dead to rescue you from the coming wrath. You will not be condemned in the future because your sins have been judged in the past. The perfect life of Christ has been eternally transferred into your account.
You have been saved by grace. This grace must now equip you in your daily battle against sin.
Grace Trains Us
Titus 2:11-12 says, "For the grace of God has appeared, bringing salvation for all people, training us to renounce ungodliness and worldly passions, and to live self-controlled, upright, and godly lives in the present age."
For the weary soldier who is tired of the conflict, I would ask him to listen to the general who stands beside him on the battlefield. In that moment, He will hear his Messiah say, "I love you. I always have. I always will. I am not finished with you." As John Newton reminds us, the grace that has brought us safe thus far is the grace that will lead us home.
Porn Ensnares Us
Despite the glorious liberation that is promised in Titus 2, many grace-loving believers still find themselves overwhelmed by specific sins. In fact the intensity of their battle and the frequency of their failure causes them to wonder if this verse truly applies to them.
I have spoken with countless men whose lives are filled with a passion to serve God, yet are continually defeated by pornographic images on the computer. Their question is always the same, "If grace is so amazing, why is my life not changed by it?" So often the answer is that they are not incorporating the specific means through which God can funnel His grace into their life.
Use the Means of Grace
God's grace is free but it flows through specific means or conduits. Traditionally the church has associated these means of grace with such things as Bible study, prayer, journaling, etc. But surely a God that is as creative as ours will continue to give us new means of grace for new battles.
I believe that one of the new means of grace for the 21st century believer is Covenant Eyes. The moment that a man downloads the program on his computer, he can choose someone as an accountability partner who will receive a weekly report of the websites he visits. The transparency that is made possible through this software is a means of grace that will produce ever-increasing freedom.
I love the honesty that Covenant Eyes produces in my life. It prevents me from living in deceit. God wants us to be free, but as Jesus reminds us, only "the truth will set you free" (John 8:32). The secret sinner will never be free.
Sign up for Covenant Eyes
Covenant Eyes helps men tell the truth. Through the weekly internet reports that are generated, there is no mistaking where someone has been on their computer. Once a guy knows that his web trail will be seen by a close friend, he begins to take seriously the sites that he visits. In fact, the very moment he knows that this software is watching his every movement on the web, the temptation to visit impure sites is greatly diminished.
Covenant Eyes cannot replace the Holy Spirit's work in giving us new desires. But like guardrails on a mountain curve, it can keep us from destruction on a day when our flesh feels like driving wild. I cannot express my gratitude enough for the freedom that comes through this ministry, both to my life and to the lives of the many men who use it with me. It truly is a means of grace.
---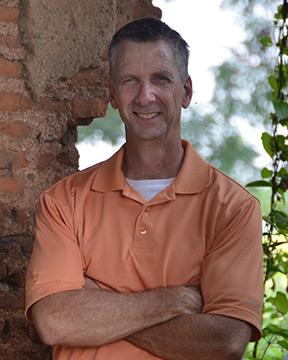 Richard Smith is the lead pastor at Hope Point Community Church. Richard is a graduate of Clemson University and Southwestern Seminary. Joining him in ministry is his wife, Lisa, and their daughter, Anna. Among his interests are golfing with a good friend and hiking with his dog Conrad.
Pastor Smith talks about his experience with Covenant Eyes…