The following is an excerpt from our free e-book, Coming Clean: Overcoming Lust Through Biblical Accountability.
---
"I don't need to be accountable to another person. I'm accountable to God."
This well-meaning but misinformed statement is a common excuse for why some Christians avoid accountability groups or accountability partners.
For some Christians, saying they need accountability in order to make changes in their life is equivalent to saying, "Knowing that God is watching isn't enough to get my act together. Something must be wrong with me." These Christians see accountability as a crutch they shouldn't need. If God can change my heart, they think, certainly he can do it without involving other people.
But what if accountability is actually one of God's ordinary means to help us become more like Christ?
What if we were meant to treat accountability not as a last resort but as a lifestyle?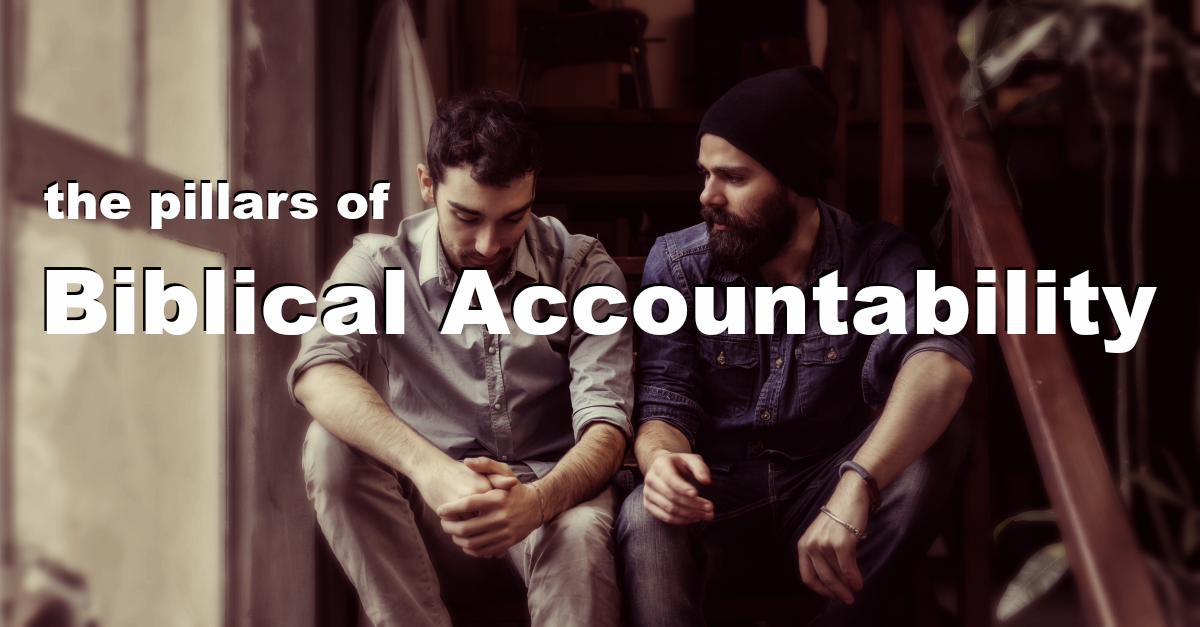 One-Anothering
The New Testament uses the phrase "one another" dozens of times. Attached to this phrase are vivid descriptions of what our friendships are supposed to look like in the body of Christ.
Accountability is a term the church often uses to summarize several of these one-anothers.
James 5:16 – Confession and Prayer
"Therefore, confess your sins to one another and pray for one another, that you may be healed. The prayer of a righteous person has great power as it is working."
The first two one-another building blocks in accountability are (1) confession and (2) prayer. In this text James urges us to regularly confess our faults to one another and then pray for each other.
Personal sin can be a cause—though certainly not always a cause—of our physical and emotional ailments. So what James is advocating here is good preventative medicine. He tells us to regularly check in with each other and enjoy rich face-to-face relationships of mutual confession and prayer.
This verse can be applied in many of our relationships—with parents, children, spouses, friends, Bible study groups—the list is endless. The vision here is of many communities of believers who pray earnest and fervent prayers for each other while they open their mouths and ears and get honest about sin.
These are key building blocks in all accountability relationships. Accountability is about giving an account of our sin to each other and then walking with one another to God's throne of grace.
Hebrews 10:23-25 – Meet Together and Encourage Each Other
"Let us hold fast the confession of our hope without wavering, for he who promised is faithful. And let us consider how to stir up one another to love and good works, not neglecting to meet together, as is the habit of some, but encouraging one another, and all the more as you see the Day drawing near."
The primary concern of the author here is to see his readers persevere in their faith right up to the end of their lives—to hold on to the hope they have in Christ. Instead of shrinking back in our faith, we are called to move forward, blessing the world with love and good works as we long for the Day when Christ will return.
The author believes our relationships are crucial to our perseverance and growth, giving us two more building blocks to accountability: (1) stir up and encourage one another, and (2) meet together.
The word "stir up" can be translated urge, spur on, or motivate. It has also been translated "provoke one another."
Saying it another way, the author commands us to "encourage one another." This word means to call someone to your side in order to strengthen them with your words. It refers to both "being there" for someone and having the right words to say. In the original language, "encourage" refers to a variety of conversations—instructing, comforting, admonishing, rebuking, warning, urging, begging, consoling—any timely words your friend needs to hear to strengthen his or her heart.
This means really getting to know one another. It means not just confessing surface-level stuff, but helping one another to see underlying motivations. It means hearing one another's stories and spending time together. It means helping one another tap into godly motives for Christian living.
Encouragement also means investing some mental energy. If I know my friend is battling with a particular sin, I should be going to the Scriptures and the brightest minds in the church to find the best kind of motivational material I can. I must ask myself: What does my friend have to lose by continuing down his or her path of sin? What does my friend have to gain by overcoming? Good accountability partners spend mental energy thinking about and praying about these things.
With this in mind, we are told to "meet together" in settings where we can easily have these kinds of conversations. For many, the standard large gathering at church is not the place where these kinds of activities can happen (at least not routinely). These sorts of meetings need to happen in smaller settings.
Building the Accountability Relationship
Building a good accountability relationship takes time. There are benefits and blessings along the way, but the ripest fruit comes after a real friendship is built.
Thinking of these four building blocks together, they form a structure that gives purpose and shape to our accountability relationships.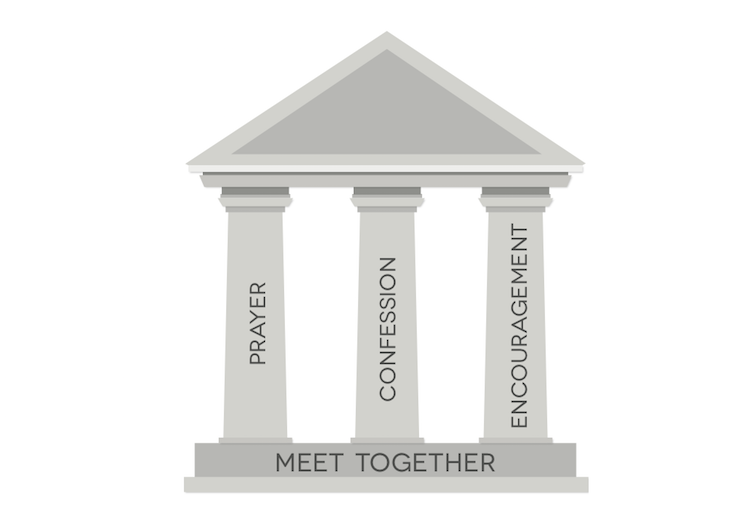 The foundation is meeting together. This includes all the basic methods of communication and conversation: meeting for coffee, talking on the phone, writing e-mails, or anything that involves a meeting of minds.
The central pillar in the room is confession of sin: getting honest with God and one another about what we are doing that we shouldn't do or not doing that we should.
The outer walls that support and protect this relationship are prayer and encouragement.
---
Download and read the rest of the free e-book, Coming Clean: Overcoming Lust Through Biblical Accountability