Inspired by "The Resolution" as it appeared in the movie Courageous, and having battled for over 30 years against lust, porn and masturbation, I was convicted of the importance of having a document that declared—for the world to see—my war against impurity in my life.
And so I began to write. I wanted to make sure that every point of my declaration was Biblically based. You see, if I try to do it on my own, I will fail. I had already proven that time and time again. Only through Christ and the leading of the Holy Spirit can I have any hope of winning this battle (Philippians 4:13).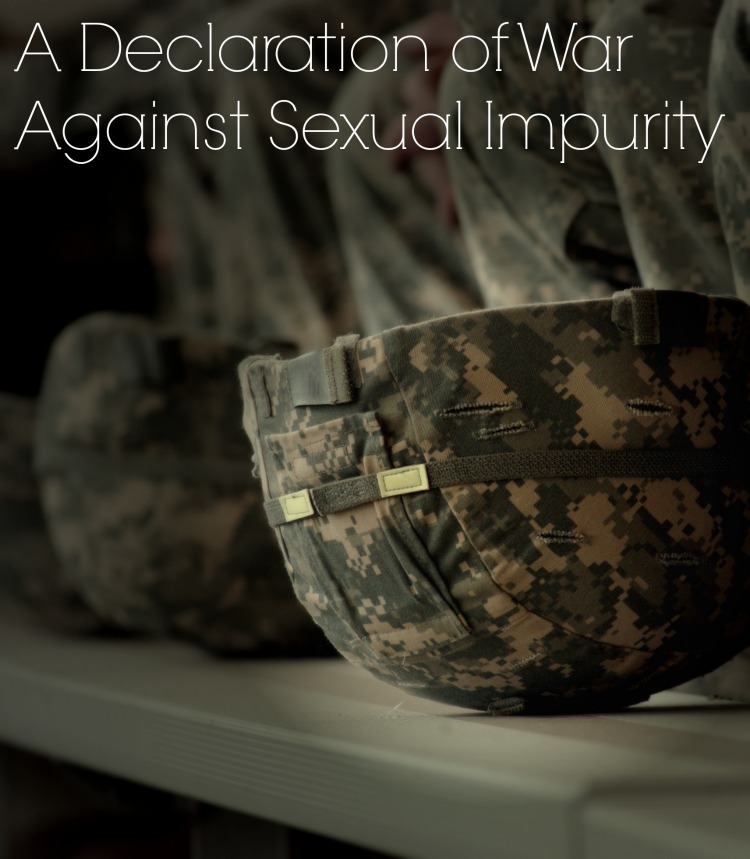 I also had to learn the hard way that I can't just sit back and "let go and let God" do it all for me. That's not how He works. He gives me the strength so that I can go out and fight the battle. He teaches me how to fight (Isaiah 28:26; Titus 2:12) and provides me with the protection and weapons I need (Ephesians 6:10-18; 2 Corinthians 10:4-5).
I am sharing my declaration with you for two reasons. First, I really do want the world to know I have declared war against impurity in my life. It has no place in my home, in my marriage, in my life, in my mind…and so I am determined to fight it with every fiber of my being through every ounce of strength that my Savior, Lord and Friend gives me (2 Peter 1:3). Second, I want to encourage you to adopt this declaration as your own. Share your determination with your accountability partner(s). Let's fight this battle together.
The Pure Man's Declaration of War Against Sexual Impurity
Whereas the truth of God's Word has been opposed, and the execution of His will obstructed in my life: Now, therefore, I, (my name), a redeemed child of God, do hereby declare war against impurity and the sinful desires of my flesh which are battling against my soul.
In this state of conflict, it is resolved and determined that I do hereby assert and promise before God and the witnesses whose signatures are affixed below that, being fully surrendered to God:
I WILL seek first God's kingdom and righteousness in every aspect of my life.
I WILL seek to love God with all my heart, all my soul, all my mind, and all my strength.
I WILL seek to daily study, meditate and memorize God's Word.
I WILL seek to daily prepare my mind for battle, taking captive every thought to make them fully obedient to Christ, and thinking only on those things that glorify God.
I WILL seek to control my own body in a way that is holy and honorable, abstaining from the sinful desires of my flesh and avoiding all forms of sexual immorality or any kind of impurity.
I WILL NOT look lustfully at a woman.
I WILL NOT allow my TV, computer or handheld devices, movies, books, magazines or any other form of entertainment to set before my eyes any ungodly image or standard.
I WILL regularly seek the support of godly men who will hold me accountable to this commitment.
I WILL fight the good fight, I WILL finish the race, I WILL keep the faith!
Photo credit: soldiersmediacenter
---
Steve Etner is a national men's speaker, author, and Purity Coach with The Pure Man Ministry. His book, Extreme Mind Makeover: How to Transform Sinful Habits into God-Pleasing Patterns of Life, and his conferences, seminars, and retreats focus on what God has to say about the way we think and the impact it has on our behavior. Teaching men how to live in moral purity by equipping them with Biblical answers, Steve's goal is for men to have a re-ignited passion for Jesus and learn how to prepare their minds to successfully overcome their temptations and thus live pure lives for Christ.