"Christ, who said to the disciples, 'You have not chosen me, but I have chosen you,' can truly say to every group of Christian friends, 'You have not chosen one another but I have chosen you for one another.'" – C.S. Lewis, The Four Loves
How do you find and foster a great accountability relationship? Whether you're looking for a good accountability partner or you already have one, we believe these resources will be a great help to you.
.
---
1. Choosing an Accountability Partner (Video)
We often get questions about how to find a good Accountability Partner. If we are going to get the most out of an accountability relationship, we need to have the right expectations and find a good Partner who shares those expectations.
This four-and-a-half-minute video gives our members a tutorial about that.
.
---
2. Accountability Partner Checklist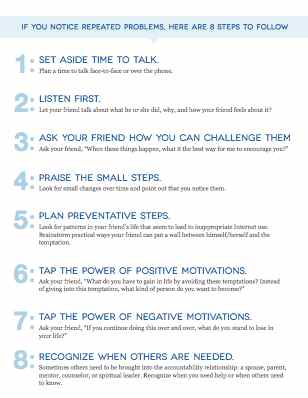 When you get someone's Internet Report, what do you look for? What should you do if you notice questionable stuff on the Report? In a nutshell…
Go through the report

Get the details
Give encouragement
Download this short checklist and keep it on hand for when Internet Reports come into your inbox. Included in this checklist are eight steps you can take with someone who repeatedly runs into Internet temptations.
.
---
3. Christian Accountability: A Discussion Guide
How do you take your accountability beyond surface-level stuff? How do you go beyond Internet-related conversations? How can you start talking about heart-motivations and more personal matters?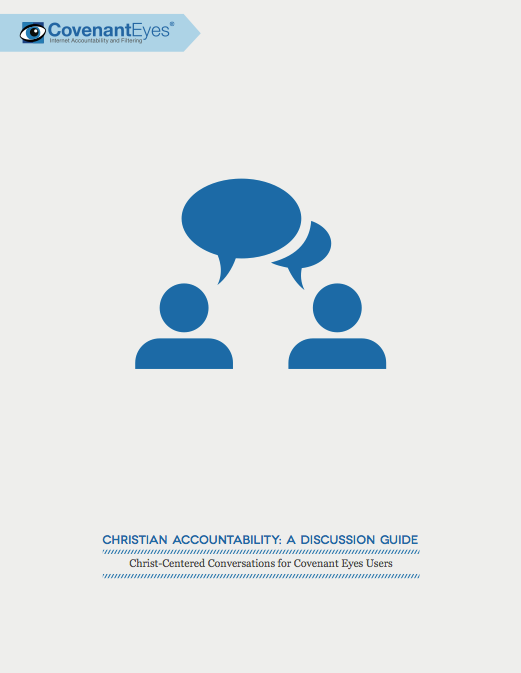 Download "Christian Accountability: A Discussion Guide" and fill out the questionnaire each time you meet with your Partner. When you meet together, your Parter will know at a glance specific temptations and sins that need to be talked over and prayed about. The goal of this list to…
remember and summarize the temptations you have faced, the choices you have made, and the state of your heart;
discuss these matters with trusted Accountability Partners;
talk concretely with others about ways to guard against sinful actions, thoughts, and motives; and
see your need for God's grace—for overcoming both the guilt and the grip of sin.
.
---
4. Encouragement Cards
Download these three encouraging e-cards and send them to the person you hold accountable.
Card 1: No matter the obstacle, your determination to stand firm and be accountable is a path to victory.
Card 2: Nobody trips over mountains. It is the small pebble that causes you to stumble. Pass all the pebbles in your path and you will find you have crossed the mountains.
Card 3: Your Accountability Report was fantastic! Great job making decisions this week that will create a positive ripple in your life for years to come.
.
---
5. Coming Clean: Overcoming Lust Through Biblical Accountability (E-Book)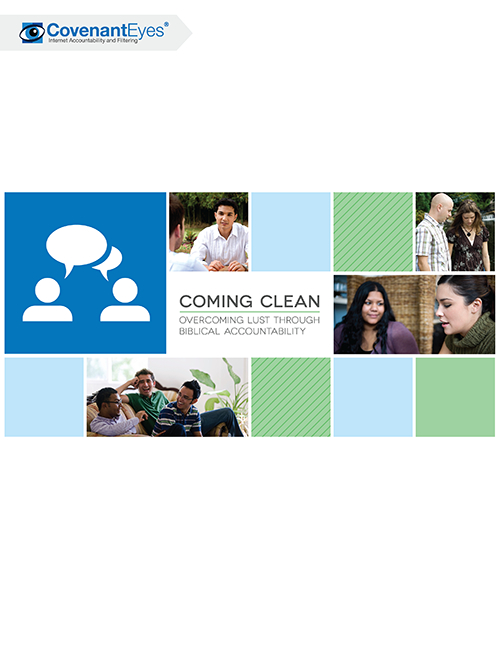 The goal of this book is to frame our understanding of accountability according to the Bible. What has God said about the way we should relate to one another? What are the biblical pillars of accountability? How does God use Christian friendships to sanctify us and change our hearts?
You can read this e-book by yourself or with an Accountability Partner or group. It is complete with optional discussion questions, an accountability questionnaire, and a special chapter for spouses.
Download: Coming Clean: Overcoming Lust Through Biblical Accountability.
Pure Minds Online | Issue 33 | More in this issue: When Porn Shattered My Fairytale World | Social Pruning | 10 Ways to Help Your Pastor Deal with Pornography in Your Church