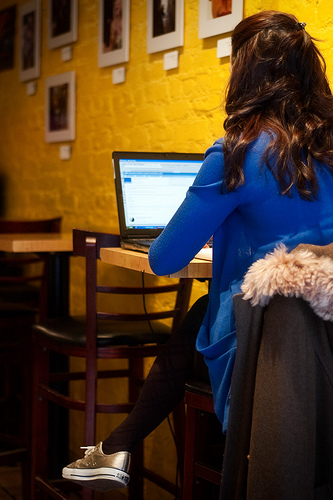 There are pros and cons to online dating.
Pro: There are great people online (I have found them, know them, and am one of them).
Pro: For someone immersed in a career or ministry, online dating can open up opportunities that normally would not exist.
Pro: There is intention. There is no "Well, I plan on dating someone for six years while I finish my Star Wars collection (sorry, guys), master the art of cooking Ramen, and move out of my mom's basement; then, maybe I will consider marriage." For the most part, the people on dating sites want to be married—soon. It is the next goal in their lives.
However, for every good, godly guy online, there is a bad one. This brings us to the biggest con of online anything:
The bad guys lie.
Extremes on Both Ends
The National Center for Missing and Exploited Children says that 1 in 5 children are sexually solicited online. According to Match.com, 1 in 5 relationships begin online. Connecting with people online has two sides. It could be your worst nightmare or a dream come true. Choosing to date online means navigating a world full of predators, knuckleheads, and potential marriage partners. The problem is, you cannot tell the difference at first.
If we caution our teenagers, children, and young women to stay away from strangers they meet on line, does it then make sense to turn around and encourage them to do just that—meet strangers online?
I have seen both extremes. I have read the news stories of girls going missing after meeting up with men they met online. These men lied about their ages, their locations, and their intentions. Then, I have friends who met their husbands online. They met, married, and had children with stellar men of God that honestly made me step back and ask, "How were these guys still single!?"
Still, it is the Internet. Still, people lie. Still, men prey on seemingly desperate women in order to get what they want.
Is It Worthy the Risk?
There is no background check verifying all members of Site A are top-quality men (or women for that matter). I would consider myself a decent Christian woman who loves the Lord, so surely there could be decent Christian men on there as well, but not all of them are. There is always the slight minority that could end up killing me. So, is it worth the risk?
Not to be coy, but it depends on the risk you are taking. No parent would encourage a child to play in the street, but we do teach children how to walk across the street. What makes the difference? Intent, direction, and caution.
It is not that streets are bad, cars are evil, and every car is out to run them over. The fact is streets can be dangerous and cars can kill you. Being cautious can go a long way in preventing injury.
Tips for Online Dating
For those considering online dating, I have this advice to help curb some of the risk. Think of it as "Stop, wait for the walk sign, look both ways, make eye contact with drivers, listen' for the cyber street.
1. Pray. Do not (I repeat: do not) go into this in some Jonah-like attempt to wiggle your way out of where God has you right now. It is much easier to make unwise decisions when you are making them rashly. Get God involved on the ground level. If you do not have peace or, if at any point this becomes an obsession, stop.
2. Do Not Run Into Traffic. Look around you first. A friend of mine shared a story from one of her previous churches. The church had a significant singles ministry and many were involved in online dating. One of the men was matched repeatedly with his friends in the singles group. He would e-mail them, "Well, that was awkward." Then, he would block the profile. If you are in a zone with potential for marriage, look there first before searching online.
3. Be Yourself. If you are seriously considering marriage, it makes no point to lie. Lying about your likes, interests, goals, and passions might seem like a nice way to 'bait' someone, but no one likes being tricked. So, yes, close the Photoshop. It is better to have no marriage at all than a shell of a relationship built on a sand bar of lies.
4. Do Not Be You. Yes, be yourself, but do not be you. Do not freely give away personal information. Limit the number of pictures you use. Use a screen name that you do not use elsewhere (IM, Facebook, bank account, etc). Guard your personal contact information carefully. It's not paranoia; it's intelligence.
5. Date Smarter. Drive separately. Meet in a public place. Go with a group if you are more comfortable with that. Tell people where you are going and what your plans are. Give them whatever information you have just in case. The reality is, you are meeting a stranger, and as much as you hope this stranger has been as truthful as you have been, there is always that chance they have not. Put yourself in an environment that discourages things like rape or abduction.
The Internet presents us with many dangers. It is wise to be cautious. For the most part, the risks of online dating are avoidable. With prayer, intent, direction, and caution, a person can avoid the dangers and reap the benefits of great friendships and, perhaps, one day, marriage.
Picture credit: http://www.flickr.com/photos/carbonnyc