Covenant Eyes Radio – Episode 133
[powerpress]
Today's program may not be suitable for some audiences, due to graphic descriptions of sexuality and violence. Listener discretion is advised.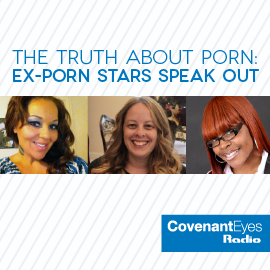 Pornography offers viewers a fantasy world that opens men and women up to sexual variety and novelty. But behind the fantasy and cleverly edited films are real men and women, many of whom have traveled dark paths to sell their bodies on screen.
All this week on Covenant Eyes Radio we will be featuring the stories of three women who used to be involved in making pornography.
How were they introduced to the world of porn? Why did they choose that life and why did they get out?
Today they begin talking about their early childhood. Where did they come from? What experiences in their youth shaped they people they became?
Music for today's podcast is "Set in Motion" by The Difficulty.