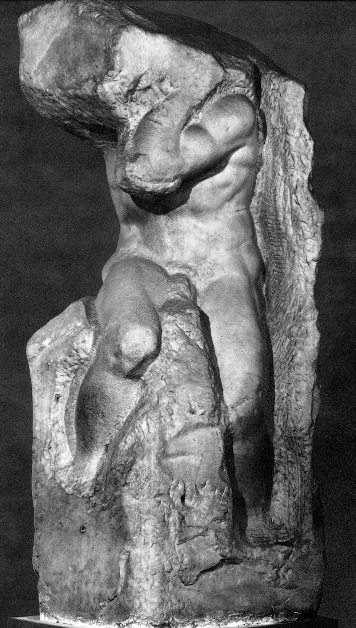 On a recent trip to Italy my wife and I had the privilege of visiting the Academia Gallery in Florence. The gallery is famous for housing Michelangelo's masterpiece David, along with a number of his other lesser known works. The statue stands at a towering 14 feet, which today would give the shepherd-king a height advantage of nearly 5 feet over Goliath.
When we arrived in the hall of the behemoth statue, it didn't disappoint us. However, what struck me the most wasn't Michelangelo's masterpiece, but rather the unfinished works lining the way that led up to it. The abandoned collection stood in sharp contrast to the magnificence of David. However, when I began to take a closer look at the unfinished work it seemed almost intentional. In fact, none of the pieces were positioned in still poses. But rather each appeared to be moving, bending, pushing or pulling their way through the slabs of marble as if they were still trying to become something.
When it comes to being a Christian, practicing accountability helps remind us of what we're becoming. Accountability is vital to the ongoing spiritual formation and discipline of a believer. Too often, the aim of accountability relationships is to simply help another person bear through or overcome a particular trial or struggle. Beyond that, there may be no other goal or expectations for the relationship. Although this may be necessary for a season, I believe there are much greater benefits to accountability beyond merely dealing with sin issues.
The place of accountability in the life of a saint isn't to give an account of sin but to give an account of Christ. Many Christians who claim to practice accountability have a hard time drawing this distinction. To help us make our accountability experience more distinctly Christian, I'd like to point out three habits found in Hebrews 12 that will help believers get it right when it comes to accountability.
1. Know where you're headed
"Therefore, since we are surrounded by such a great cloud of witnesses…" – Hebrews 12:1a
Accountability is like a GPS device mounted in the lives of those we love and respect. We refer to it when we need directions and it lets us know when we've veered off course. The writer of Hebrews encourages readers by reminding them of the success of those who have gone before them.
When searching for an accountability partner, it's important to find somebody who has either been where you'd like to be, or can provide directions to help you get there.
2. Remove every hindrance
"Let us throw off everything that hinders and the sin that so easily entangles…" – Hebrews 12:1b
When I think of sin in the life of a believer, I think of barnacles that cling to the bottom of sea-faring vessels. You can't see them from the surface but there is definitely something going on in their life that's hindering their progress. When left unattended, barnacles can have a devastating impact on the speed and navigation of a ship.
Accountability should help us not just identify the barnacles of sin that are creating spiritual drag in our life, but also assist us in eradicating them.
3. Stay the course
"And let us run with perseverance the race marked out for us,fixing our eyes on Jesus, the pioneer and perfecter of faith." – Hebrews 12:1c-2
Once we've cast off the weight of sin from our lives, we're free to run in the direction of our destiny. When I was in high school I had several friends who ran cross country. I could never justify running for running's sake, otherwise I might have joined in with them. One thing that's unique about cross country, compared to track running, is that you can't see the finish line from where you start. There are indicators along the way that mark the course, but the finish line is still miles from sight.
Accountability helps us by marking a course to the finish line. As we run, markers not only keep us on course but they remind us of how far we've come.