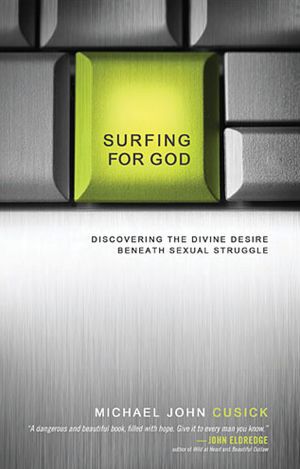 I was grateful to get an advanced copy of Michael John Cusick's book Surfing For God: Discovering Divine Desire Beneath Your Sexual Struggle. I heard him on Nate Larkin's Pirate Monk Podcast talking about his book and was intrigued. It's a book that is worth your time.
Quick Summary: Our desire to pursue porn, sexual content, and sexual relationships is not about sex. Deep in our hearts we desire God. Surfing For God helps the reader understand his core struggles, how to connect with God, and the proper way to care for his soul. The book is full of Scripture and the author's experience counseling sexual strugglers is evident.
The Author of Surfing For God
Michael John Cusick is an ordained minister, spiritual director, and Licensed Professional Counselor who has experienced firsthand the restoring touch of God in a deeply broken life and marriage. He leads Restoring the Soul Ministries in Littleton, Colorado.
One Topic Sets Surfing For God Apart
Many sexual purity/sexual addiction recovery books focus on behavior modification and sin management. Other books might touch on the core issues of the heart and our need for God, but don't hang out there. This book doesn't fall into these traps.
Surfing For God helps the reader understand his soul's desire is for God and helps him connect with God. The author hangs out on this topic and helps us understand it from multiple angles. This is the greatest value of the book.
The author suggests in Chapter 3 (Insatiable Thirst) we have a "soul thirst" but don't realize it. We don't know we are spiritually and relationally disconnected from God. Surfing for porn is our undiscovered desire looking for fulfillment. He lends insight to a popular fireplace illustration:
"…I've heard sermons and messages comparing our sexual desires to a fire burning in a fireplace…. When the fire burns outside of the fireplace, it represents sexual desires expressed outside of God's boundaries and design.

"I've never heard a sermon, however, that substantively addresses the issue of why the fire burns outside the fireplace." (p.35)
This book helps us better understand the whys of sexual struggles.
The Four Sections of Surfing For God
Part 1 – Why our struggles with porn are not about sex. Why we think we struggle. What are the seven God-given desires that lie below men's struggle with porn?
Part 2 – Why is breaking free from porn so hard? How brokenness, the roots of sexual struggles, shame, and the cycle of ensnarement keep us from understanding our desires.
Part 3 – How do you understand your God-given desires?
Part 4 – How do you care for your soul and stay on the path to freedom and wholeness?
Three Chapters from Surfing For God That Spoke to Me
Gathering the Broken Pieces (Ch. 4) – We are all broken because of sin. The sexual struggler, however, has wounds on top of his brokenness. The enemy preys on them and the struggler stays in bondage. Brokenness and woundedness must be surrendered to Jesus for healing.
The Invisible Battle (Ch. 9) – There is a spiritual warfare side of sexual recovery. We don't talk about it enough. The author teaches the reader what idols, footholds, and strongholds are and how to break them.
Less is More (Ch. 11) – According to the author, facing the emptiness of the soul is critical to soul care. The struggler must get quiet to understand his soul. This can be painful and terrifying, but transformation cannot happen without it. I'm still chewing on this quote:
"For men struggling with porn, the most important spiritual practices are the disciplines of solitude and silence." (142)
One Caution as You Read Surfing for God
My only wish was that the author would talk more about the need for a sexual struggler to come out of isolation and build a support team of intimate relationships. It's easy to pick up a great book like this and do some serious solo work. Surfing For God will blow open the door to your soul to the Spirit of God. But you should also share your soul with safe, wise people who can assist your journey (counselor, minister, accountability group, support group, spouse).