by Kris White
I walked into a Starbucks the other day, groggy and ready for hot brew. The usual background music littered the place, seeming to float on the heavy aroma of steaming hot coffee. The barista prepared my cappuccino as precisely as yesterday and the day before. Set for the morning, I headed out and passed two men leaning toward each other at a small table. Their posture suggested an intimate conversation. A book on their table caught my eye—Patrick Carnes' Facing the Shadow. I walked over, tapped the book, and said, "I know the pain." As a practicing psychotherapist for 20 plus years, I understood professionally and personally the issues these men were addressing.
Raised in a strict, religiously fundamental home, I knew all too well the consequences of sex outside the boundaries of marriage. When I was twelve, my father prefaced "the talk" by putting an anatomy book in front of me. He did not know that I was already sexually aware. The takeaway message for me was lust is bad and sex other than in marriage is sinful. So don't do it! Not from a lack for concern but because of his anxiety and ignorance, my father failed to equip me with anything to fight the oncoming battle.
When I was ten, my best friend led me into his older brother's room and pulled open a large drawer to reveal a menagerie of sexually explicit magazines. To this day, this moment is a prominent fixture in my mind. I was immediately overwhelmed with the naked images before me. It wasn't until thirty years later, two divorces, a shattered family, and a broken heart that I emerged into awareness—I was addicted.
By age forty, I established a solid practice as a clinical social worker, offering therapy for a variety of problems. After some time, I began to notice issues of sexual compulsivity brought up by my patients, which included pornography use, extramarital relationships, and cruising strip clubs. I looked into my patients' lives and saw my own. At that point, I took a big drink of "physician, heal thyself."
Socrates said, "An unexamined life is not worth living." No other place than in recovery is this truer. Taking a long look at the substance of our lives, most of us buckle at the path of destruction caused by our addictive behavior. In recovery, we move forward one step at a time, repeating many of these behaviors over and over. Through one discovery after another, I found my bottom—loneliness, deep and abiding, perpetuated by shame.
During my childhood, my mother used shame to punish me. She disliked the corporal methods my father required of her, preferring cold-critical enmeshment. It was my duty to make her happy; I failed miserably. She never offered physical affection though I longed for any sort of warmth from her. Cold criticism absent of affection, I later discovered, produced in me an insatiable desire for females who offered no more attention than my mother had given.
From the moment I found females interesting, I felt an obligation to please them; in turn, this became my understanding of love. Gaining attention by means of pleasing was fraught with constant failure, reinforcing the shame associated with feeling worthless and undesirable. The need to close myself off from the loneliness became unbearable. Relief came by means of acting out sexually via pornography. I created false relationships filled with acceptance and attention from women who could be pleased. These images became a virtual world where I could select an intimate encounter to fit my mood, creating a high that stemmed the loneliness momentarily.
The high did not last long, soon smothered by shame and another failed promise. Nonetheless, I fell to my knees, begged, and felt relief afforded only by grace. The experience of renewed commitment to God always brought about another high. It lasted as long as I could stave off feelings of loneliness, yet the cycle continued. In an attempt to thwart loneliness, I acted out and experienced a brief exhilaration only to be followed by pain again. In an attempt to escape, I begged again for forgiveness. Brief exhilaration came again then intense loneliness again and again.
The cycle became all too clear: loneliness, act out, brief exhilaration, pain, forgiveness, brief exhilaration, loneliness.
At my bottom, sitting in this cyclical existence of suffering, my prayer was heard.
God I am afraid of you, and I am alone. There is no love here, only fear and loneliness. I do not want this relationship. I do not want this, God.
For the first time in the unbending darkness, a profound presence imparted these words: "I have been here waiting for you to know and to see what I really am."
Recovery is about becoming what God wants us to be, the best in us. Being human, we are imperfect, yet in the image of God we are precious. It is not God who has missed this point. The conflict is not just between you and God; it is between you and a false concept of self. Your loneliness comes from being cut off from the love which God has created you to be.
Seeking love where no love lives, you experience loneliness. Self-betrayal perpetuates the cycle, a life lived at the peak of elation then in the valley of loneliness. When pain is unbearable, recovery begins.
At Starbucks, I momentarily felt that familiar pain. It lingered a short time, soon replaced by love from self-care learned through recovery.
. . . .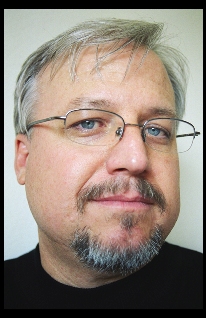 Kris White is a practicing psychotherapist, LMSW, located in Plano, Texas, with 21 years of experience. His treatment focus is on helping others maintain recovery from addictions and co-dependency. He is currently writing a book on sexual addiction recovery.