Listen to our interview with Dr. Struthers: Part 1, Part 2, Part 3, and Part 4
---
This week we will be releasing a series of podcasts and information about how pornography influences the brain. The brain is a fascinating organ, full of intricacies and details indicative of our Creator's design. As technology has improved, we have been able to understand more how the brain works.
From a Christian perspective, how does learning about the brain make a difference in our lives? Christ explains our hearts are the origin of evil thoughts, sexual immorality, adultery, coveting, deceit, sensuality, foolishness, and every other form of sin (Mark 7:21-23). Why spend time talking about the brain when it is our hearts that need transformation?
Sin in Our Members
The reason we are exploring this area of study is because we have been commanded by God (in Romans 6:13) to not present the members of our body to sin, but to present our members as instruments of righteousness. The word Paul uses in this passage is μέλος, melos, which means our body parts. Paul gives holiness real practicality: present your hands, feet, eyes, ears, and mouth to God as tools for Him to use for His purposes . . . and yes, your brain too.
As Christians we should be interested in how holiness is lived out in day-to-day matters, and to do this we need a healthy dose of "member theology," a biblical understanding of our body parts. This command propels us to understand how our bodies work, and thus, how our brains work. This is especially true when it comes to sexuality.
"Therefore put to death your members [melos] which are on the earth: fornication, uncleanness, passion, evil desire, and covetousness, which is idolatry" (Colossians 3:5, NKJV).
"You have heard that it was said, 'You shall not commit adultery.' But I say to you that everyone who looks at a woman with lustful intent has already committed adultery with her in his heart. If your right eye causes you to sin, tear it out and throw it away. For it is better that you lose one of your members [melos] than that your whole body be thrown into hell. And if your right hand causes you to sin, cut it off and throw it away. For it is better that you lose one of your members [melos] than that your whole body go into hell (Matthew 5:27-30).
"So I find it to be a law that when I want to do right, evil lies close at hand. For I delight in the law of God, in my inner being, but I see in my members [melos] another law waging war against the law of my mind and making me captive to the law of sin that dwells in my members [melos]. Wretched man that I am! Who will deliver me from this body of death? Thanks be to God through Jesus Christ our Lord! So then, I myself serve the law of God with my mind, but with my flesh I serve the law of sin" (Romans 7:21-25).
"Do you not know that your bodies are members [melos] of Christ? Shall I then take the members [melos] of Christ and make them members [melos] of a prostitute? Never! Or do you not know that he who is joined to a prostitute becomes one body with her? For, as it is written, 'The two will become one flesh.' But he who is joined to the Lord becomes one spirit with him. Flee from sexual immorality. Every other sin a person commits is outside the body, but the sexually immoral person sins against his own body. Or do you not know that your body is a temple of the Holy Spirit within you, whom you have from God? You are not your own, for you were bought with a price. So glorify God in your body" (1 Corinthians 6:15-20).
"Where do wars and fights come from among you? Do they not come from your desires for pleasure that war in your members [melos]?" (James 4:1, NKJV)
Member Theology
Sinful sexual impulses and passions take hold in our members (Colossians 3:5; Romans 7:5; James 4:1). Our eyes and hands can lead us to sin (Matthew 5:29-30). Paul calls this impulse of sin in the body the "law of sin" that wages war against us (Romans 7:23). While our bodies are never labeled as evil, they are the beachhead of sinful drives.
Though indwelling sin still contaminates our bodies, so much so our bodies are "dead because of sin" (Romans 8:10); nevertheless, our spirits are alive because the Spirit of the resurrected Christ lives within us (8:9). Our bodies are temples of the Holy Spirit (1 Corinthians 6:19). He can impart His resurrection life even to the parts of our mortal and frail bodies (Romans 8:11) and enable us to put to death the deeds of the body (8:13).
Our war with these body-impulses starts with us considering ourselves already dead to sin and alive to God because we are united with the risen Christ (Romans 6:11). This "considering" is a heart issue. We must believe with all our hearts that Christ was raised from the dead and now sits at God's right hand, enjoying all the blessings of resurrection life. We must believe, according to His promise, that Christ's Spirit lives within us, sharing with us foretastes of resurrected glory. We must see this gift of the Spirit as a deposit guaranteeing our inheritance in the age to come.
But as we "consider" ourselves dead to sin, assured that we have already been brought from death to life, we then present the members of our body to God as instruments for righteousness (Romans 6:12-13). When we do this, it leads to our growth and sanctification (6:19).
The Brain: Wired For Intimacy

Of course human choices cannot be boiled down to biology or neurology or genetics. The heart is a deep ocean. God does not treat or judge us as victims of our nature or the nurturing we've received. We are responsible moral beings. But the brain is one of our members, and an important one. As we understand the inner-workings of the brain, we can learn more about what it means to present it to God for His use.
Christian belief propels great science. Knowing the stars were put in the heavens to show the glory of God (Psalm 19), Christian astronomers like Copernicus and Newton found ways to understand the heavens with probing depth. Believing the handiwork of God could be seen even in microscopic participles, Christians like Robert Boyle conducted pioneer research in chemistry. Believing an orderly God was behind the motions of weather and currents, oceanographers like Matthew Maury charted the oceans for navigation.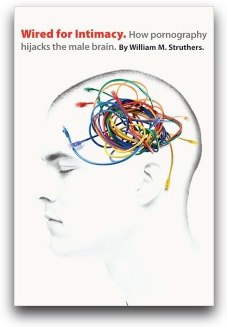 Today Christians like Dr. Bill Struthers have compiled great research on how the brain works. His book, Wired for Intimacy: How Pornography Hijacks the Male Brain, helps believers to process years of neurological observations and apply it to how we live our lives. This week we will be featuring some of his research.
As we explore the intricacies of the brain, keep this question in mind: How can we present this remarkable organ to God as an instrument in His hands?