"The johns watch porn, seeing violent and aberrant behaviors on film, then they crave the realization of what they have seen. Those obsessions drive them to the prostituted women and girls to get what they have seen depicted so graphically." – Janice Shaw Crouse, Ph.D.
Activists who routinely speak out against sex trafficking are often hesitant to speak out against pornography. There are several reasons for this.
First, many don't want to infringe on the freedom of expression and First Amendment rights. Sex trafficking is a crime, but pornography, they argue, is protected speech, so it is both fruitless and undesirable to speak against it.
The debate about whether porn should be protected speech is a worthwhile legal issue to explore, but even if one believes porn is legally protected, that does not mean porn should be culturally tolerated. Regardless of one's ideas about the limits of legislation when it comes to porn, one can still work to make the messages of porn taboo in our culture and implore people to recognize it poisons themselves and their communities.
Second, many activists don't want to be perceived as anti-sex in a pro-sex culture. Sex trafficking is wrong because the women and children are victims of force, fraud, or coercion, but porn, they argue, is just consenting adults watching consenting adults have sex.
Ignoring for a moment the fact that many porn performers are often victims of similar abuses, and ignoring the fact that many trafficking victims are forced to make porn themselves, even mainstream "legal" pornographic media is not merely the depiction of sex. "Pornography" comes from the Greek words porne, meaning "prostituted woman" or "prostitution," and the word graphos, meaning "writings." Under this definition, pornography is not the graphic portrayal of sex or sexuality broadly, but commercial sex specifically. To be against porn is not to be against sex, but to be against the commercialization and industrialization of sex.
As feminist scholar Gail Dines right says, "If people say to me, 'You're against pornography; are you against sex?' That's like saying to me, if I'm critical of McDonald's, I'm against eating."
10 Stats Suggesting a Link Between Porn and Sex Trafficking
Viewing pornographic material puts one at increased risk of developing sexually deviant tendencies (31% increase in risk), committing sexual offenses (22% increase in risk), and accepting rape myths (31% increase in risk). (The Changing Family and Child Development)
86% of prostitutes say johns show them pornography in order to illustrate specific acts they want them to perform. (The Sexual Liberals and the Attack on Feminism)
47% of prostitutes have been upset by johns' attempts to make them do what the johns had previously seen in pornography. (Journal of Trauma Practice)
Compared to a control group, the more pornography one watches, the more likely one is to trivialize rape, cutting sentencing for rape crimes nearly in half. (Pornography and Sexual Aggression)
Average readers cannot tell the difference between the comments made about women from soft core men's lifestyle magazines and quotes from convicted rapists. (British Journal of Psychology)
Between 1953 and 1984, there were more than 6,000 images of children in Playboy, Penthouse, and Hustler magazines, and nearly 1,000 of these images showed sexual scenarios between adults and children. (National Center for Missing and Exploited Children)
Adult sex offenders show a high rate of using hard-core pornography: child molesters (67%), incest offenders (53%), rapists (83%) are significantly higher in use than non-offenders (29%). (Journal of Sex Research)
Men who go to prostitutes are twice as likely to have watched a pornographic movie over the last year (66%) than a national sample (33%). (U.S. Department of Justice)
Men who go to prostitutes frequently are more likely to have seen a pornographic movie (74%) than those who have gone to a prostitute only once (53%). (U.S. Department of Justice)
25% of prostitutes mention pornography being intimately tied to a sexual assault they have experienced, with the abuser making reference to something he had seen as inspiration or insisting that the woman enjoy the assault (Sex Roles)
Get the Facts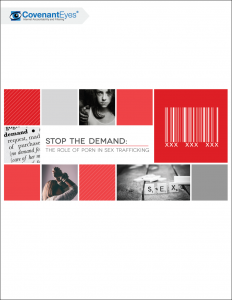 Download Stop the Demand: The Role of Porn in Sex Trafficking.
This book contains information about the medical affects of porn on the brain, the way pornography increases the risk of sexual deviancy and shapes our view of women, and the way pornography eroticizes youth and violence. The book is completely free.
Stop the Demand addresses the need to link the demand for sex trafficking to the messages and harms of pornography. As Laura Lederer, former Senior Advisor on Trafficking in Persons for the U.S. State Department, has said, "We will never have success in eradicating sex trafficking unless and until we tackle the cultural messages of pornography and related materials that are encouraging this exploitation and abuse."