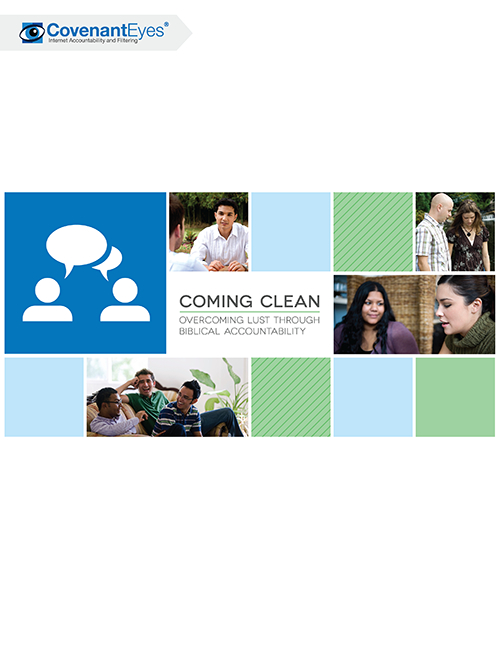 Many Christians see accountability as a crutch they shouldn't need. But what if accountability is actually one of God's ordinary means to help us become more like Christ?
What if we were meant to treat accountability not as a last resort but as a lifestyle?
In Coming Clean you'll learn about:
What to look for in a good accountability partner
The biblical building blocks of accountability
How to hold each other accountable to both actions and heart-level motivations
Five reasons why accountability typically fails
Whether a spouse makes a good accountability partner
Good discussion questions for accountability partners
DOWNLOAD "COMING CLEAN"
.
What people are saying about Coming Clean:
.

"Coming Clean is user friendly, Biblically based, and practical. Few are as qualified as Luke Gilkerson to write on the subject, and few resources are as well written as this one. Consider it a must."
– Joe Dallas, author of The Game Plan and Five Steps to Breaking Free from Porn
.

"It is becoming cliche to say a book is both gospel-centered and highly practical. That's too bad, because that's exactly what I want to say about Gilkerson's Coming Clean. As a counselor who knows the impact a solidly grounded, well-equipped accountability partner can make in people's lives, I would put this short book at the top of my list for anyone trying to walk alongside a man or woman struggling to overcome sexual sin."
– Alasdair Groves, Director of Counseling, CCEF New England
.

"Luke Gilkerson's book about fighting temptation by locking arms with an accountability partner provides the reader with a well-written and practical resource. I would urge anyone who wants to fight and win the battle for purity to read this book and pass it along to a friend."
– Bill Perkins, author of When Good Men are Tempted and When Young Men are Tempted, president of Million Mighty Men
.

"Coming Clean by Luke Gilkerson provides a concise but thorough instructions on how to 'do accountability' (accountability is a verb, not a noun 'have accountability') with Covenant Eyes software. Excellent technology now comes with a resource to equip faithful friends to effective accountability partners. This is a must read for everyone who uses accountability software…which should be everyone."
– Brad Hambrick, Pastor of Counseling at The Summit Church
.

"Coming Clean is invaluable for all of us, especially so if you have an addiction to pornography. This affirming message of healing and hope through godly accountability is a must read…a gem to be treasured."
– Shelley Lubben, former porn star and author of The Truth Behind the Fantasy of Porn
.
DOWNLOAD "COMING CLEAN"