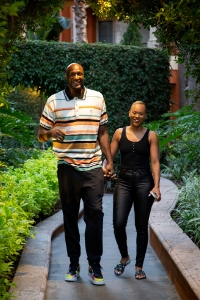 In the summer of 2019, two-time NBA champion, Olympic medalist, and reality TV star Lamar Odom announced he was giving up porn. His new girlfriend, Sabrina Parr, told him he had to remove it from his life to make him a better person and to improve their relationship.
They didn't have a solution to help him quit watching it. Sabrina would take his phone from him when she was away to keep him from looking at porn. But this made her feel like she was mothering him and didn't feel that it was a good, permanent solution.
Lamar and Sabrina learned about Covenant Eyes and installed it on Lamar's devices.
The former Dancing with the Stars contestant told Covenant Eyes that it was difficult to fight through his urges. He says giving up drugs was easier than giving up porn. "It was really tough," says Odom, "I was trying to find ways to break through the phone. I have to thank Covenant Eyes for helping me beat this addiction."
Lamar feels that identifying porn as a problem was a big part of his recovery. He says that of all the women he had been with previously, none of them talked to him about his pornography use. Sabrina was the first woman to confront him with it and tell him how it made her feel.
Lamar turned 40 this year. He says this is the first time he's stopped looking at porn since he began looking at it as an early teen. He now feels ashamed at the times he was late to the team bus on game day because he wanted to watch just one more porn scene in his hotel room. It cost him a $5,000 fine each time then, but he believes it cost him a lot more than that with how it made him objectify women, which caused issues in all of his romantic relationships.
He now knows how porn sets unrealistic expectations and how being accountable makes life better. "My grandmother used to always say, 'What's done in the dark comes out in the light.' I'm just trying to live in the light."
Moving forward, Lamar hopes his story helps others seek the help they need. For nearly 20 years, Covenant Eyes has helped more than one million people stop looking at pornography or never start. "I'm one of them," said Odom.