Have you ever felt alone? I mean, really alone? Like there's no one in the world who can help you with the grief or trauma you're facing?
There are thousands of women who experience this on a daily basis. They are the forgotten half of the pornography epidemic. These are the wives of those men who have sought to overcome pornography, but haven't been able. They're also the girlfriends of those who don't see pornography as an issue and refuse to do something about their habitual struggle or addiction.
The harm done to women through the use of pornography is more than you might think.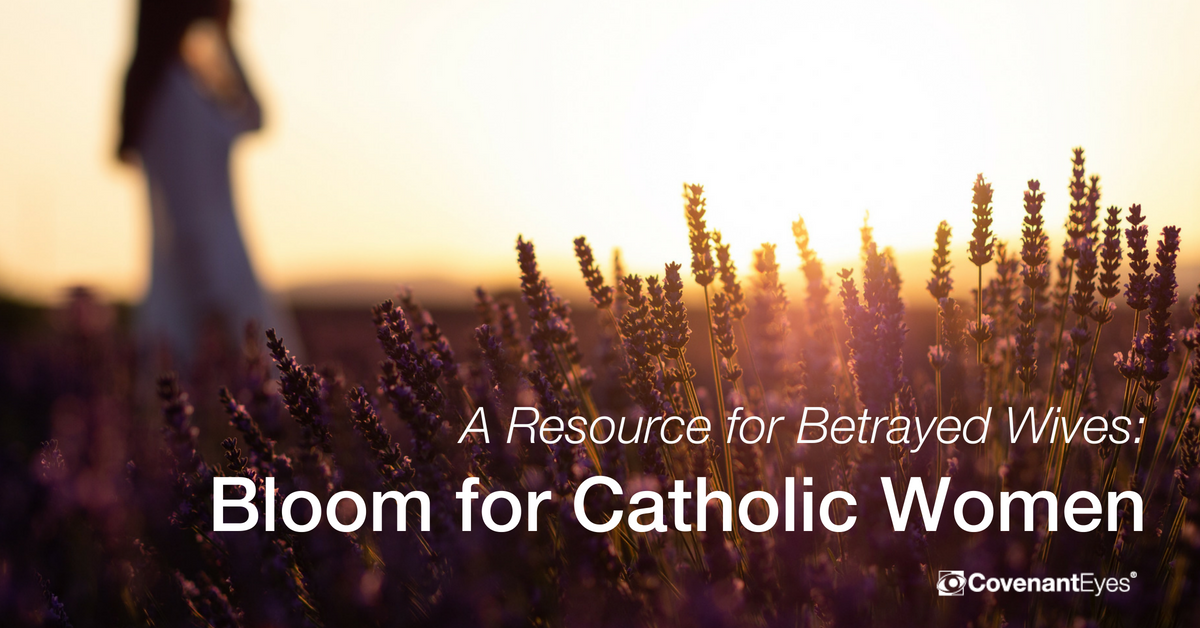 Betrayal Causes Trauma
When a woman discovers her man has been consuming pornography, or going as far as acting out and having an affair, she often experiences deep loneliness and other strong emotions of anger, betrayal, and mistrust. But, the women can experience something even more grave.
It's estimated that around 70% of wives dealing with a husband's betrayal fit the criteria for post-traumatic stress disorder. And, symptoms are life changing, even crippling. Symptoms of betrayal trauma can include:
Hyper-vigilance, such as actively looking for things that might be sexual triggers for him (lingerie ads, attractive women, etc.)
Nightmares
Obsessive thinking
Fear
Replaying the initial discovery
Trouble sleeping
Depression
Anxiety
Fortunately, recovery is possible for these spouses and girlfriends. But, women need the necessary accompaniment and resources to heal and move forward.
Bloom for Catholic Women
Thankfully, there are organizations doing just this; one such organization is Bloom for Women.
Founded in 2015, Bloom for Women is a resource for women who want to heal from the trauma of infidelity, betrayal, harassment, or assault. It offers therapeutic online courses and a supportive community designed by clinical experts. The online curriculum covers the topics of trauma, self-worth, shame, acceptance, and love. The courses are guided and include weekly assignments, web-based group discussions, and the opportunity for Q&A sessions with the Bloom for Women clinical team.
Bloom for Women is open to women of all backgrounds and religious faith traditions. However, this past year, Bloom for Women partnered with the Catholic organization Integrity Restored to create BloomforCatholicWomen.com, a site specifically for Catholic women to receive support if there's been sexual betrayal in marriage.
Jim O'Day, the Executive Director of Integrity Restored, explained that "[t]hrough the partnership between Bloom for Women and Integrity Restored, we're dedicated to helping women gain understanding of their husband's addiction, the resulting trauma, and provide tools and education that will guide them to a path of healing and recovery from a truly Catholic perspective. We are true partners in this effort and are so pleased to be working with the team at Bloom. Through our continuing development of new resources, courses, and free educational information as well as solidly Catholic coaching in the near future, we stand by to assist the Church in providing a place of hope and healing from women suffering from Betrayal Trauma."
The non-Catholic offering provides a secular approach to recovery and healing with no faith-based components and includes a focus on meditation and yoga. Based upon Catholic Church teaching, these elements have been removed for the Catholic audience. Further, additional courses on Catholic spirituality, including topics of forgiveness and healing have been added to the materials. Lastly, Catholic experts on therapy, sexual addiction, psychology, "Theology of the Body," who include Dr. Peter Kleponis, Fr. Sean Kilcawley and others will provide resources to Catholic Bloom members as well.
Father Sean Kilcawley, the Theological Advisor for Integrity Restored, stated, "I am very excited about the partnership between Integrity Restored and Bloom. I have come to believe that betrayed wives are among the loneliest people in the Church. She doesn't want to tell her family because she doesn't want to ruin her husband's reputation. She is afraid of judgment from her friends if she tells them. Some even don't want to tell their priest because they don't feel the right to disclose her husband's sin. However, she does have the right to share her suffering. She has a right to be heard and understood, to have her feelings validated, and to be taken care of in her pain. Bloom for Catholic Women is a first step toward healing and support for any wife who has experienced sexual betrayal."
If you or someone you love has been harmed by a spouse's or boyfriend's use of pornography, we invite you to learn more about Bloom for Women today! Healing can feel overwhelming, but the right community and resources are available to you when you choose to begin the process of healing.