We were crunching numbers, trying to make room in the budget for something I can't quite recall, when I asked my husband if we still needed to pay for Covenant Eyes.
We were years down this recovery road. He hadn't acted out online in a long time. I figured, maybe all was well and we could eliminate this vestige of our past pain from the spending plan. I was wrong.
My husband responded quite adamantly that we still needed Covenant Eyes and would be using it for life because it helped him not give in when he was tempted.
When he was tempted? It was disconcerting to hear my husband talk about being tempted. I would like to believe that temptation was dead and buried right along with that secret life he once lived.
"So you're still tempted?" I asked. "I thought you were walking in freedom."
"Freedom is not the absence of temptation," my husband replied.
I walked away from the conversation evaluating my safety. And here's three ways why I'm on board with using Covenant Eyes for life:
1. Accountability works.
After forty-eight weeks of group therapy and watching the pain I walked through, my husband does not want to see that again. He knows I'll receive the weekly accountability report, and he doesn't want to hurt me. He also doesn't want to answer to his friend that is sure to follow up on anything that doesn't look right.
Related:The Importance of Accountability
2. Embracing weakness leads to freedom.
Even though it may not make sense at first glance, I am safer when my husband embraces his weakness than if he was over confident in his own strength. He tried for many years to find freedom on his own. We know that white-knuckling it doesn't work.
3. Covenant Eyes is cheaper than therapy.
While I'm making room in the budget, I might as well consider the reality that a monthly subscription to Covenant Eyes is far cheaper than weekly therapy sessions!
My husband's words ring so true. Freedom is not the absence of temptation. Freedom is knowing how to respond when temptation comes. And Covenant Eyes helps him respond right.
---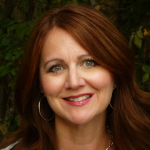 Lynn Marie Cherry is the author of Keep Walking: 40 Days to Hope and Freedom after Betrayal. She is dedicated to inspiring hope and shining a light on the path to freedom. In whatever shoes you prefer—flip-flops, heels or rubber rain boots—you'll learn how to take a step forward today. Lynn and her husband David have been married for 25 years. They have two boys. You'll find her at lynnmariecherry.com.