In working with the youth, the most common rationalization I tend to hear regarding the viewing of pornography is "I'm not hurting anyone."
Sure, while you may not be going out and physically robbing a bank or accosting a person on the street, the habit of viewing pornography absolutely brings harm to yourself and others. It is a poison that robs us of our light and joy, a poison that begins to slowly corrupt us from within.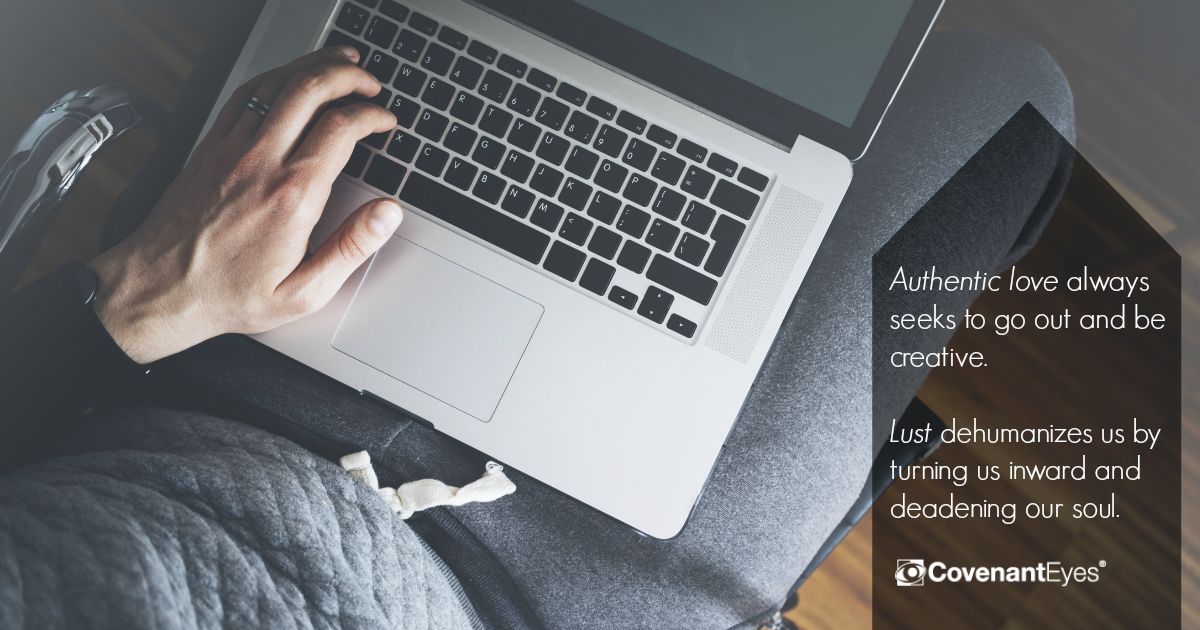 It's not just the porn user who suffers from this de-humanization—it's the family, the friends, the co-workers, and all of society who suffer.
Now recognized as a canonized saint, Pope John Paul II recognized the signs of the times as the sexual revolution began to unfold and the dignity of the human person became lost in the mix. He wrote extensively on the meaning and purpose of human love in his works Love & Responsibility and Man and Woman He Created Them: A Theology of the Body. He summed up marital love as a reflection of and participation in the Trinity—the Father, the Son, and the Holy Spirit.
For communion we were made and only in communion will we be satisfied.
Pornography hijacks this call for communion and turns love into a disordered and selfish lust. In the 1960s, John Paul II predicted that in the future the opposite of love would no longer be hate, but use. While love always seeks to give, lust looks to use another person for our self-centered gratification.
As our society increasingly seeks to employ a utilitarian lens on all reality—a person is only good insofar as they can be useful—we risk losing an authentic vision of man and woman and their call to communion.
Pornography, far from being harmless, trains us to look at other persons as objects to use for our pleasure rather than a unique person with a body and a soul. Of course this has real-world consequences. Relationships and marriages have been and are being ruined. Children emulate the porn they watch in secret on their siblings and peers. The connections between porn and sex-trafficking have been well-documented. To view pornography and thus view another human as an object, John Paul wrote, is "to do violence" to the very essence of that person. A habit of viewing pornography makes us "less" of ourselves and robs many good men and women of the courage to fight against this toxic force.
Authentic love always seeks to go out and be creative. Lust dehumanizes us by turning us inward and deadening our soul.
The body is not a mere physical object to be used, but a divine work of art to draw our vision to God. Pornography robs us of the sacred vision. Let's regain our humanity, shall we?