How You Respond After Sinning Affects "The Next Time"
As crazy as it sounds, did you know that there's actually a wrong way to repent?
The Bible teaches us that there is a right way and a wrong way to respond and relate to God after we've sinned. In my experience many well intentioned Christians are "repenting wrong" because they've never been taught the Bible's way to repent.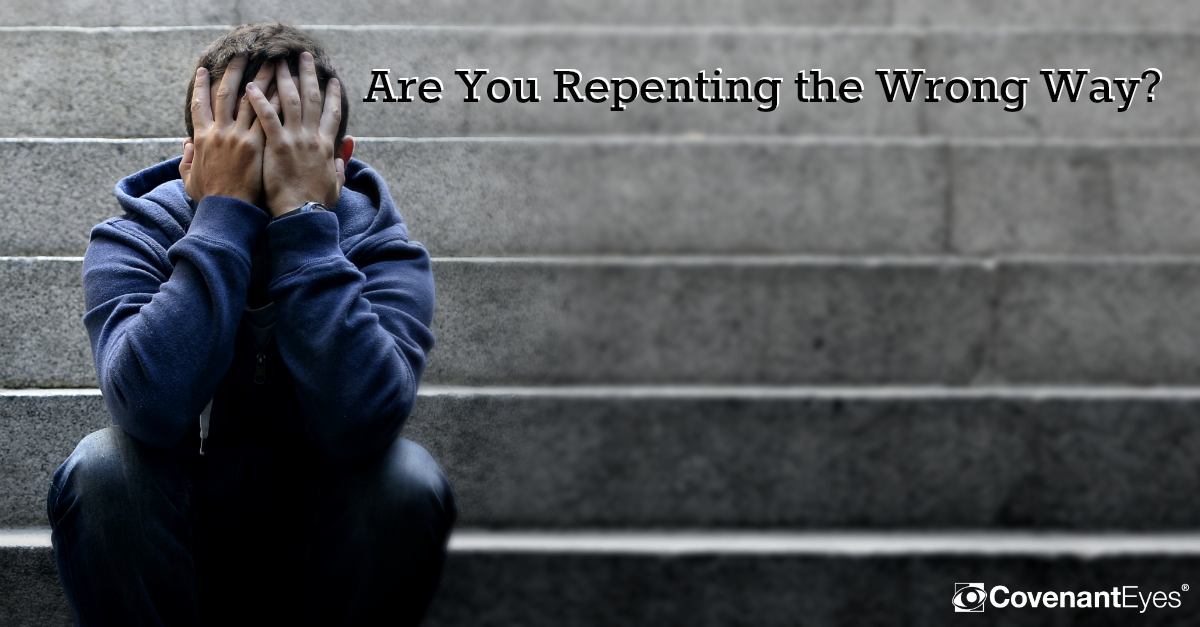 Not only is this wrong repentance extremely emotionally unhealthy, but it actually produces more death and more sin. The damage this mentality does to your soul and your intimacy with God is far worse that the consequences of your sin itself, so in His wisdom, God will not help you overcome your sin if it means it affirms this mentality.
Right and wrong repentance is a much bigger deal than most people realize, and if you master the Bible's way to repent after you sin, you'll eliminate the spiritual rollercoaster of highs and lows. What's more, you'll be positioned for victory in a way you never had been before.
Godly Repentance
2 Corinthians 7:10 teaches us, "Godly sorrow brings repentance that leads to salvation and leaves no regret, but worldly sorrow brings death." The passage goes on to teach that godly sorrow produces zeal, indignation, vindication, vehement desire, and a host of other healthy spiritual and emotional fruit.
The fruit of right repentance is healthy emotion that brings us closer to God! Immediately after you've sinned, there are earmarks of a mature believer. Immediately after sinning, you should have a desire to run to God without shame and with confidence in the blood of Jesus. You should be more on fire for God after sinning than deflated, discouraged, and diminished. If these are not characteristics you see in your life when you've sinned, then you are wallowing in the dangerous waters of worldly sorrow.
The Sorrow that Produces Death
Of the 1000s of men who have come through Mighty Man Ministries, I'd say that all of them are struggling with worldly sorrow at the outset. After they've sinned, they come and say, "Help me. I can't believe I blew it again. I thought I was past this," etc., etc. They feel far from God. They are down in the dumps. Often they spiral downward into a season of sin that lasts days or weeks after a fall.
Then when they can't stand wallowing in filth any longer, they try to pick themselves up, "put some distance" between themselves and their sin, get back into prayer, back into church, start walking the walk again, and vow they'll never mess up again. Then crash. Back to it and the cycle starts all over. This is the model of a man stuck in worldly sorrow.
Worldly sorrow or "wrong repentance" produces more death. Why? It takes away God's influence and power in your heart.
It shows that you trust the power of your sin more than you trust the power of Christ's sacrifice for sin.
It shows that you trust your acceptance before God based on your works more than you trust your acceptance to be based in Christ's works.
It shows that you are trying to clean up your own act rather than living as though you are already righteous and being sanctified by God.
You aren't experiencing the intimacy and fellowship with God that heals the heart and gives you the ability to overcome sin. In the end, you are destined to forever get the same results—because apart from God's grace, love, power, and work in your heart, you don't have the tools for change. Spirituality comes from the Spirit and is not manufactured by man. This is why the Bible can say this worldly sorrow produces more death—it is hopelessly rooted in and relating to the old, dead man. Death produces more death.
Keep the Dead Man Dead
The apostle Paul struggled with sin too. In Romans 7 he talks about the fact that he doesn't understand why he doesn't do the good he wants to do but rather does the thing he hates. He concludes in verse 17 that it is no longer he who sins, but it is sin dwelling in his flesh. Paul at different times said that he was the chief of sinners—yet he was able to forget the things which are behind and go forward in Christ. He was able to do this because he stopped relating to himself and to God through "the old man" and started walking in the new man.
Too many believers keep resurrecting the dead man.
Over and over the Bible tells us to count ourselves dead to sin (Romans 6, Colossians 2-3). In this life, you'll never be perfect in your natural self. After you overcome this sin, and the next sin, and the one after that, God will always have something new to work on in you. By making Christ a sacrifice for all sin—past, present and future—God, in His wisdom has made a way for us to never let sin interfere with our relationship with Him. This takes away the power of sin and gives you the ability to run to God as the new creation that the Bible says you are so that you can learn from your mistakes and receive everything you need from God to overcome and never fall for the enemy's same tricks again.
Cultivating Godly Repentance
I made the decision long ago that I'd never let sin—something that has already been paid for by Jesus—cost me another moment of intimacy with God. You can and must make that decision also. A fall shouldn't take away fellowship with God. It should propel us into fellowship with Him, and the amazing grace we have received should make the joy of our salvation more precious every time we receive it.
So we don't come to God each time we sin as some lost man again needing to be saved—as though this sin wasn't foreseen and already covered by the blood of Christ. So step 1 is to confess your sins to God (1 John 1:9), but then move on to greater things.
Step 2 in mature repentance is to remind yourself of God's promises. I have a few life verses that I've called upon time and again after sinning. When I would be tempted to relate to Him in an unhealthy way, I would run to the throne of grace to find help, and I would "remind God" of His word (really I am just reminding my own soul). These are some of the things that I rehearsed to keep myself walking in the Spirit:
Right Now, Jesus, you are interceding for me! (Romans 8:34, Hebrews 7:25)
Father, You love me as much as you love Jesus! You are radically in love with me! (John 17:23; 15:9)
You'd die for me all over again if it were possible (Romans 5:8,9)
That wasn't the real me; that was some dead guy sinning (Romans 7:20)
You aren't condemning me and never will (Romans 8:1)
I am the righteousness of Christ and I can relate to You, Father, with the same confidence that Jesus has. There is nothing between us (2 Corinthians 5:21)
Praise God for these truths! This may seem so alien to you if you have been under shame and condemnation for a long time. But rehearse the truth until it goes deep into your heart. Something transformational happens when you run to God and begin to relate to Him in this way. You stop wallowing, and you start experiencing all the fruit 2 Corinthians 7 talks about: zeal, righteous indignation, fervent desire begins to spring up in your heart!
What's more, you enter the place of intimacy with God that is absolutely necessary for Him to heal the heart issues that made you slip up in the first place. This is how we get over sin. This is how we mature. This is how we start to walk in the new man—even after blowing it! This is how grace becomes a tool that stops enabling sin but actually empowers us to stop sinning. This is how we receive the love of God in a powerful, meaningful way that causes a slip up to actually fuel our love for God rather than inhibit our love for God.
The Bible teaches that if anyone is able to keep God's word, truly the love of God has been perfected in him. Until this love enters your heart, you don't have the tools to get out of sin. This is how you start to get that love rooted in your heart so that God can do exceedingly and abundantly above all that you can ask or imagine!
If you want to go deeper in these truths, read my Mighty Man Manual to guide you in your journey into real and lasting freedom from pornography.