Talking to kids about porn sounds, at the very least, like an awkward conversation. But never before have their been so many good resources to help parents talk to their kids about this critical topic.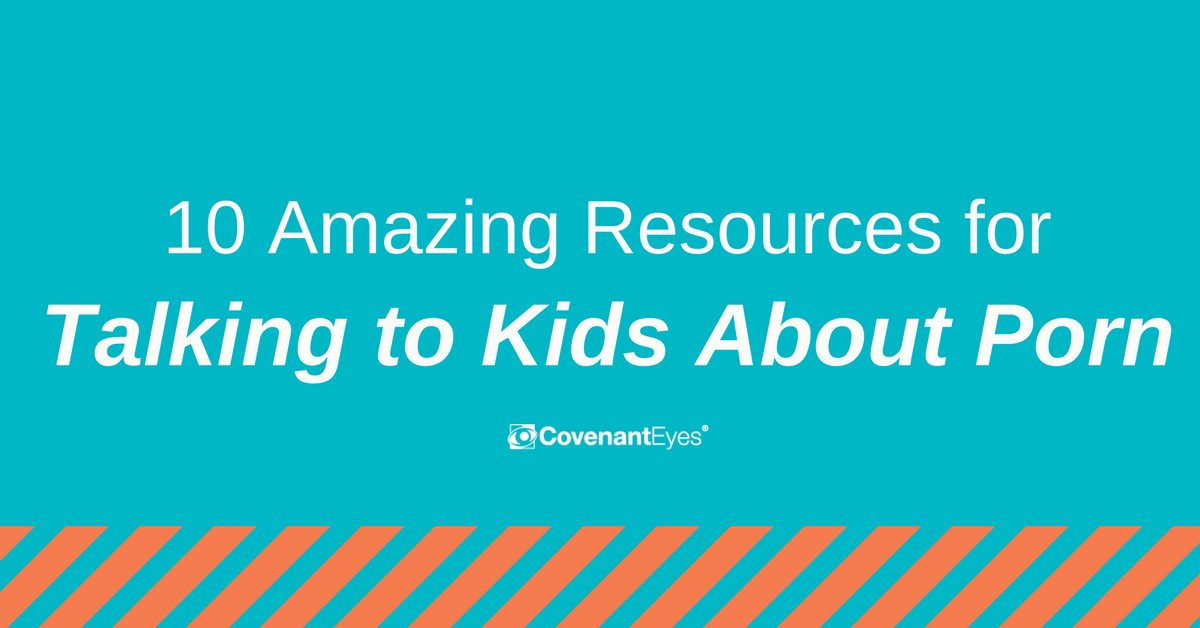 In no particular order, here are the books we have found the most helpful.
1. Parenting the Internet Generation: A Blueprint for Digital Discernment (free e-book), Luke Gilkerson
This ebook equips parents to have honest conversations with their kids about self-image, sexuality, sin, and shame. It provides proven methods for training our children to be media literate and includes discussion questions, talk sheets, and videos. 
2. Good Pictures Bad Pictures: Porn-Proofing Today's Young Kids, Kristen A. Jenson
This is a comfortable, read-aloud story about a mom and dad who teach their child what pornography is, why it's dangerous, and how to reject it using age-appropriate language and kid-friendly analogies. Best of all, this book teaches young kids to porn-proof their own brains by using the CAN DO Plan.
3. Angry Birds & Killer Bees, Todd Bowman
Todd Bowman is the Coordinator of the Sexual Addiction Treatment Provider (SATP) Post-graduate Certificate Program at MidAmerica Nazarene University. This quick read not only helps parents with "the talk," it also gives parents strategies for engaging kids in conversation about pornography, sexting, and other technology concerns.
4. Theology of His Body and Theology of Her Body, Jason Evert
Jason Evert is one of the strongest voices in the Catholic world speaking to teens and young adults about purity. His website, Chastity Project, is full of great information. In these books Jason speaks directly to young people about the groundbreaking Theology of the Body lectures by Pope John Paul II.
5. Sex Is Not the Problem (Lust Is), Joshua Harris
Joshua Harris is senior pastor of Covenant Life in Gaithersburg, Maryland. This book is one you can hand to your teen knowing knowing it will give them great strategies for fighting lust in a language they can understand.
6. Flesh: An Unbreakable Habit of Purity in a Pornographic World, Rick James
Rick James is a national speaker for Cru, and his clever writing style is perfect for teens and young adults. This book contains instructions on how to form dynamic accountability groups, pages for personal devotions related to purity, and practical tips to strive for purity in a sex saturated culture.
7. Planned Purity for Parents, Jennie Bishop
Founder of Purity Works and author of the best-selling The Princess and the Kiss, Jennie Bishop has spoken to thousands of parents about having a systematic plan to guard the hearts of their kids. This book outlines a holistic strategy for parents to not only guard the eyes of children from pornography, but also sample "scripts" for having conversations about sex.
8. Straight Talk with Your Kids About Sex, Josh and Dottie McDowell
Josh McDowell has served the Lord for years as an apologist, evangelist, and author. His recent books on parenting and purity are intensely practical and offer parents a no-nonsense, down-to-earth message about how to have honest conversations with kids about sex.
9. Just 1 Click Away (free e-book), Josh McDowell
This simple, short guide offers immediate advice to parents who want to know how to protect their kids online.
10. The Guideline: A Parent's Guide to Addressing Pornography with Children (free e-book), Fight the New Drug
Fight the New Drug is touring public schools all over the country talking about how pornography impacts the brain, and teens love the countercultural message they bring. This book offers solid information to parents about how to prevent porn exposures and how to bring up the subject of porn with your child using both science and your family's values.