There is a critical part to recovery that many people ignore. Perhaps it is a missing piece of your recovery. See if you can find it in this verse …
"See to it, brothers, that none of you has a sinful, unbelieving heart that turns away from the living God. But encourage one another daily, as long as it is called Today, so that none of you may be hardened by sin's deceitfulness." Hebrews 3:12-13
Sin is deceitful. It will say anything and do anything to get your attention and draw you in. It will use curiosity and enticement. It will find a way to lure you in and make you fall. After awhile we become hardened by it's deceitfulness and our hearts stop believing and we turn away from the living God.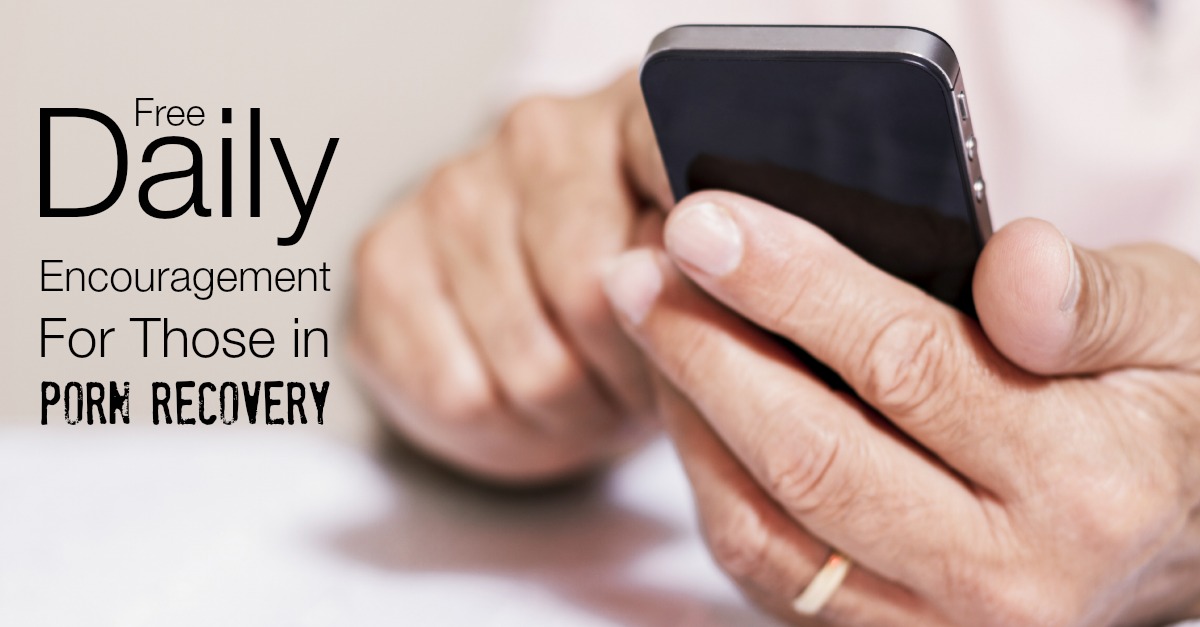 So what is the antidote? Encouragement. Not just some encouragement but daily encouragement. Not just once a day but encouragement as long as it is still called "today"—which is another way of saying multiple times a day.
Every Christian is in a battle. You know that. We need the fullness of the Spirit to enable and empower us to walk in the Spirit so that we do not fulfill the desires of the flesh. We need to daily put on the full armor of God so that we can stand firm against the principalities and powers of darkness. We need to offer our bodies to God as living sacrifices. Daily.
However, where do you receive encouragement? When we are struggling and continuing to act out we are not able to encourage ourselves. We are isolating and fearful. We lie to ourselves and rationalize. We try to ignore the reality we are living in with all kinds of distractions and addictions.
If you are trying to recover you need encouragement. Daily. For the past 34 months I have been sending e-mails encouraging those who struggle with sexual brokenness and addiction. If you don't get it from me, you need to get it from somewhere. Everyday. As long as it is called today. This is just a simple easy way to have it available to you. However, here are some even better ways.
Having someone you can call or meet with and talk to.
Taking time to sit with God, share your heart with Him and listen.
Having passage of Scripture memorized and meditate on them.
Having some friends on the Group Me app and send out an SOS.
Having at least one person with whom you can be completely real
Lastly, I saw this principle practiced by those involved in 12 Step Groups. They tell the new people who start their recovery that they need to do a 90 in 90. That means they go to 90 meetings in 90 days. Why? Because recovery is hard work. Changing patterns of addictive behavior is tremendously difficult.
So to get through the first 90 days one needs to have daily support. That is because one needs to get through withdrawal which is especially tough. Changing addictive behavior and rewiring our brains takes time and consistency.
On January 1, 2012 I started writing e-mails of encouragement to people who struggle with sexual brokenness. As I come to the end of doing this for three years I am surprised at the number of people who have contacted me and want to be added to the list. From some missionaries in Puebla Mexico to a single mom in Portland, Oregon. People are discovering how valuable having some encouragement can be. Since I am in my 10 year of my own recovery I speak to the issues we all face.
If you would like to receive these emails then contact me at doyel180@gmail.com, and I will add you to the list. If you ever want to stop getting them, just ask and they will stop. You can also read many that I have posted on my blog.
Stand Strong!