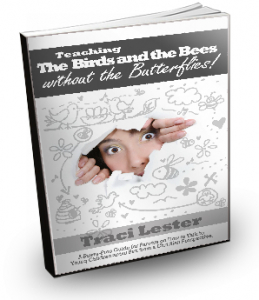 I like talking to my kids. I like when my kids ask questions. I like God's gift of sex. So why is it so difficult to talk to my kids about sex? Why do I freeze up, fumble my words and feel like a failed parent afterward? I want to be able to share God's great design for sex and His principles. I want God's voice be stronger than the voice of today's sexualized culture.
What is Teaching the Birds and the Bees about?
Author Traci Lester has done us a great favor in writing her book Teaching the Birds and Bees Without the Butterflies:  A Stress-Free Guide for Parents on How to Talk to Young Children about Sex from a Christian Perspective. She's taken a segment of Christian parenting that seems complex and scary and taken the sting out of it. When you finish this book, you will have some good tips and tools for talking to your kids about sex. This book will give you confidence that you can do it. You can talk to your kids about sex.
About the Author of Teaching the Birds and the Bees
Traci Lester is a mom of four kids. She has worked for over 20 years in Christian crisis pregnancy ministry and talked with thousands of young girls about God's plan for their purity. Teaching the Birds and the Bees was an effort to get on the preventative side and help parents and children before a crisis pregnancy happens.
The P.A.R.E.N.T. Format of Teaching the Birds and the Bees
The guts of this book are built around the acronym P.A.R.E.N.T.  The author dedicates a chapter for each letter and offers many helpful tips. Here's a basic understanding of each letter:
P = PLAN: You have to have a plan of where you're going in talking to kids about sex.  You can't lead someone where you don't know you're going, so become the expert.
A = ANTICIPATE: Be aware of stages of development and the questions your kids are going to ask and get equipped.
R = RELATIONSHIP: The best talks come out of good relationships. Focus hard on the relationship and the sex talks will be easier.
E = EDUCATE: At what stage should I be teaching what? The book helps (see "Timeline of Sex Ed" below).
N = NAVIGATE: Build a strategy to help your kids navigate the culture, their peers, and the media.
T = TOOLS: Great tools are shared for parents and for children.
The Bird and the Bees Targets Younger Kids
The book focuses on how to have conversations with younger children, ages 1-12. These are the most impressionable years, the years before puberty when we can have great influence as parents.
I love the "Timeline of Sex Ed" the author suggests:
Ages 1-3: This is a good time to talk about your child's own body and the differences between boys and girls.
Ages 4-7: Talk with your child about pregnancy and birth.
Ages 8-10: Conversations about conception and reproduction are important at this stage. Here's where the bigger talks happen.
Ages 7-12: Start preparing your child for puberty, the changes that will come to their bodies, and the urges that will come.
The Arial View of The Birds and the Bees
This book is a quick read (it took me about 30 minutes). The first half of the book gives you a larger view of the "sex talk" landscape. It helps you have a vision and a plan. It's like a 101 preparatory manual.
The second half of the book helps you think through your vision and plan. It guides you with questions. This is definitely a book you'll want to keep a pen handy with and write in.
At the end is an excellent Q&A chapter with suggested answers to the harder questions.
5 Big Takeaways From The Birds and the Bees
1. You still have time. It's not too late. Even if you've not had any talks with your children, you can begin today.
2. It's not about the big talk. You need to have many age-appropriate talks with your child.
3. If you don't talk to your kids in the early years about sex, someone else will, and they will probably get it wrong.
4. Good sex talks are rooted in good relationships with your child. Communication, time, affirmation, and touch* are vital to connecting with your child.
*"Touch," meaning the physical nurturing never needs to stop. Pats on the head. Rubbing the back. Sitting close to your child. Physical connections.
5. God's plan works. He designed sex and has given us a wonderful place to experience it. He has given our kids a natural curiosity about their own bodies and about the world. He has also given some very important boundaries.