If you're brokenhearted because you recently discovered your husband's pornography addiction, you may be struggling with your relationship with the Lord. Maybe you're asking God why He would allow you to feel such intense pain. Maybe you're angry with God for allowing this crisis in your marriage. Praising Him may be the furthest thing from your mind. Your days may be filled with feelings of betrayal, anger, depression, confusion, and insecurity. I know, I've been there.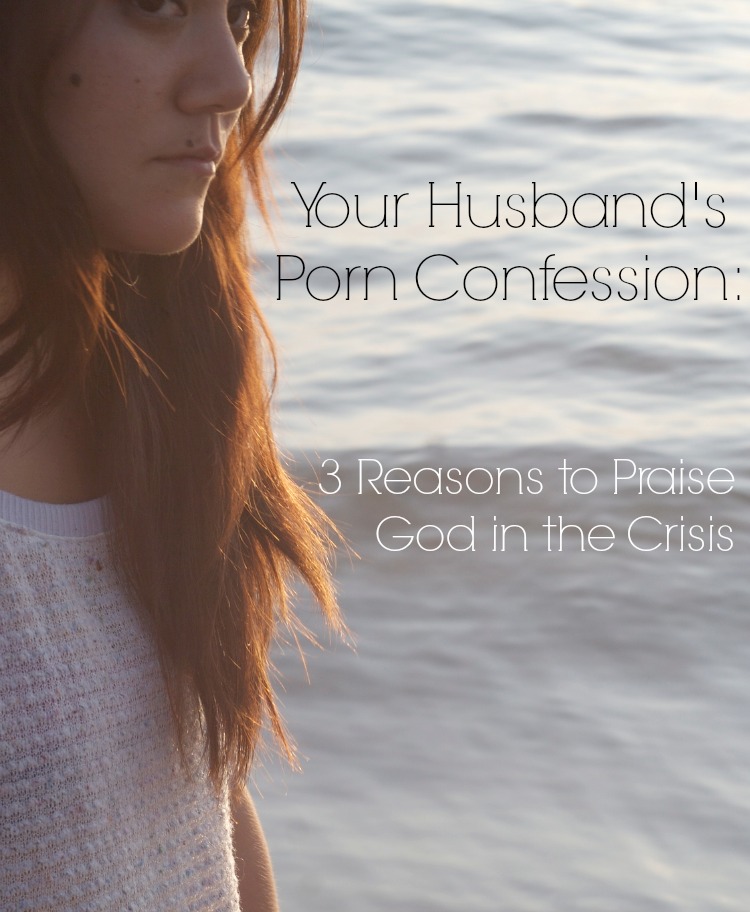 And it's ok. These questions and feelings are totally normal when you discover your husband's secret. It really does turn your life upside down and it's difficult to find truth among the lies. And the thought to praising God for your crisis may make you nauseous. We sing songs in church about praising God even in the midst of our pain, but when we're right in the thick of it, sometimes that proves to be very challenging.
Even in the midst of your pain, there are reasons to praise God for your crisis. Looking back over my healing process there are three things (among others) that I am so thankful for that I'd like to share with you:
1. Praise God for the exposure.
Although the truth is very painful, the fact is that your husband would not be seeking help and your marriage would not be heading towards healing were it not for the truth. Exposing sin and bringing it into the light is the only way to kill its power over your husband. For years, my husband had this secret that he kept hidden in the dark. And in the darkness it festered and grew like a cancer. But when he finally confessed it (whether on his own accord or whether I caught him), that secret had no more power. Now that you've discovered your husband's secret, it's exposed and can be dealt with. So praise God for the exposure and thank Him that through this crisis, your husband can find sobriety and your marriage can be restored.
2. Praise God for the intimacy.
It was my experience that, even though I was hurting, my husband and I were brought to a deeper level of intimacy through our crisis. Where in the past we had a shallow love, based on lies and secrecy, we were now in a position where we were completely open and vulnerable to each other. Our intimacy–physically, emotionally, and spiritually–was greatly improved through the healing process. Not only that, but we were both drawn closer to the heart of God as well. So praise God for the intimacy and thank Him that through this crisis, your intimacy can blossom and you can be drawn closer to your husband.
3. Praise God for the healing. This may not have come yet. Maybe you just found out about your husband's sin. Maybe he hasn't been repentant (turning away from pornography and towards Christ). And so for you, you might be thinking, "What healing!?" Healing will come. It takes time. But it will come. With God, it is possible for you to find healing with your husband; that he will remain sexually sober and your marriage can be completely restored. That is worth praise! It's also possible for Christ to heal your broken heart, even if your husband refuses to stop. Jesus can do incredible things with a heart that turns to Him; and that's worth praise too! So praise God for the healing and thank Him that through this crisis. You can find healing in Him for your own heart and pray for healing in your marriage.
I know it's tough to praise God in the midst of a painful crisis. But think of all that is still good and thank God for those things. I do hope that you find healing for your heart and that your marriage is restored. Praise God.
. . . .
Kristina Croft and her husband Gavin blog at Isaiah 53 Ministry.