Porn was Dan's anesthetic, numbing his wounds and relieving the ache of unmet desires.
As a skinny kid who felt unattractive, Dan Wobschall's gaze would fall to the floor or maybe to his shoes when he tried to talk to a girl. He felt inadequate, and the bullies who used him for sport reinforced these feelings.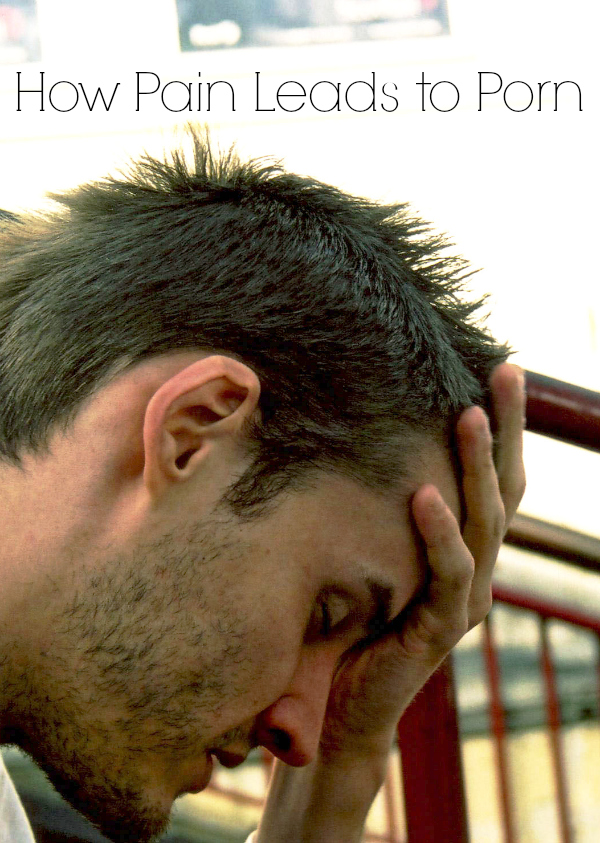 At the impressionable age of 12, Dan stumbled onto a porn magazine and discovered short-lived escapes that would draw him back again and again. He knew it was wrong (even though he knew his dad secretly used porn too) but when he felt life's stresses or anger or loneliness he soothed the pain with porn and masturbation.
"As a teenager it was a way to deal with emotional hurt," recalled Dan, who founded Every Man's Hope. "If a test didn't go well, if I had been picked on…I didn't turn to drugs or alcohol. Porn was my drug of choice."
That drug was powerfully addictive and remained with Dan into adulthood, eventually damaging his career as an EMT and nearly costing him his marriage.
The Pain-Porn Connection
Dan's story isn't unique, according to Dr. Mark Laaser of Faithful and True. Emotional trauma and the temporary relief that porn and masturbation bring are often intertwined to usher in addictive behavior.
Often people who use porn to cope, especially younger generations, miss the connection of their self-medication. Even if they use porn to escape stress, anger, anxiety, or depression, they often view their porn use as simply recreational.
Changing Times
Emotional stress was commonly an initiating factor in compulsive porn use for men who reached their teen years before the early 1990s, said Jonathan Daugherty, executive director of Be Broken Ministries. Porn was less accessible before the Internet, and emotional trauma and escape behaviors regularly played a starting role in attachments to pornography.
However, since the mid-90s, the typical initiating factor for habitual porn use among men and women is simply its over-abundance in modern society and its never-ending trail on the Internet, said Jeannie Hannemann, co-director of Reclaim Sexual Health, a Catholic online recovery program. With the growth of smartphones and tablets, the proliferation and acceptance of porn has exploded.
While emotional trauma may not play as big a role in initiating addictive behavior, it certainly helps seal the deal for many men and women.
Emotional Difficulties Contribute to Porn Use
Many times people do not even recognize that stress and emotional difficulties are playing a role in their habitual porn use, Daugherty said. Often, young adults simply feel entitled to porn. They like it and don't believe there is anything wrong with it, even if their addiction is costing them their job or marriage or damaging their relationships.
"They don't make the same connection with their emotional wounds," Daugherty said. "They don't necessarily see the escapism and the self-medication."
At least, not immediately. With counseling, men and women commonly uncover the wounds and feelings of inadequacy that porn and masturbation temporarily relieve. "I don't think anyone as a kid makes the conscious connection," Daugherty said. "That is what recovery is all about—awakening the unconscious."
Daugherty, who has found freedom from porn addiction himself, came from a good home with a caring family. However, his family had a habit of leaving problems unresolved. It was better to look good for the local church and community than to resolve deeper issues. He didn't immediately recognize how unresolved conflicts played a role in his escapist behaviors until he began to peel back the layers and deal with issues long ignored.
Emotional wounds are often deeply rooted, stemming from childhood, teen, and even adult trauma. All families have healthy and unhealthy qualities, and even mistakes "create wounds in the human spirit," Dr. Laaser teaches. Rather than burying painful memories, which may include physical, mental, and sexual abuse, these memories need to be brought to the surface, where they can be examined with a good friend or counselor.
Porn Carves More Wounds
Like most porn addicts, Dan discovered too late that the images and videos he used to escape reality brought him more pain. Because of the cycle of addiction and the need for heavier and harder doses of porn to create a state of arousal, Dan sought more deviant porn in his later stages of addiction.
"How did I ever convince myself that it was OK to go there?" Dan recalled. "It just got deeper. It deepened my anxiety, because I realized what I was doing was wrong. Rather than running from the stress of porn, I went deeper into it."
"It traps you in a cycle," he said. "It takes a tough situation and pours gas on it."
Dan's description is apt, agree Daugherty and Hannemann. In helping others in recovery, it's a common refrain among porn addicts that they use more porn when they begin to feel the pain that porn brings to their life.
"It's not that they are calculating this, it just becomes part of the process," Hannemann said. "They feel the rush and thrill followed by extreme guilt. Now porn use is part of their escape from the guilt. They return to the scene of the crime."
The direct pain of porn varies. In addition to deep feelings of guilt, a man or woman may discover they have difficulty becoming aroused for sex with their spouse. Porn is their primary outlet for sexual expression. For men, this might include impotency. Both men and women can panic over this, she said, and may feel they are sexually and mentally broken.
"You use pornography to escape emotional wounds, but you create new wounds while you are using it," Dan said. "It's messed up what your mind will do to you."
3 Steps to Find Freedom
Dan Wobschall, Jonathan Daugherty, and Jeannie's husband, Bruce Hannemann, are thriving examples of living lives free from porn in restored marriages. The key in each of their lives is finding outside help. All four agree that attempting to escape porn addiction alone is futile.
There is no one cure for everyone, but here are three basic steps to break the chains: (1) learn about porn's addictive power, (2) get support, and (3) understand that this is not an overnight fix.
1. Learn
Knowledge precedes understanding and understanding precedes change.
Those who have never felt the compulsions of addiction, might encourage you to skip this step and just "stop it." But doesn't it make sense for reasoning human beings to gain insight about why they feel so out of control? At the same time, the new insight gained should never be used as an excuse.
Rather, understanding pornography addiction can help one see more clearly the path to freedom. For instance, it is helpful to understand triggers that might cause one to fall in their walk to recovery. As another example, a person quitting porn may decide after 10 days of abstinence they aren't doing so bad and a porn excursion won't be that harmful. In fact, the opposite is true. Using porn while trying to escape it can make recovery that much harder and longer.
In Ephesians 1:18 Paul says, "I pray that the eyes of your heart be enlightened in order the you may know the hope to which he has called you…" Paul encouraged his readers to enlighten their hearts to Christ and His teachings, so that they could discover a great hope for a restored life. Everything about the human brain and the body's neurochemistry was designed by God with a specific purpose. It is vital to understand how those systems were designed, how they have been corrupted, and how they can be repaired.
To get a strong overview, read The Porn Circuit: Understand Your Brain and Break Porn Habits in 90 Days.
2. Support
Quitting an addiction alone is a fool's errand. Most counselors will tell you they have never met someone who has quit porn without the support of accountability, counseling, or a similar form of support.
There are several online support programs to help people escape pornography. Choose one that best fits you. Here are a handful with which Covenant Eyes has worked directly:
A valuable way to find ongoing support is through 12-step programs like the Sampson Society and Celebrate Recovery. At these meetings, men and women find people who have walked a mile in their addiction and they will find proven practices that bring sobriety.
Protecting mobile devices and computers is vitally important, but filtering is not enough. Addicts will find some way to get around a filter when temptation is at its worst. Internet Accountability software is much more valuable, because it monitors how the Internet is used and sends a report to a friend or mentor. That allows life-changing conversations to take place where a person can discuss how and when they are tempted and the issues that lie beneath the surface.
"Covenant Eyes Internet Accountability played a huge part in helping me stay away from the sites I used to go to," Dan said. "Accountability is so huge. Christ is at the center, but accountability helps you in a tough fight that you can't do alone."
Learn how to have an effective Accountability relationship by reading the free e-book Coming Clean: Overcoming Lust Through Biblical Accountability.
3. There are no overnight fixes
After binging on porn, many men and women feel ashamed and promise themselves, God, and others they will never use porn again. They may even mean it at the time, but it never sticks for the habitual user who doesn't institute a plan of action.
Last night's promise will be broken the following day or week, and the person feels caught in a vicious circle from which there seems to be no escape. Simply making promises without a real plan will fail. It's guaranteed.
Dr. Laaser encourages addicts to start their journey to freedom with 90 days of total abstinence from sex. Other therapists will adhere to this same principal but will allow sex with one's spouse. That may not seem that long to some, but to a person who has masturbated to porn weekly, several days a week, or daily, it may be the equivalent to climbing a mountain. Learn more about the first 90 days free from porn in The Porn Circuit.
Escaping the cycle of porn addiction is a road that is walked daily with help and support and tools that provide protection and encourage accountability. The destination to freedom isn't just over the hill, it is over many hills. During the journey, people turn over stones to discover why porn became a part of their life, including emotional wounds, self-centeredness, and the false promises that porn provides. There is no one single track. Wounds, mistakes, and life are one's own as are the discoveries to living porn free, but there are common threads and many people are sharing their stories of victory and the practices that helped them to become porn-free.
Pure Minds Online | Issue 39 | More in this issue: Timebombs in Kids' Hands | The Impact of a Gift | 2013 Covenant Eyes Buyer's Guide for Game Consoles (and Other Gadgets)