---
Anger. Mistrust. Loneliness. When your husband watches porn he has betrayed your trust.
Maybe this is the first time you've caught him using pornography. Maybe you've caught him many times and have finally reached the breaking point. Maybe he's even gone so far as acting out and having an affair. Maybe he's belligerent, insisting, "It's no big deal" or "It's your fault I need it." Or maybe he claims to be repentant but doesn't seem to be taking steps to stop.
Right now, your emotions are probably dominated by alternating feelings of anger and helplessness and numbness, and your thoughts are dominated by his use of pornography. Recovery may seem impossible.
Because of that, you need a general roadmap to understand what recovery will look like. On the bad days, remind yourself that there is an end; you just may not be able to see it yet.
Just as there are five stages to the grieving process, researchers Kristina Coop Gordon and Donald H. Baucom have identified three distinct stages in the recovery process for a marriage broken by betrayal.
Impact Stage
In this first stage, you will search for an understanding of why this happened.
Your feelings may be constantly in flux. They may include fear, hurt, anger, numbness, and disbelief.
You may second-guess your husband's motive on every behavior, even habitual ones (like checking e-mail first thing in the morning).
Your husband may not be able to distinguish between appropriate shame for wrongdoing and his pathological sense of toxic shame.
Your interactions with your husband may be chaotic or intensely negative, leading to more frustration and anger with each other rather than resolution.
You may begin to re-establish barriers and boundaries (such as sleeping in a different room).
You both may feel like the balance of power has shifted. You may feel like your husband has proven his power by ruining your relationship, and may lash out destructively against him to regain a sense of control. Your husband may feel like he has no negotiating power.
Meaning Stage
You will begin to search for a more thorough understanding of why the betrayal occurred, such as whether this was a habit from childhood, or whether a traumatic event in the past makes him fear intimacy with you.
You will look for the necessary information to determine the next steps for your marriage.
You will begin searching for ways to rebuild trust and intimacy.
Moving On Stage
You will begin moving forward with a new set of beliefs about your relationship, and start putting the event behind you.
You will come to terms with what forgiveness means for you, and how it is connected to reconciliation with your husband.
You may be required to make changes to your relationship with your husband so that it can continue (or end it, if necessary).
You may still get flashbacks, but they will be less severe and disruptive, and you will recover more rapidly from them.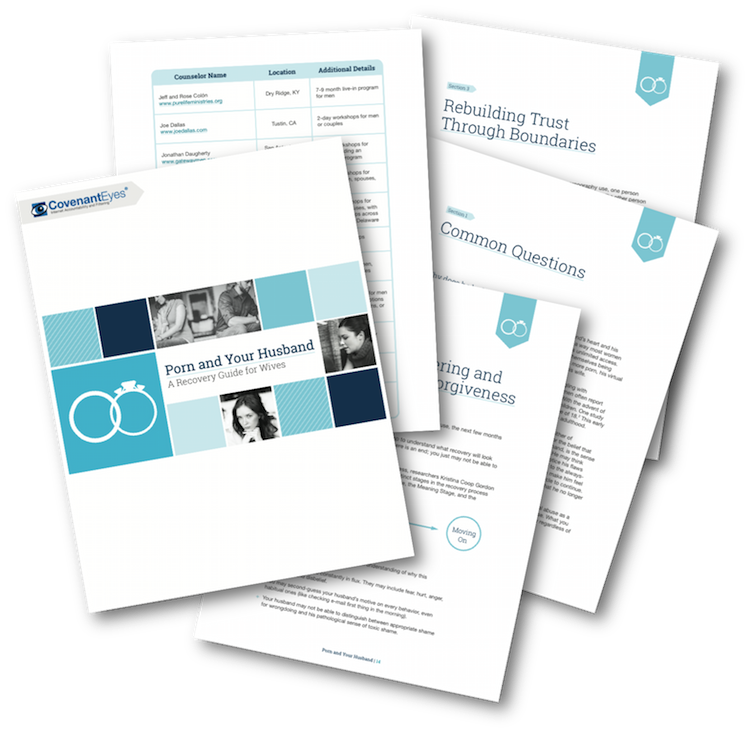 DOWNLOAD "PORN AND YOUR HUSBAND"