The following post is by Joe Bilotti. Joe was recently awarded a $1200 Covenant Eyes Scholarship.
. . . .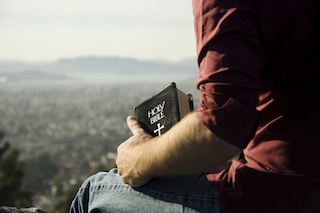 My first knowledge of Covenant Eyes came from listening to a sermon by Matt Chandler, when he discussed the importance of having personal accountability in his life. He mentioned that he had Covenant Eyes so he could be held accountable. I decided that personal accountability was a key component that I needed with my Internet usage, so a month or two after learning about Covenant Eyes, I made it a personal part of my life. My Dad and I became accountability partners, which has helped set a guard for each of us on the Internet because we know that we can each view the other person's Web activity at any time. It has helped us to share the bond of accountability in keeping each other pure in what we view on the Internet.
Even if feeding selfish lusts on the Internet is not a major struggle for a guy, he should not think he is perfect. First Corinthians 10:12 explains this fact clearly enough: "Therefore let anyone who thinks that he stands take heed lest he fall." That is why any person who struggles with overcoming lust, and particularly Internet pornography, can be encouraged through the help Covenant Eyes provides. Ecclesiastes 4:12 shows how accountability is Biblical: "And though a man might prevail against one who is alone, two will withstand him—a threefold cord is not quickly broken."
As in any part of our lives, sin looks enticing, and we think that God is cheating us or keeping us from enjoying ourselves. Yet this is a lie from the Enemy, and we must remember the fact that God has called us to live in such a great freedom as "slaves of righteousness" (Romans 6:18). Covenant Eyes is not a restrictive tool, but it is a guard to help people keep the freedom of pure eyes, and ultimately a pure heart. Of course this cannot happen unless we first have Christ as the Sovereign Lord of our lives. Through His power working in us, it should call us to desire Him more than the false promises (particularly lust) this world offers. We must want to prevent sin in every area of our lives, and Covenant Eyes is a great tool to help us pursue Him over lesser things by guarding our hearts (Proverbs 4:23).
Covenant Eyes helps in this pursuit of purity through a number of applications. One great tool is the weekly reports that are sent to partners. The detailed log report is a fantastic part of the reports that allows someone to see every web page visited by the user. This is the first line of defense in the fight for purity and the main accountability tool related to Covenant Eyes. It is a helpful guard knowing that a report is sent each week or knowing that my partner (my Dad in my case) can generate a report at any time from his computer. My Dad and I know that our battle for purity is not being fought alone, but that my he and I can each help "consider how to stir up one another to love and good works" (Hebrews 10:24).
This feature is not be personally used as much in my situation, but for a parent wanting to monitor his or her child and their Internet activity, the sensitivity levels are a great tool. Since they allow different sensitivity levels, a parent can set what they think is an appropriate level that their child can view. It is also good for adults to set teen or youth filter settings if they know that it is a struggle for them. The flexibility to create filter settings that work for each individual is a very good part of Covenant Eyes.
Covenant Eyes is a needed and well appreciated tool that has been used to glorify God. I am thankful for its impact in my life and in the lives of many others around the world.