. . . .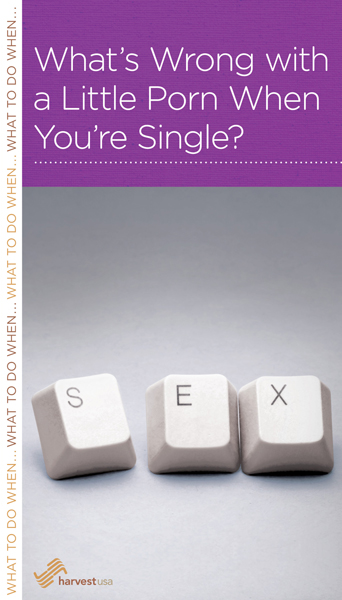 We write a lot about how porn damages marriages…and for good reason. Often, a major catalyst for a person's desire to change is the recognition that their porn use has sabotaged something in their marriage.
But what about single people? Is a little recreational porn use okay?
A new minibook from Harvest USA addresses this question head-on. What's Wrong with a Little Porn When You're Single? sets up the nature of the question singles often ask:
"Christians can easily conclude that pornography is wrong for married people. They know that pornography use destroys the relational intimacy that God intended for marriage. But does that really apply to those who are single? Perhaps you wonder if you will ever find someone to marry. Or maybe you are still in your teens, just entering adulthood. The prospect of a wife or husband seems distant. Can pornography be an acceptable means to sexual fulfillment before you get married, especially if it's occasional and temporary?"
Three Reasons to Avoid Porn
The book offers three reasons to avoid pornography as a single person.
1. Pornography isolates you from healthy dating relationships. Porn makes sex all about you: your fantasies, pleasures, and desires. Porn trains us to think more of our own desires and less of the desires of others, and this is toxic to any relationship. Real relationships require an investment in others, and porn cripples our abilities to develop genuine affection for a prospective girlfriend or boyfriend.
2. Porn sabotages your future marital relationship—before you're married. Porn offers the illusion of an easy life, a way to medicate pain in life. And when you are married and disappointments arise, instead of working through issues with your spouse, turning to porn will be your reflex. You will hate it when the joy of real sex is robbed from you by years of false expectations of fantasy.
3. Sexual addictions: I can quit anytime…right? Slavery to sin is a universal human condition, but when we become enslaved to a particular sin, our lives can unravel. The downward spiral of porn addiction for some is unavoidable: images, videos, risky online encounters, cyber sex, strip clubs, anonymous encounters, and the list goes on.
Seven Ways to Avoid It
The book also offers seven practical steps to fleeing porn. All of these steps come with detailed explanations.
1. Honestly face the damage that porn has done, but hope in something better.
2. Confess your sin to God.
3. Embrace the forgiveness that can be yours through the cross of Jesus Christ.
4. Look deeper at the sin beneath your sin.
5. Make yourself accountable to a mature fellow in Christ.
6. Block the doors to porn.
7. Be honest with the person you are dating.
I highly recommend you check out this resource. It makes an ideal freebie to give away at your church or in your counseling office.