"Justice Week" on Covenant Eyes Radio – Episode 113
[powerpress]
All this week we are exploring the issue of sex trafficking, hearing the stories of ordinary people who are doing extraordinary things to combat this evil around the world.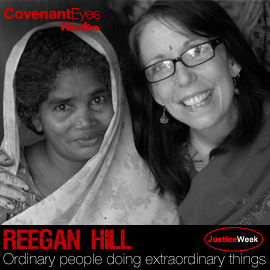 Reegan Hill is the founder of In His Image Designs, a Kentucky-based vendor that partners with international organizations to spread awareness about sex trafficking. In His Image Designs purchases items made by trafficking survivors in India, Nepal, Cambodia, Uganda, and Thailand, and sells them in the United States. Selling these items not only helps to spread awareness about trafficking, but also contributes to the financial self-sustainability of the rescued victims.
Today, Reegan talks with us about her experiences meeting women all over the world who have been rescued out of sexual exploitation. She also talks about In His Image Designs and why she felt called to start this ministry in her area.
Today's interview is conducted by Mary Ann Jiang, an intern with pureHOPE.
Music for today's podcast is "It's Slavery" by Ten Shekel Shirt.
Listen to more Covenant Eyes Radio on iTunes.
. . . .
Learn more about this topic: