Living as One Who is Dead to Sin
Covenant Eyes Radio – Episode 102
[powerpress]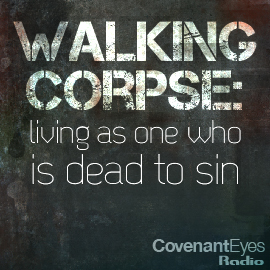 On April 10, 2011, I delivered a message entitled "Walking Corpse: Living as One Who is Dead to Sin" based on Romans 6:1-11.
In this message I address some crucial questions about how God transforms us from the inside out:
Are we fundamentally deprived or fundamentally depraved?
If as Christians we are "under grace," what motivates true obedience in our lives?
What does Paul mean when he says we have "died to sin," and how do we experience this freedom?
How does the gospel secure not only our forgiveness but our transformation?
Music for today's show is "Let the Old Man Fall Away" by Ish
Listen to more Covenant Eyes Radio on iTunes