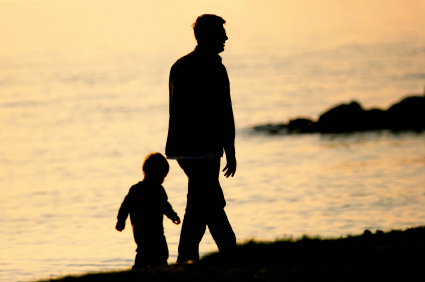 I was at the chiropractor the other day and I realized something while he was twisting my neck unnaturally to the left. In my younger years, I could attain that position, with my eyes facing almost behind me and to the left, and it wasn't under the guidance of any medical professionals.
I have found myself in that position in an effort to maximize the duration of my lustful desires as I looked back at some innocent female that happened to cross my path. I have found myself in that position as I watched over my shoulder while sitting at the computer immersed in pornography. As I consider this, it's amazing the power Satan has over us when we're gripped by sexual sin.
It's incredibly scary to think of the implications this has on my children. Think about this: As a father, I am a leader. My children are following me. Where I go, they go. They eat what I eat, run when I run and stop when I stop. It's only natural that they will look where I look. I try to be very diligent about where my eyes follow, but never am I more accountable when my kids are staring at the back of my head. When I'm with my family I am more of who I want to be than at any other time, as I'm sure most of us are. My challenge to you is to raise your awareness of every action in your life as if they were right there with you all the time, pushing that little "record" button in their heads and studying you to see how you approach the situations in which you find yourself. How does dad deal with this problem? How does dad handle this person? What does dad do when faced with temptation?
Consider these situations and how you might handle them in the presence of your spouse or children. What do you do when:
A beautiful woman happens by you on the jogging trail.
A chat window pops up on your computer and it's an old classmate.
You're driving and you pull up next to a woman who is flirting with you.
You are in a Bible study at work. It meets early and only you and your female co-worker show up that day.
You are at the lake and there are immodest women sunbathing.
There is a couple showing "too much" affection a couple of rows in front of you at the movies.
The Victoria's Secret catalog gets delivered to your mailbox.
I could go on, but you get the idea. I was in a sexual harassment seminar once and the instructor gave what I think is a good rule-of-thumb: "If you wouldn't do it or say it with your wife standing next to you, it's sexual harassment."
You need to be constantly averting your eyes from these and countless other invasions in the world. You need to make your children aware of these pitfalls in their path to adulthood. They'll look away when you look away. They will walk where you walk. Lead them around these obstacles and they will be much less likely to "look back." May God continue to bless your efforts as you battle sexual sin and find victory in the power of the Holy Spirit.
---
The following is a guest post by Jason Nabb. Jason owns a production and web development company in Lincoln, Nebraska. He and his wife, Cindy, blog at PurelightParenting.com, where they post their findings on all things parenting. They have six children ages 11 down to 1.