I recently heard a talk by Phil Monroe, a Christian Psychologist and biblical counselor who directs the Master's counseling program at Biblical Seminary in suburban Philadelphia.
He describes the cycle of addiction that any addict goes through. As someone who has really struggled with porn addiction in the past, I completely resonate with what he says and thought it gave great insight to what breaking addiction to porn looks like.
The Cycle
Here's his diagram of the cycle. Simply recognizing this cycle can be a huge help in overcoming our sin: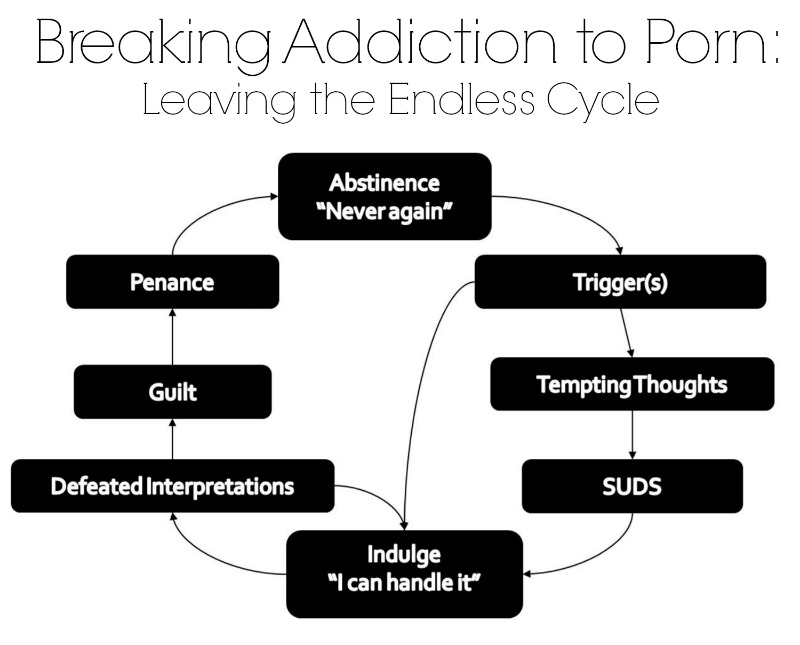 Often the cycle starts with certain triggers, external or internal circumstances that remind us of the allure of the pornography. These can come in the form of thoughts, experiences, feelings, situations, etc.
This leads to tempting thoughts in our own minds. We begin to ponder the idea of going back to the pornography.
This leads to "SUDS": Seemingly Unimportant Decisions, the little decisions we make that get us closer to the object of our addiction. For instance: "I'm just going to check my email, nothing more." "I'll just get online, there's no harm in that." "I'll only look for a little bit, but then I'll stop."
Finally, there's an indulgence. Many times this indulgence is justified by a false sense of control: "I can handle this."
You may also notice that there is a direct line from the triggers to indulgence. This is because many of us have been in this cycle of addiction for so long that we can't even recognize when the tempting thoughts or the SUDS appear. We mindlessly move quickly from the triggers to indulgence.
After a time of indulgence we have these defeated interpretations of our sin. We have broken the promises we made to ourselves. We think we might as well just continue sinning because we have already indulged. This often leads to continued indulgence.
Eventually we get tired of that cycle of indulgence and defeated thoughts, so we move to the next stage of guilt, which really just prolongs the same defeated thoughts.
To assuage our guilt, we move into a time of penance: we try to get ourselves "clean" by doing something good.
This leads to a time of abstinence.
Breaking Addiction to Porn: The Way of Escape
"No temptation has overtaken you that is not common to man. God is faithful, and he will not let you be tempted beyond your ability, but with the temptation he will also provide the way of escape, that you may be able to endure it." (1 Corinthians 10:13)
As we struggle through our addiction we need to not only know the end point on the map (being free from addiction) but also recognize where we are.
Most of us do not see all the subtle details of our cycle, and this is where having good biblical guidance from a mature Christian is very valuable. Get together regularly with someone who can patiently help you understand your cycle of addiction. This person can be a great accountability partner for you, one of God's means of transforming your life.
God provides a way of escape amidst each stage of the cycle:
Identify the triggers – Recognize the times, circumstances, and situations that trigger the tempting thoughts. Are there certain people or environments that are triggers? Moods? Emotions? Are you most tempted when you are tired, angry, or feeling insecure. Does it happen mostly at night or in the afternoon or the morning? Knowing the triggers can move us to prayerfully ask God how he is providing a way of escape when a trigger arises. Talk with your accountability partner about the ways God might be providing amidst these triggers.
Identify tempting thoughts – Our sinful nature always makes less seem like more. We begin to believe subtle lies that the pornography will make us feel good. We justify the thoughts in our mind as harmless. Knowing how to more quickly identify these thoughts will move us to prayerfully seek out the biblical truths that overcome these lies. Talk with your accountability partner and brainstorm together the subtle lies we believe when it seems porn is calling out to us.
Identify the SUDS – What seemingly unimportant decisions do we make that often get us one step closer to indulgence? Knowing these will not only help us to avoid them in the future, but we can begin to prayerfully make a plan of proactive decisions that move us away from indulgence. Talk with your accountability partner about what SUDS commonly move you closer to the pornography. Prayerfully draft a plan of escape.
Identify the defeated interpretations – What thoughts go through our minds in the midst of indulgence that make us want to continue indulging? Recognize these beforehand. The next time we indulge we will more quickly see those thoughts and have God's way of escape fresh in our minds. Prayerfully let God reveal to you and your accountability partner the truths from God's word that will help you combat these lies.
Identify the feelings of guilt – Our own hearts are prone to condemn us (1 John 3:20). Brainstorm the ways you experience guilt and condemnation after you've walked away from the indulgence. Condemnation only leads to more defeated thoughts ("I'll never get over this," or "I'm unforgivable"), or it leads us into an attempt to climb up out of the pit ourselves. By contrast, God's conviction leads us to run to Him, to recognize that our sin is yet one more example of our hopeless condition without Him. God provides a way of escape from our guilt by focusing our attention on the cross of Christ.
Identify our means of penance – Think of the ways you try to "make up" for your addiction. Is it renewing a commitment to more prayer? More activity in the church? Donating time or money to some worthy cause? While these are good things, when they are merely ways of making up for the evil we see in us, they may not be the activities to which God is calling us at the moment. Identify how you cope using penance, and recognize it as a false system of atonement. He will provide a way of escape from this kind of thinking, if we identify beforehand the right way of thinking about our sin and God's forgiveness. Get together with your accountability partner and study the cross. A great book to start with is Death by Love.
Talk about these cycle stages out loud with someone you trust, to give yourself good biblical counsel. Speak candidly and honestly about the real thoughts in your head at every stage. Don't try to sugar-coat the thoughts in order to tame them or make them more theologically correct. Give honest, raw snapshots of your mind at each stage of the cycle.
Then start the process of talking about God's means of escape at each stage. Perhaps some of the ways of escape will involve doing something proactively: calling a friend, going a different direction, turning off the computer, etc. Perhaps some of the ways of escape will be proactively changing your thinking, changing your self-talk: recalling correct biblical ideas, meditating on a particular passage of Scripture, verbally denouncing wrong ideas in your head. Write down these ways of escape. Use them as a basis for discussion each time you meet with your accountability partner.
Using Covenant Eyes
One of the best tools we can use today when it comes to pornography addiction is installing accountability software like Covenant Eyes. When we do this we are bringing others into the battle with us. When you download the software from the website, you will be asked to fill in the names and email addresses of people you want to hold you accountable for where you go online. They will begin receiving regular reports of your Internet activity.
If you identify with this cycle of addiction a great place to start is with your Covenant Eyes accountability partner. Not only will your partner receive a regular report of everywhere you've been online, but by using Phil Monroe's "cycle of addiction" description, you will have something very relevant to talk about when you get together with your partner.