It was a typical Friday morning walking into the Covenant Eyes' world headquarters offices. I needed my usual caffeine fix, so I headed to the break room to grab a cup of coffee (the Christian's drug of choice). Only this time, things were different: I was greeted by three bright-eyed teenage girls with brownies, peanut butter bars, and some very tasty chocolate-raspberry-cheesecake type treats.
On the door was posted a sign that said, "Bake Sale! All proceeds go to benefit the Home Foundation."
What is the Home Foundation, I thought. Abbie, Emily, and Marla, my three brownie-making friends, explained to me that it is a charity dedicated to ending human trafficking.
They told me about the estimated 600,000 to 800,000 people who are trafficked across international borders each year. This figure is in addition to a far larger yet indeterminate number of people trafficked within countries.
It is estimated that 50% of those who are trafficked are children.

A staggering 80% of the victims trafficked across international borders are female, and 70% of the females are trafficked for sexual exploitation. This means, on the low end, 336,000 women are sold as sexual slaves every year.
– – – –
The Home Foundation
The girls got the idea for their bake sale from a recent article in Brio magazine. The article is called "Make It Matter" and it tells the story of the Home Foundation and what ordinary people can do to raise awareness about human trafficking.
The Home Foundation was was founded in 2005 by singer/songwriter Natalie Grant. After doing some research on the subject of human trafficking, Natalie found herself walking through the red-light district of Mumbai. Walking through the streets on a sunny day she glanced up to see a little girl staring out of a second-story window. Natalie says,
"She was probably 6. And she was inside a cage. Our eyes locked. She wasn't screaming. She wasn't asking for help. She wasn't trying to escape. She had given up. She was resigned to the cold, hard fact that this was her reality—a life of slavery behind bars. When I asked our guide why she was in a cage, I was told that the younger girls are always kept in cages until they give up trying to escape. It made me physically ill. I vowed I'd spend the rest of my life fighting for that little girl and those like her who are trapped in human trafficking."
– – – –
What does pornography have to do with this?
Often when the subject of sex trafficking is discussed or studied, much of the focus is on the women forced into a life of prostitution, or on the pimps and madames. Not much attention is given to the "consumer" end of this atrocity. What creates this thirst for sex trafficking? Social scientists have studied the "supply" side, but what about the "demand."
International Human Rights Law Institute and Captive Daughters sponsored a conference in 2003 to address the "demand" dynamics of sex trafficking. Speakers at this conference contributed essays that were later compiled into the book, Pornography: Driving the Demand in International Sex Trafficking.
For many feminists, pornography represents sexual liberation for women. The argument is that because societies historically seek to control and repress female sexuality, pornography is good as it depicts women as sexual beings and it encourages women to explore their sexuality. Moreover, many liberal feminists tend to support the freedom of expression mindset in general, including the production of pornography.
But linking the sexual demand created by pornography and the rise of sex trafficking exposes a great clash of values. If free speech does not include the right to yell "FIRE!" in a crowded theater because of the danger it may cause, what does this mean for the adult industry and the destruction its products are likely to produce? Pornography is far from sexually liberating; rather, it sexualizes age-old themes of power and oppression, reinforcing and encouraging demeaning stereotypes of men and women.
Pornography: Driving the Demand in International Sex Trafficking demonstrates some of the disturbing links between forced prostitution and pornography. Pornography sends a clear message that seeks to normalize certain sexual ideas that cater to the sex trafficking business. For example, the use of "barely legal" or "childified" women creates a demand for younger women and minors. Pornography is also known for sexualizing racial stereotypes. More directly, pimps and madames are known to use pornography as a marketing tool, and often girls that are trafficked are used both for pornographic films and photos.
This book's primary goal is eduction: an effort to teach the public that pornography is not merely about an exercise of personal sexual freedom, but a contributor to a major system of abuse.
– – – –
Get Involved
By the way, our bake sale girls earned $52 to give to the Home Foundation. It is the first of many ways they are doing their part to end this injustice in the world.
Below are some links dedicated to education and activism concerning human trafficking.
Organizations:
International Justice Mission
Coalition to Abolish Slavery And Trafficking
Not For Sale
Free the Slaves
Freeset Bags
Sari Bari
Books:
Carlyn Sleightholme and Indrani Sinha, Guilty without Trial: Women in the Sex Trade in Calcutta
Gary Haugen, Good News About Injustice
David Batstone, Not For Sale: The Return of the Global Slave Trade—and How We Can Fight It
T. Louise Brown, Sex Slaves: The Trafficking of Women in Asia
Sen Sankar, Trafficking of Women and Children in India
Deborah Dortzbach and W. Meredith Long, The AIDS Crisis: What We Can Do
Films:
Calcutta Hilton
Born Into Brothels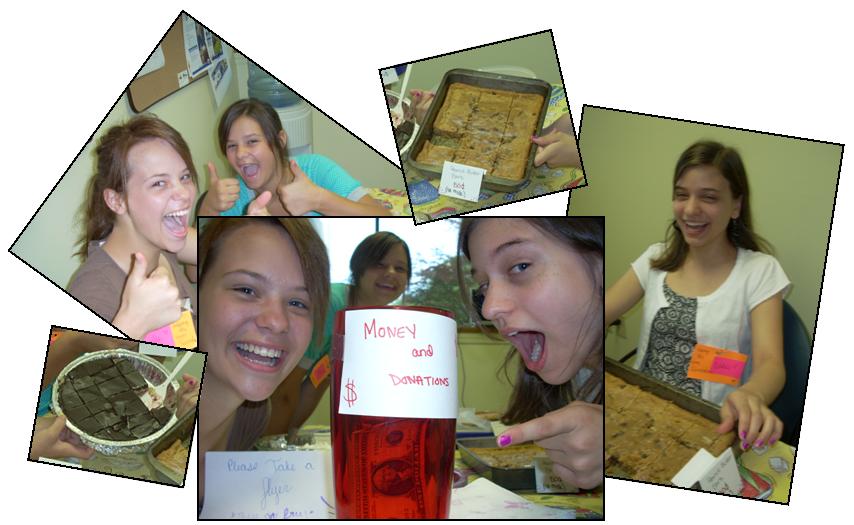 Bake Sale at Covenant Eyes – thanks, girls, for the yummy treats!