"Is it possible that my ED is caused by watching too much porn? Do I have porn-induced ED?"
We asked people what they wanted to know about in a resource about porn-induced ED. We received more than 800 suggestions, including:
"How [pornography] affects intimacy, communication, oneness, and disinterest in sex with a spouse."

"An honest analysis of available data–if the data is inconclusive, this should be strongly indicated. Speculation isn't useful."

"How to reverse PIED. I know it is real; I know it has happened; I don't need any statistics to convince me–we all just need to know how to reverse it."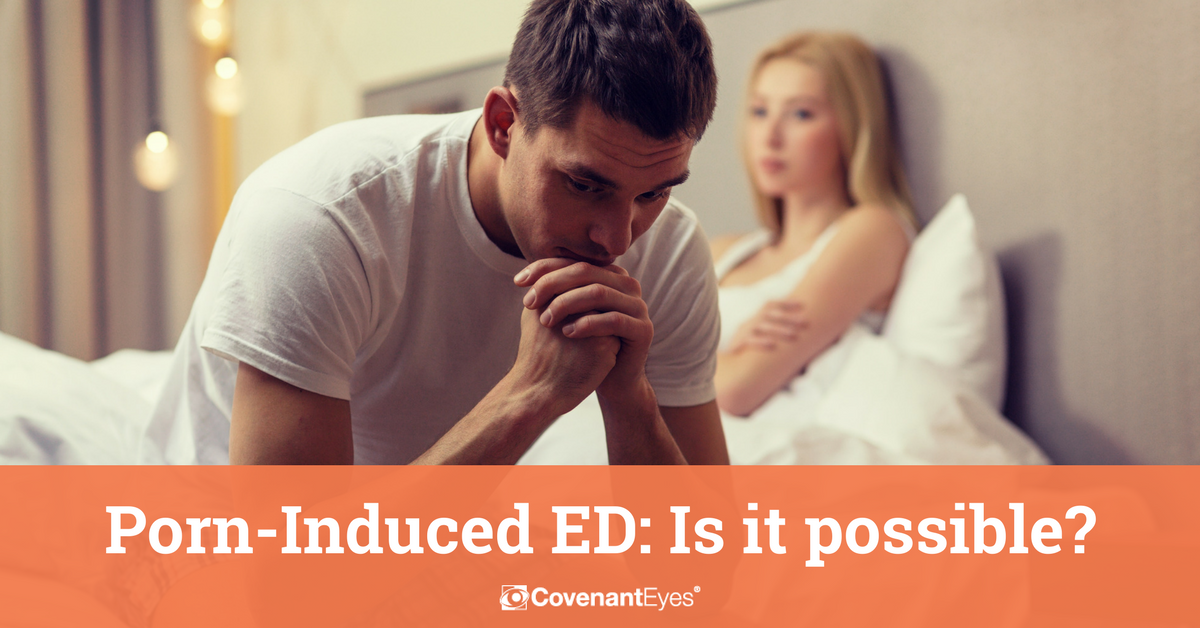 Does Porn Impact My Body?
In a criminal trial, "beyond a reasonable doubt" is the test of evidence required to convict, and often relies both on the quality and quantity of evidence. I believe both the quality and quantity of evidence supporting the assertion that porn and erectile dysfunction are correlated are enough to reach a conviction.
We know that correlation doesn't automatically equal causation. But, what you'll see below includes some interesting correlations to consider.
Maybe you've asked questions, like "Does masturbation cause ED?" or "Can watching porn impact my sex life?" or "Why do I just feel worse after watching tons of porn?" The good news is that if you've asked similar questions, you're not alone. We found people who have asked the exact same questions. We found thousands and thousands of men (and a few women) who have removed one variable from their lives and have discovered a radical improvement in the quality of their lives. They found answers. They found hope.
There's a Native American proverb that says, "Tell me the facts and I'll learn. Tell me the truth and I'll believe. But tell me a story and it will live in my heart forever."
When it comes to the issues of porn, masturbation, and erectile dysfunction, it will require facts, truth, and stories to help us make sense of a what can be both sensitive and recondite.
Are you watching porn regularly? If so, is your life going exactly how you want it to? If not, or if you're just plan curious to know more about porn and your body, then keep reading.
If you're easily offended, stop reading. To have a meaningful discussion about porn and its possible link to erectile dysfunction, we have to talk about a lot of uncomfortable things. This is your warning!
What Is Porn-Induced Erectile Dysfunction? (PIED)
The short answer is, "I watch a lot of porn and I can't maintain an erection during partnered sex." This includes (but is not limited to) the following list of symptoms:
Difficulty maintaining an erection when putting on a condom.
Losing an erection the moment actual penetration occurs.
Difficulty reaching orgasm with a partner.
Decreasing penis sensitivity.
Shrinking of the penis.
Needing to fantasize about your favorite porn to maintain erection during partnered sex.
Definitions of Words and Phrases from the PIED Community:
There is a unique set of words used among those who struggle with porn-induced ED. We will define a few of the more frequent words below. You might find these definitions helpful as you read this and other PIED posts we've written.
Death grip: a masturbation technique that involves a tight hold of the penis that is typically used by men who are experiencing difficulties with maintaining an erection.
Edging: the process of watching porn and masturbating, stopping just before orgasm, and backing off in order to maintain sexual arousal for a longer period of time. This can be done for hours with practice.
Fap/Fapping: the term "fap" is slang for male masturbation and originates in old pornographic comics that depicted men masturbating with the quote bubble, "fap, fap, fap" to indicate the sound made by masturbating.
Flatline: the loss of all libido. Nothing that used to cause sexual arousal works anymore, including masturbation, pornography, or girlfriends. During this time, men typically experience a loss of penis sensitivity, a change in penis size ("it's shriveled"), no "morning wood" (waking up with an erection), and an overall decrease in emotional health.
PMO: porn, masturbation, orgasm. This phrase is used often in the reboot community, for example, "No PMO for 90 days and still flatline."
Reboot: the process of abstaining from certain sexual activities and starting new behaviors in order to "reboot" the brain to be aroused during sexual experiences with a human partner.
Real Stories of Porn-Induced ED
As you read some of the thousands of posts in forums related to PIED, there is an overwhelming sense of hopelessness and despair among those suffering. In contrast, you will also find amazing stories of hope, freedom, and purpose among those who have decided to live porn, and at times, masturbation-free. Here are a few subject lines from posts in forums we visited: 
"Crying, depressed, unmotivated, what's happening?"
"ED remains with 95 days done -Gutted" ("95 days done" refers to his abstaining from porn, masturbation, and orgasm for 95 straight days)
"As you can tell, I'm pretty happy. Why? Because it's like I'm alive again."
"Cannot keep erection more than 30 seconds. Please help"
"Returned to my friendly, motivated self"
"At least 6 weeks out and still flatline"
"3 Years Rebooting HELP"
"Need advice/where to buy Viagra/Cialis??"
"Porn is not a part of my life anymore!"
"I'm not turned on by my wife."
"70 days: I've noticed a ton of positive changes."
"I don't get aroused being around girls anymore."
"My porn addiction is ruining my sex drive."
"Had sex for the first time in 10 years!"
Behind every post is a real person. Do any of these subject lines describe you? If you feel hopeless and alone, please understand that there is hope. It is possible to recover your life, and we've profiled three men who have recovered and are now helping others. Below, you'll find the real stories of three pioneers in PIED recovery–Noah Church, Gabe Deem, and Alexander Rhodes. Real guys, each with a real story.
Want to start your journey toward recovery from PIED? We've created a free 10 day e-mail challenge designed to help you start on the road to recovery. Start the RecoverED challenge today. 
Noah Church of addictedtointernetporn.com
"I was with my first serious girlfriend. I was really attracted to her…but when the time came [to have sex] and she was naked in front of me, I didn't have any physical response."
–Noah Church, Founder, www.addictedtointernetporn.com
Porn Made Me Numb to the World
The following are excerpts from a Facebook Live session done with Noah in January 2017.
"I found myself as one of the first people to grow up in the age of the Internet when it was common for homes to have a computer with Internet access. Starting at around age nine or ten, I was using porn most every day, one or two times a day, sometimes more.
I started to escalate to types of pornographic content that really didn't jive with my natural sexuality. They were extreme and shocking, but I found that as time went on, I needed those more extreme stimuli to get the same amount of arousal that I was getting before.
By the time I was 18 years old, I was with my first serious girlfriend, and we decided we loved each other and wanted to experience sex together. This was something I had been looking forward to all my life.
I was really attracted to her. But, when the time came [to have sex], she was naked in front of me, and I just didn't have any physical response.
I was shocked. I thought of myself as a person with a high sex drive. I always thought about girls and was masturbating most every day, so I was really confused and shocked about what was going on in that moment. I thought it might just be nerves because it was my first time, so we tried many more times and it just never worked
I turned to Google for help, searching for phrases like "young man can't get it up" or "erection problems," and most sites indicated that it was either performance anxiety or some biological problem like blocked arteries. I pinned it on performance anxiety because I had no trouble getting an erection while looking at porn (which excluded the biological problem as an explanation)."
For Noah, this "want to have sex, but can't have sex" cycle continued for over six years. He was confused. Girls were hot–that wasn't the problem. He just couldn't get aroused by real human women. This was devastating.
"I thought, 'Maybe I masturbate too much.' So I'd stop for a few weeks and quit looking at porn too, but that didn't work either. Man, this wasn't just a sex issue, because it was devastating on my self-esteem, my self-confidence, and my sexual identity. Because I couldn't have sex, I was sexually broken.
My emotional health was a mess. Because I was feeding my brain so much dopamine through watching hours of porn, my brain craved more and more stimulation. And, unlike drugs–where there's a rush of neurochemical activity giving that 'high' and then it's gone–with porn, I was able to keep that dopamine level raised for hours clicking from video to video. We call it "edge:" delaying orgasm so that I could keep watching porn. Over years of doing this, my brain figured out that nothing in the real world could compete with the porn rush. Everyday things just became less stimulating. My friendships became less interesting. I didn't want to do homework, because compared to porn, who wants to do homework?
I was numb to the world. From the age of 10 to 22 or maybe 23, I didn't cry a single time."
Gabe Deem of rebootnation.org
"Really it's just you and a keyboard at the end of the day, with your pants around your ankles, and your loved ones are crying in the other room, and you're not connecting with anyone, you're not fulfilling what your heart really desires, which in my case was connection with a loved one." –Gabe Deem, Founder, www.rebootnation.org
Porn Brain Fog Is Real
The following are excerpts from a Facebook Live session done with Gabe in January 2017.
"There was a significant mental aspect of porn for me. I didn't have any idea that my porn use growing up was affecting my mental clarity, my motivation, and my drive for other goals and pursuits I had in life. I didn't know it was affecting my interpersonal relationships with my friends and family or my ability to just see people as humans and not objects.
To put it as simply as I can, I just had no drive to get out and do anything [while addicted to porn]. My brain was hijacked and rewired to the point where all of my pleasure, all of my pursuits in life were digital.
I was skipping class in college, and I'd rather just be at home a bum on the couch watching porn (and playing video games) all day.
My drive for life wasn't there. I was just wired for pixels on a screen and online pursuits–not pursuing goals in real life. A lot of guys call it brain fog. It zapped my motivation for anything in real life, and I dropped out of college
I didn't want to go to school anymore. I had no drive to get a good job and start a career or anything like that. I lost several relationships because my libido was for pixels on a screen, as well as my attention and my affection.
And it ended up hurting more than just my sex life. It hurt relationships all around to where I wouldn't want to go hang out with my family over Thanksgiving. I'd rather stay home and watch porn.
It ended up affecting all areas of my life. Really it's just you and a keyboard at the end of the day, with your pants around your ankles, and your loved ones are crying in the other room, and you're not connecting with anyone, you're not fulfilling what your heart really desires, which in my case was connection with a loved one."
Alexander Rhodes of nofap.com
"I didn't know why I was so lethargic. I didn't know why I wasn't able to really have any self-discipline and my life was kind of a little bit of a mess in many ways."
–Alexander Rhodes, Founder, www.nofap.com
Is Porn Affecting My Body?
The following are excerpts from a Facebook Live session done with Alexander in December 2016.
"So, I grew up among the first generation of people who went through puberty with the existence of high-speed Internet porn. And we didn't really have the tools that Covenant Eyes is developing and currently publishes at our disposal. I was on a video game website and there was a pop-up ad featuring simulated rape pornography. It was really graphic stuff. And I wasn't looking for it, it just came up.
I was around eleven when I got exposed and that just opened up a whole new world for me. It was like, oh wow, you can find this stuff online. As a hormone-fueled adolescent boy you're going to be curious about seeing the naked human form. And I discovered it was online and did some Internet searches, and it escalated from there to a point where–I know this story holds true for a lot of people–I got addicted to it.
And, as a result, I started to notice changes in my body. It was more difficult to get an erection. I found myself wanting more and more degrading things. Something was wrong.
And, as I dug into the issue, I started to uncover information about a connection between porn consumption and impacts on the body. One of the most obvious being porn-induced erectile dysfunction for men.
We need to look at the fact that there are thousands of people–this story isn't just about me. The real story is behind the thousands of people who decided to remove one variable from their life, and that variable is porn, right?"
This Is Me. I Think I Have Porn-Induced ED. What's Next?
From here you have a couple of options. Both might be necessary.
1–Continue to educate yourself. Remember, we aren't doctors, so please check with a medial professional before coming to any conclusions about your erectile dysfunction in order to eliminate a serious health issue.
2–Get on the fast-track to recovery, today. We've created a 10-day PIED recovery challenge that might be exactly what you need. Recovery is possible. Start the RecoverED Challenge today.
I hope these stories have helped you understand that you are not alone. In secret, dark places, issues like porn and masturbation almost always rule over us. It's easy to lie to yourself and believe, "Hey, I'm in control. I can stop whenever I want," but be honest–you've said that 1,000 times. Maybe you said it last night.
Let me say it again. You are not alone. These stories represent thousands and thousands of stories that we haven't told. But, don't stop reading. There's more. The problem isn't just your penis. Your most important sex organ isn't between your legs. It's between your ears. And, it might need a reboot. In the coming weeks, we'll analyze the neurology behind porn addiction and the potential impacts on sex.
Related articles: 
---
RecoverED: 10 Days on the Road to Healing from Porn-Induced Erectile Dysfunction
We've just finished a new resource on porn-induced ED. It's filled with lots of practical advice to help you reboot from porn and delivered to you in daily bite-sized pieces.
Start the RecoverED Challenge