Helpless, he looks at his fiancé as she sobs uncontrollably as they sit in my office. It is three short months before the wedding and she just found out he has a problem with porn.
She is crushed. Happily ever after feels like a million miles away.
All of the excitement, joy, and hope for an amazing future together got sucked down the drain in a heartbeat. My heart breaks for her.
Weddings are emotional roller coasters with enough drama to sustain multiple reality shows on several networks. Discovering porn drops a grenade in the middle of a room filled with gasoline and TNT.
Porn seduces with subtle lies: "No one will ever know," "You aren't hurting anyone," or, "It's just pictures–what's the big deal?"
Related: 3 Reasons Deception Is More Destructive than Porn for Your Wife
Then reality hits–the true impact of porn crashes in like a tidal wave. It is brutal for all involved.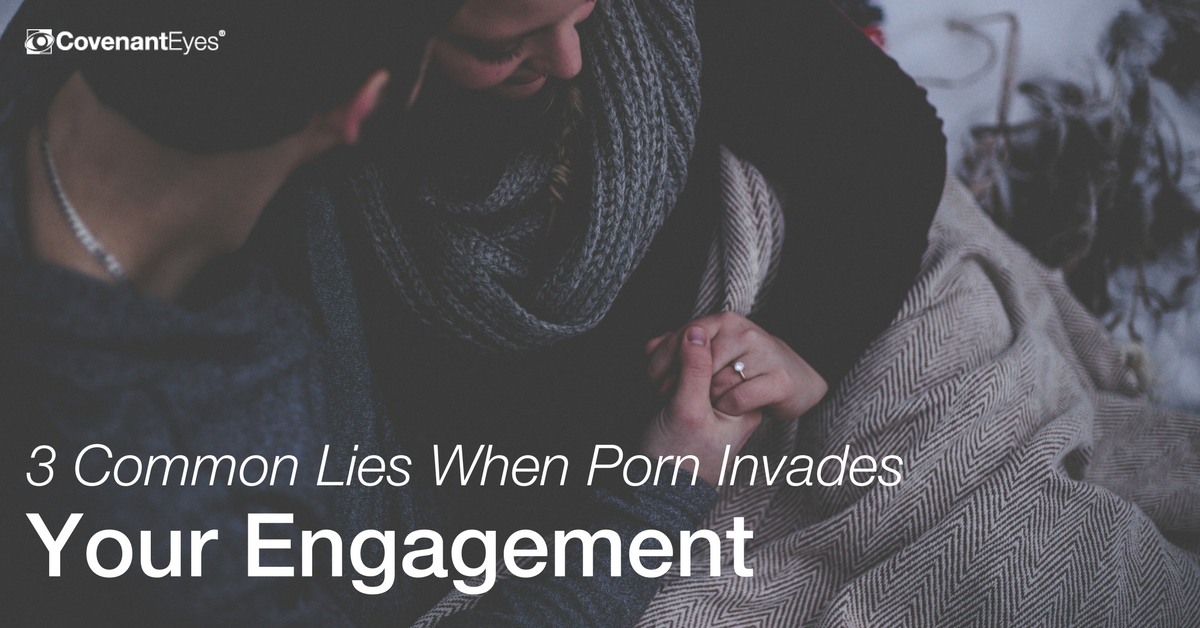 His "dirty little secret" that was a "bad habit" he knew he needed to stop is suddenly all she can think about.
For her, the wedding is about creating happily ever after where her fiancé will be her "Knight in Shining Armor"–always captivated by her beauty. Now she wonders if he is thinking about the women he has been lusting after, or her.
She wonders if there is a happily ever after.
This is one of the hardest things for us as guys to really get. Porn is deeply personal for her.
Research shows that one of the greatest sources of shame for women comes from their body image. Think about it. At the beach, guys walk around with a spare tire oozing over the waistband and no one blinks an eye. Women's bodies are scrutinized–by both men and women.
Sitting on the couch in my office, she looks up at me and says with tears streaming down her cheeks, "If I'm not enough for him now, how will I ever be enough!?!"
Now, she has to keep planning the wedding, going to showers, and appear excited and happy while her guts are spilling out. And the very person she needs to give her comfort and reassurance is the very person she feels the most betrayed and hurt by.
If this is you or someone you know, there is hope. This is not the end of the world even though it will feel like it.
After working with married and engaged couples who have been devastated by pornography for many years now, I've discovered three lies you are prone to believe when porn is uncovered.
Marriage will cure the problem with porn.
If I had a dime for every time I heard this one. He told his fiancé that he used to have a problem with porn in the past. In reality it never stopped.
He is counting on being married and having an amazing sex life to satisfy all of his sexual desires and fantasies. When he finds out she doesn't want to do what the porn stars do, and the demands of married life kick in (having babies kills your sex life), he finds himself sneaking off to the bathroom with his phone again.
Marriage doesn't cure porn. Don't fall into this trap–get help before you get married. You, your wife, and your future children will be really glad you did.
I'll never be enough for him.
She is terrified that she will never measure up. The lie is that she's doomed to constant comparison. That you will always be looking at women around you for something better. That she either needs to do what porn stars do (and feel worthless) or be a constant disappointment to her husband.
However, there is some truth to this statement. It never ceases to amaze me how much we idealize each other when we are engaged and newly married. My wife and I dated on and off for six years before getting married and we still lived the fantasy.
The fantasy says that she will always be enough for you, she will always fulfill you. He will always be enough for you, he will always fulfill you.
No one person can ever completely fulfill someone else. It is a recipe for disappointment.
The romantic idea behind this is why Disney and romantic comedies have made so much money.
Related: Why Disney Relationships Are Just Like Porn
This will always be hanging over our heads and we'll never truly be happy.
When the bomb goes off, this definitely feels true…especially for her. It feels like the foundation for the relationship is being poured and porn will forever be a part of your lives…weakening everything you try to build on it.
She is picturing catastrophic scenarios of pornography, lying, and betrayal for the rest of her life with you. And you can't talk her out of it.
The truth is, reality hit home before the wedding. It steals from the joy of the process of getting married.
Marriage always has some pleasant surprises, as well as its share of disappointments. There is a reason we vow to love and cherish in sickness and in health, in the good times and the bad times.
It is by going through the bad times that the deepest bonds are formed. This is where you become "war buddies" when you fight for your marriage and come out the other side with a depth you didn't know was possible.
Wives come back and tell me all the time that going through the pain and struggle created by pornography was worth it because of the intimacy and closeness it created with their husbands.
Related: Hope After Porn–"Grasping for Air, Hungry for Grace"
These are the couples who kept working through the healing process. They have a bond that others don't understand.
If pornography has invaded your engagement, know that there is hope for a future beyond porn. The recovery won't be easy and it's not the ideal way to start out a marriage. But if you choose to go ahead with it, it's possible to heal and come out stronger on the other side.