Husbands addicted to porn are often totally ignorant to the relational carnage it unleashes on their wife and loved ones once their addiction is exposed. Being caught as a porn addict is like dropping a nuclear bomb on a relationship. Yes, it feels like a mushroom cloud. But, after a nuclear bomb is dropped, it isn't just the immediate heat and explosion that kills people. The nuclear fallout that lasts for years causes death too.
On the night of April 26, 1986, during a poorly executed safety test, nuclear reactor No. 4 at Chernobyl began burning uncontrollably, releasing radioactive material into the atmosphere for nine days.
According to Wikipedia, the Chernobyl disaster was the worst nuclear power plant accident in history in terms of cost and casualties. At the time, it was the only nuclear disaster classified as a level 7 event (the maximum classification) on the International Nuclear Event Scale.
My brother Greg just finished reading a book about the Chernobyl disaster, where it mentioned the plutonium dust covering the city has a half-life of 24,000 years. The toxic impact from that event will last for years.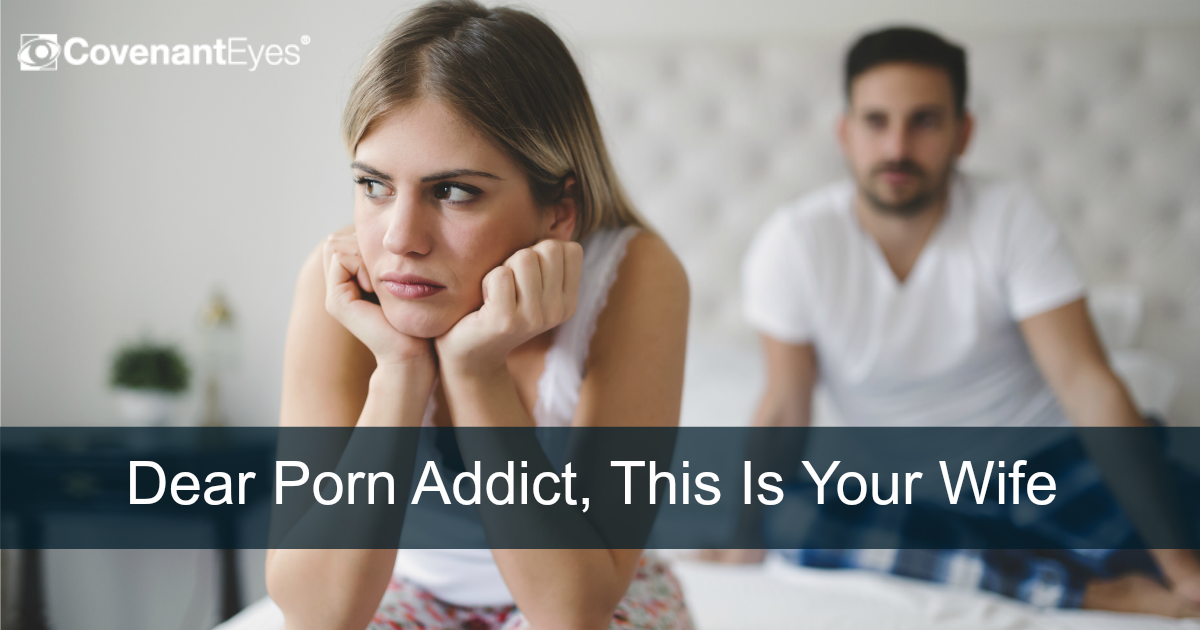 This same post-bomb fallout is felt by families, especially wives, of porn addicts. Author and speaker Vicki Tiede recently said this at the Set Free Summit, "Just because the habit is over, it doesn't mean the havoc is over."
I wrote a blog post in August titled "10.5 Tricks to Make a Habit Stick," and step #9 was this:
Visualize the pain. With any bad habit, it's worth asking the question, "What is the absolute worst thing that could happen to me if I don't change?"

For example, if you are a father addicted to pornography, the answer to that question might be, "My daughter might catch me using porn." Or if you're an alcoholic, "I might kill a friend of mine while driving drunk." If you honestly assess the possible consequences, it might act as added motivation for habit change.
A Peek Into the Heart of Your Wife
Let me give you a peek into the heart of wives who live in the blast zone. All the quotes below are real comments from our blog, shared by women who have been crushed by the havoc of their husband's addiction.
I share these hoping that men who might currently be stuck looking at porn have a change of heart. I want them to visualize the pain they could cause and assess the possible consequences.
If you are a husband looking at porn, allow me to introduce you to your future wife:
"He has successfully broken me down to zero."
"I picture those videos with her face whenever we try to be intimate and I get nauseated."
"My heart hurts so bad. I love my husband, even through our tough uncomfortable time. I just don't know what to do at this point."
"I loved my husband but there was nothing that I could say that would change him. I remember my then 11-year-old son, wanting to call his dad one last time, hoping that there was something else to say to change his dad's heart. I too thought, that through all the struggle, there must have been something I didn't say that could have illuminated the truth and help him see the devastation he was creating. But he was already gone, already given over to his sin."
"But where does it leave me? As I found out this has been going on this entire time. The hurt, the devastation, the images, the lies, the dreams, the feeling of pain and anguish. How do I move on? How do I participate in rebuilding this marriage? How do I rid myself of the images, the dreams, and the hurt? How to I put faith into this relationship again? After all, he has never been faithful to me. Never. When does the pain start to subside?
"This is beyond the grief I felt when my mother died. This is complete brokenness. I have no idea what to do except pray to God for mercy in my life."
"I am so scared. I am overwhelmed by betrayal trauma and some other issues."
"My husband has been involved with porn for as long as I have known him. It has caused much damage to the way I feel about myself. I do feel like I'm competing with something that I can't live up too. I'm not skinny enough, pretty enough, sexy enough…I'm just not enough for him. These feelings of being 'less than' have caused me to lay in bed at night and pray that he doesn't touch me."
"I feel horrible about myself. I feel inadequate. When we do have sex I have porn images running through my head and feel sick to my stomach wondering if he is thinking about me or these other women he looks at."
Treat Her Like Gold
Husbands, this doesn't have to be your future. Stop looking today! Whatever it takes. I've written extensively on steps you can take to do that. Remember, she's a beautiful, image-bearing, one-of-a-kind, never-to-be-repeated, unique woman. She's your wife. You made a covenant with her, your family, her family, your friends, and with your God. Go back. Watch the wedding footage. She deserves to be treated like gold.
If you decide to man-up and come clean, will there be some fall-out? Probably. She deserves time to heal and even grieve. One of our guest authors, Jen Ferguson, experienced betrayal in her own marriage and shares some wise tips for spouses who want to come clean in her article "How to Confess Your Porn Addiction to Your Spouse." As Jen says in her article, "After you confess, you might doubt you did the right thing. But know this: Truth is always better than a lie."
---
Related Covenant Eyes Articles: